MACRO AND HOUSING
Philly Fed Sees Slowing Growth; Leading Indicators Rise in September
Factory activity increased in the Philadelphia region in October, but at a slower pace than in September, the Philadelphia Fed reported Thursday. The Philadelphia Fed Index fell to 6.8 in October from 10.9 in September, beyond economists' expectation of a drop to 7.5. Most strikingly, new orders came in at 2.7, a 12.4-point drop from September and a seven-month low. "This report is softer than the small headline dip suggests," said Ian Shepherdson of High Frequency Economics. Companies also reported price pressures, both in terms of their own costs and what they were able to charge for their goods. The prices paid index rose to 40.3 from 23.1 in September; prices received went up to 12.4 from 3.3. The optimism index gained 5.8 points to 41.5, but Tony Crescenzi at Miller Tabak said "it remains to be seen whether the increase is a knee-jerk reaction to the Fed's rate cut and signs of stability in the credit markets, or the result of actual improvements in conditions." In related news, the Conference Board's index of leading economic indicators continued its see-saw ride with a 0.3% gain in September, in line with analyst forecasts. "[W]hile the financial markets gyrated and the slump in housing intensified, the economy continued to perform at a slow but steady pace," said Ken Goldstein, labor economist at the Conference Board. The index fell a revised 0.8% in August.

WSB Sponsor
TECHNOLOGY
Google's Profits Surge, Beat Estimates
In its report after the bell Thursday, Google announced a 46% increase in quarterly earnings and 2,130 new employees. The company earned $1.07 billion ($3.38/share) compared to $733.4 million ($2.36/share) last year. Excluding certain items, Google earned $3.91/share, beating analysts' estimates of $3.78/share. Revenues jumped to $4.23 billion, 57% more than last year and 9% more than last quarter. Net revenue (minus payments to partner sites) came in at $3.01 billion, also surpassing analysts' projections of $2.94 billion. The top and bottom line numbers beat the Street's lofty expectations, but it is yet to be seen if it will prove enough to support the stock's positive momentum. In a pre-earnings note, Cantor Fitzgerald analyst Derek Brown addressed Google's seemingly unstoppable growth: "We fully recognize that the party at Google has to end some time. Yet, we see no obvious signs that: (i) Google's business has hit the proverbial wall, or (ii) consumers and advertisers are shifting their behavior away from Google and toward its competitors."

CEO Eric Schmidt said in the release (full earnings call transcript later today): "Our efforts to offer more products and services in international markets as well as effectively grow our technology infrastructure and add to our deep talent base during the quarter helped to deliver growth by enabling Google to reach more users around the world." Last quarter the company came under scrutiny for its aggressive hiring, but the company continued to expand another 15% in the third quarter. There are now nearly 16,000 employees at Google. The company stock increased 1.0% ahead of earnings Thursday; after the earnings release, shares gained another 2.4% to $654.90.

AMD Swings to Quarterly Loss
Advanced Micro Devices reported a 23% increase in sales, but also a quarterly loss after the close Thursday. The loss came in at $396 million (-$0.71/share) compared to a profit of $136 million ($0.27/share) a year ago. The earnings included a $0.22/share charge associated with AMD's acquisition of ATI, net of which EPS were $-0.49/share. Revenues increased to $1.63 billion from $1.33 billion a year ago. Forecasters expected -$0.61/share, excluding the charge, on revenue of $1.52 billion. Analysts do not expect AMD get out of the red until 2009, as the company struggles with product delays and stiff competition from Intel. "Their pricing mix is just worse than Intel's right now," said analyst Daniel Berenbaum of Caris & Co.

"Spending is not under control." The quarter was bogged down by the $5.4 billion purchase of ATI. CEO Hector Ruiz is looking to expand his company enough to have the capacity to provide 30% of the world's chips(full earnings call transcript later today). Right now its market share is 23%, after hitting 25% last year. Shares of the company jumped 3.2% ahead of the earnings announcement; after the release the company traded up another 1.6% to $14.75.

SanDisk Beats, But Falls on Pricing Warning
SanDisk reported an 18% decline in third-quarter earnings to $84.6 million, or $0.36/share, but adjusted EPS of $0.54 came in well ahead of the Street's average estimate of $0.34. Revenues jumped 38% to $1.04B, easily beating estimates of $941M.

In a conference call, CEO Eli Harari said mobile cards and USB flashdrives were "star product performers" in Q3, with international sales growing rapidly to represent 67% of total sales. Mr. Harari described demand as "remarkably strong" and said high volumes are straining its supply chain. In the Q&A session, Mr. Harari commented that the handset market and especially overseas, represents for SanDisk a "very major opportunity no matter what happens" in 2008 (full transcript). However, SanDisk shares fell 3.8% to $48.40 in extended activity after initially trading to the upside, due to management's comments that Q4 average selling price per megabyte would likely fall "moderately more" than the 16% decline in Q3 based on retailers' holiday promotions. SanDisk offered Q4 revenue guidance of approximately $1.17B to $1.32B, versus analyst expectations of $1.25B. Shares of SanDisk rose 2.5% to $50.31 during normal trading Thursday.

Halo 3 Propels Monthly Xbox Sales Above Wii For First Time
U.S. monthly sales of Microsoft's Xbox 360 gaming console topped Nintendo's Wii for the first time on the strength of the release of Halo 3, which sold 3.3 million copies in its first 12 days of release, according to data released by market research firm NPD group. Xbox 360 consoles flew off the shelves in record numbers, selling 527,800 units in September, nearly double August's sales, to Wii's 501,000. Wii's sales also showed strength, marking an M/M increase of 24%, its second strongest sales month ever. Only Sony's PS3, the most expensive of the gaming systems, showed weakness, with its sales declining 8% M/M to 119,800. Thursday, Sony announced it was slashing prices on the PS3 by $100 to try and stimulate sales (full summary). Hand-held gaming systems also saw big M/M sales gains, led by Sony's portable PSP device, which saw sales soar by 88% to 284,500 units. On the whole, console sales were up 188% Y/Y in September to $418.6 million, from $145.5 million a year ago. Sales were also robust on the gaming front, with Halo 3, an exclusive Xbox game, taking the top spot, despite not being released until September 25 (full summary). Nintendo games Wii Play w/ Remote and Legend of Zelda: Phantom Hourglass took spots two and three. Electronic Arts' games Madden Football '08 and Skate were also in the top 10, as was Take-Two's BioShock. Game-makers Activision and THQ failed to make the list for September.

HP Extends Lead Over Dell in PC Sales
Hewlett-Packard continued to push its lead in PC sales over rival Dell, according to data from industry research firms Gartner and IDC. HP shipped 12.8 million PCs worldwide during the third quarter, Gartner says, a 33% increase y/y, giving it 19% of the total market. Dell shipped 9.8 million PCs over the same period, giving it 14% of the market, up only 3.5% from a year ago, but reversing a three-quarter streak during which the company's PC sales fell y/y.


It was HP's second-straight 30%-plus growth quarter, helped by strong retail sales and other distribution channels, and demand for its laptop PCs, IDC said. Total PC shipments were up 15.5% during the quarter, IDC said. One analyst had this to say: "[Dell's] growth of under 4% is not going to earn any fans on Wall Street."

INTERNET
Social Networking Sites: Blogger is Biggest, Facebook Growing Fastest
According to internet research firm comScore, Blogger had the largest number of unique visitors of all social-networking sites in September, but Facebook grew the fastest. Yahoo's Geocities and Yahoo!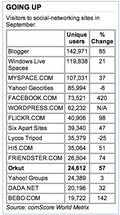 Groups are struggling, but its Flickr.com service grew almost 100% year-over-year. Blogger is gaining market share from Typepad (Six Apart) in the blog space, and Wordpress.com is now significantly larger than Typepad.

Media, Tech Companies to Form Online Copyright Protection Body - WSJ
A group of internet and media companies will announce Thursday guidelines aimed at protecting copyrights online, the Wall Street Journal reported on its website, citing unnamed sources. The group includes CBS Corp., Microsoft, GE's NBC, News Corp.'s Fox and MySpace, Viacom, Walt Disney, and Dailymotion. Google, which was involved with the discussions, is not set to join. The guidelines include using copyright-infringement technology that blocks copyrighted content from being posted to websites. On Monday, Google announced it has been testing a system that automatically detects copyrighted videos on its YouTube website, saying it was capable of pulling flagged content within minutes.

RETAIL
Hershey's Earnings and Guidance Disappoint
Hershey Co. reported Thursday its third-quarter profits dropped 66% because of higher expenses and stiffer competition. The U.S.'s largest candy maker said it earned $62.8 million ($0.27/share) compared to $185 million ($0.78/share) last year. Excluding certain costs, the company earned $0.68/share, short of analyst forecasts of $0.71/share. Sales unexpectedly fell 1% to $1.42 billion after Mars Inc. stole market share; analysts expected sales of $1.44 billion. "They are losing market share in a shrinking market, which is the worst

of all worlds," said Walter Todd of Greenwood Capital. For the year, Hershey expects to earn $2.08-$2.12/share, well below analysts' projections of $2.24/share. CEO Rick Lenny blamed the higher costs of ingredients like nonfat dry milk, whose prices are twice what they were last year, and poor performance of limited edition products(full transcript later today). The company plans to increase its sales force by 30% to spur faster sales growth. Hershey's shares traded down 2.8% to $43.05 Thursday.

TRANSPORT AND AEROSPACE
GM Posts Record Q3 Global Sales
General Motors reported a 4% gain in quarterly global sales, setting a Q3 record and fending off Toyota's bid to unseat it as the world's biggest auto manufacturer.

GM sold 2.39 million vehicles during the quarter, its third quarterly gain this year. The results were helped by international sales, which were stronger than domestic. U.S. sales fell 6.1% to 1.21 million vehicles, a continuation of an eight-year stretch of declining domestic revenues. "As we assess...conditions in the U.S., fourth quarter and heading into 2008, it appears that growth will remain subdued," said GM's chief sales analyst Paul Ballew. J.D. Power & Associates forecasts that total U.S. auto sales could fall to 16.2 million this year, their lowest since 1998. Countering the U.S. decline in Q3 was a 22% advance in the Latin America, Africa and Middle East region and a 29% increase in Brazil. The Asia-Pacific region was up 16%, and the company is expecting to make its millionth sale in China by the end of 2007. "In Latin America and China, GM has not really faced significant competition from Toyota," said Sean McAlinden of the Center for Automotive Research. "You're going to see a jump up in competition from GM in those regions, and they could really get out in front of Toyota on global sales." Toyota, which beat GM for the top spot in global sales in H1, will release worldwide sales figures on Monday. GM shares closed up 3% at $39.89 Thursday.

FINANCIAL
Citigroup Secures $80B to Fund SIVs - WSJ
Citigroup executives say the bank has secured $80 billion in financing through year-end to fund the structured investment vehicles (SIVs) it manages, after selling off $20 billion of the assets since the August credit market crisis. The move will allow Citi to avoid fire-sale dumping of its SIVs, after two European SIV holders Thursday began selling $16 billion of the assets, and a third said indicated it may be forced to do the same. Citigroup executive John Havens told the Wall Street Journal in an interview his firm was able over the past week to sell "many billions of dollars" in commercial paper to "top-tier-name institutions," but declined to quantify the extent of losses, if any, on the sales. He also said there had been a "modest improvement" in debt markets since the late summer crunch. Earlier this week, Citigroup, JP Morgan and Bank of America said they were in discussions to create an $80 billion pool that would buy at-risk securities in an effort to relieve credit market distress (full story). Later in the week, Northern Trust CEO Rick Waddell declined joining the pool, describing it as, "J.P. Morgan and Bank of America helping out Citibank," since Citi is the most severely exposed to SIVs of any bank (full story).

Luminent Sues HSBC Over Inequitable Bond Sales
U.S. real estate fund Luminent Mortgage is suing HSBC Holdings, saying the UK Bank's U.S. mortgage trading unit placed an unjustifiably low valuation on subprime-mortgage bonds used by Luminent as collateral for loans, thereby profiting at its expense. According to the Wall Street Journal, HSBC used an artificially low valuation to buy the bonds at subpar, in at least one case using an auction that included only one other bidder. On Aug. 27, the firm alleges, HSBC contacted Luminent and said it had auctioned nine bonds, and emailed Luminent a spreadsheet with the auction prices. "HSBC, conveniently, had submitted the highest bid for all of the bonds." The face value of the bonds in question is $24 million. The suit highlights the problems investment firms and banks had putting a face value on thinly-traded securities, the market for which suddenly dried up in the August credit market crunch.

HEALTHCARE/BIOTECH
Nektar Tanks on Pfizer's Exubera Decision
Pfizer's announcement Thursday (accompanying its Q3 earnings release) that it is discontinuing sales of inhaled insulin drug Exubera came as news to partner Nektar Therapeutics, as the latter's shares plunged 17.5% to $6.67, hitting a multi-year low. Nektar says it was not given prior notice of Pfizer's decision and has been "very disappointed in Pfizer's performance in marketing Exubera."

Nektar learned of the decision from Pfizer's Q3 earnings press release. Pfizer cited SEC rules forcing it to withhold the news from Nektar due to its classification as "material information" related to quarterly earnings. Pfizer said it will return Exubera marketing rights to Nektar. West Pharmaceutical Services, one of two producers of Exubera for Nektar, said Pfizer's decision will not affect its Q3 or full-year non-GAAP earnings, but the company is said to be evaluating the potential for an asset impairment. In a statement, Nektar said it "continues to believe Exubera is an important advancement for diabetic patients." However, year-to-date Exubera sales totaled only $12M, as patients have opted for traditional treatments and consider Exubera inconvenient. Shares of West Pharma lost 0.7% to $41.64 and Pfizer was down slightly to $24.54.

Gilead Sciences Tops Estimates, Sees Strong Full Year Sales
Biopharma giant Gilead Sciences posted Q3 earnings and sales above Wall Street consensus estimates, powered by its line of HIV-fighting drugs.

Gilead saw its net income climb to $398 million, good for EPS of $0.42, versus a loss of $0.06 a share in the previous-year period, related to its acquisition of Corus Pharma. Revenue jumped 41% to $1.06 billion in the quarter; consensus analyst estimates were for EPS of $0.39 on sales of $1.04 billion. Product sales climbed 44% led by HIV-fighting drugs Truvada and Atripla. Looking forward, Gilead expects it FY revenue to be at the top end of its previously forecast range of $3.6-$3.7 billion. Separately, the company named Caroline Dorsa its new CFO. Shares were unmoved in post-market trading on the results, following a gain of 1.85% Thursday. Gilead's shares are up 34% YTD.

IMS Shares Drop on Earnings Miss, Lower Guidance, and Downgrade
IMS Health's stock plunged Thursday after the company announced third-quarter earnings decreased despite higher revenues, and guided lower for its full-year outlook. The company reported profits of $57.1 million ($0.29/share) versus $69.3 million ($0.34/share) last year. Excluding items, the company earned $0.36/share, which missed analysts' targets of $0.40/share. Total revenues increased 12% to $538.8 million, surpassing estimates of $532.7 million. Operating expenses

went up 15% to $421.7 million. For the year, IMS projects earnings of $1.52-$1.56/share, down from previous company estimates of $1.56-$1.60/share, and below analyst forecasts of $1.59/share. IMS was also downgraded by William Blair Thursday to "market perform" from "outperform." Shares of the company traded down 21.8% to $23.12 Thursday.

ETF
Deutsche Bank to Issue Wide Moat ETN
Deutsche Bank said Thursday it has filed an SEC registration to issue exchange-traded notes [ETNs] tracking Morningstar indexes. The ETN, similar to an ETF, will list on NYSE Arca, and be distributed by Nuveen Investments and Merrill Lynch. The ETN, which tracks Morningstar's Wide Moat Focus Total Return Index, will trade under the symbol WMW, and is the first ETN to offer investors exposure to the proprietary index. Wide Moat stocks are businesses that have large competitive advantages, or 'wide moats' around them, which should give them an added measure of staying power and the ability to develop product lines with the constant threat of new entrants. Wide moat businesses often have one or more of the following characteristics: 1) Recurring revenue stream. 2) Low cost production. 3) Monopolistic market posture. 4) Strong franchise/branding. 5) The ability to raise prices. "The Index exposes investors to high-quality companies that consistently generate high returns on capital," Morningstar director of stock research Pat Dorsey said. Morningstar analysts assign moat ratings of Wide, Narrow, or None to the 2,000 stocks they cover. "When we evaluate a stock, one of the first things we examine is whether or not the company has a moat, because an enduring competitive advantage is essential for a company's -- and a shareholder's -- long-term success," Dorsey said.

SPA ETF Launches Market-Beating ETF Lineup
Alpha-seeking investors got a new set of tools Wednesday after SPA ETFs announced the launch of six Amex-traded ETFs that use indexes created by research firm MarketGrader. MarketGrader 40 (SFV), MarketGrader 100 (SIH), and MarketGrader 200 (SNB) are baskets of 40, 100 and 200 top-rated North American securities, based on MarketGrader's proprietary evaluation and weighting methodology. Based on real-time track records, the MarketGrader 40 index returned 67.75% over the past five years, compared to the 29.63% for the S&P 500. MarketGrader Small Cap (SSK), Mid Cap (SVD) and Large Cap (SZG) use similar methodologies to choose the top-100 stocks within each market cap category. Stocks in all the indexes are equally weighted, and selected using fundamental-based analysis that looks at 24 quantitative indicators. The ETFs charge 0.85% in fees, among the highest fees in the market, attesting to the company's apparent confidence in its index-beating strategy: "We have found in MarketGrader a fundamentally based methodology system that has a solid performance history, and we are confident that this will provide investors with an investment tool that will stand out among this growing market," SPA ETF director Daniel Freedman said. "These are not passive indexes by any stretch of the imagination," President Tony Drain said. "If you look at the performance on all six strategies going back to 2003, it is quite impressive."

MUST-READS ON SEEKING ALPHA TODAY
Have Wall Street Breakfast emailed to you every morning before the market opens.