The S&P 500's 20-point move Tuesday pushed the index back above its 50-day moving average. As shown in the chart below, the index has been bouncing above and below its 50-day for the past week now. With two blue chip tech stocks (IBM and INTC) set to open lower Wednesday, we may see yet another test.
(click to enlarge)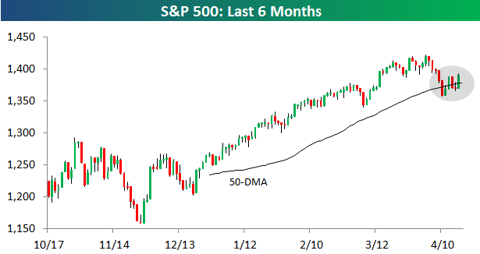 At least breadth moved back into positive territory after Tuesday's move. As shown below, more than 50% of stocks (54% to be exact) in the index are back above their 50-days.
(click to enlarge)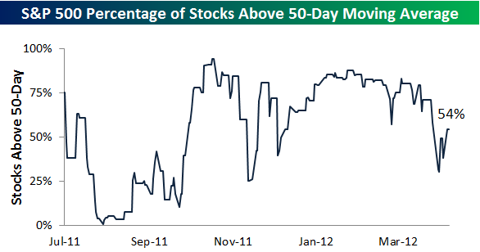 Below is a chart highlighting sector performance during the 4.26% pullback we saw from April 2nd through April 10th as well as since then. Since the S&P 500 made its low on the 10th, it's Materials, Financials, Industrials and Consumer Discretionary that have done the best. Materials, Financials and Industrials were three of the sectors that got hit the hardest, so it's no surprise to see them bounce. Energy and Technology haven't fared nearly as well during the bounce, however. Energy is up just 1.98% since the 10th, and Technology is up the least of any sector at just 1.19%. Tech can blame two stocks for this weak performance -- Google (GOOG) and Apple (AAPL). Even though the two saw gains Tuesday, they're still down quite a bit from their recent highs.
(click to enlarge)