Alcoa (AA) is one of my favorite companies to follow and write about. The recent earnings were a very nice surprise, and made me want to root for the economy to continue to improve. But the reality of the situation is that aluminum prices are not good and a stockpile exists. I am not sure if Alcoa is done being influenced by the bears.
Alcoa opened earnings season with a bang, reporting a first-quarter profit on Tuesday instead of the expected loss (Click here for earnings call transcript). This was the beginning of a much greater trend as 32 companies in the S&P 500 that have reported earnings so far,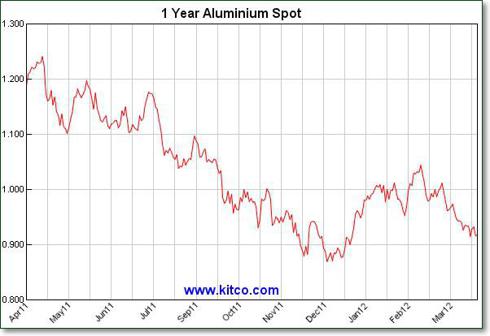 Thomson Reuters data showed that 75 percent - or two dozen - have beaten Wall Street's expectations. Generally, it was expected that the company would record its second consecutive quarterly loss. Improved productivity and higher aluminum prices and better product mix translated into strong earnings.
Aluminum prices were much higher than they were in mid December, but would they stay there? Aluminum prices increase continued through mid February. Even last summer, forecasters expected stable and higher prices in 2012. Analysts and delegates attending Harbor Intelligence's Annual Aluminum Outlook Conference in Chicago in June of 2011 predicted this. Another aluminum company, JW Aluminum announced a price increase of three cents ($0.03) effective immediately. The increase will apply to all new orders and contracts
Aluminum Prices Drop
The enthusiasm was there, but not the reality of the situation. Prices have since fallen dramatically. Prices for the metal have dropped over 23 percent in the past year. Alex Shadunsky of Seeking Alpha wrote an article about Alcoa where he states Aluminum prices will stay down in 2012.
Even Alcoa itself has maintained a global aluminum supply deficit in 2012 in its forecast. For 2012, the company estimates that aluminum demand will grow by 7% compared to 10% in 2011. Prices will not increase like forecasters were hoping. China, being the largest user of aluminum in the world is expected to see demand grow at a rate of 8 to 10 percent a year for the next five years. But with the recent retraction of the Chinese economy, it may not be that high and the demand could slow things down even more if construction stays low.
Alcoa recently announced that it plans to curtail its alumina refining capacity, an expected move following a slump in alumina prices and in line with the company's plans to cut smelter capacity. Alumina prices have also declined to a level at which the company was finding it difficult to justify continuing production at higher cost plants.
So after the good news of earnings, it looks like things are getting back to bearish territory again. This may not be how Alcoa ends the year, but for now, they have not turned bullish.
(click to enlarge)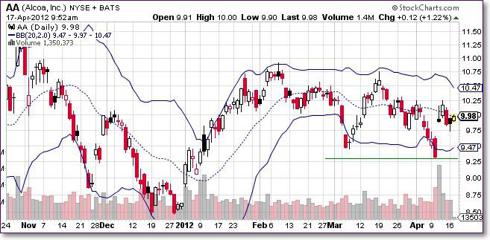 The Options Play
I'm look at buying a July 2012 '9' put option (priced at $0.33). This would be a straight hold until the stock got closer to the 9 level. Though there is strong support just above 9.25, the drop could be enough to push the price of the option higher. A resale could bring in a nice profit.