General Motors (GM) is the world's largest designer, manufacturer, and distributor of cars, crossovers, trucks, and automobile parts. The company markets its vehicles in more than 157 countries under renowned brands such as Cadillac, Buick, Chevrolet, GMC, Daewoo, Opel, Holden and Vauxhall. Over the years, General Motors has worked towards widening its competitive moat with the introduction of a new diverse range of products, divestment of non-core assets to increase efficiency and aggressive expansion of existing market shares to generate higher revenues and greater cash flows.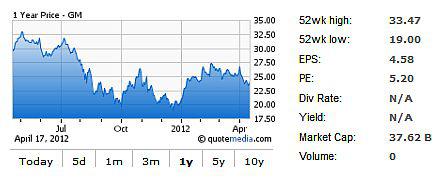 General Motors has been off to a flying start this year, posting an impressive recovery in the first fiscal quarter after the previous year saw the stock close at a dismally low trading price of $19. However, the stock is currently strongly poised for growth, trading at a price of almost $24. With the end of the first fiscal quarter in March, General Motors has reported a sizable increase in sales of more than 12% compared to financial figures for the previous year. Moreover, the sale of passenger cars too has shot up sharply by 22%.
Moreover, General Motors has also led the initiative to invest in innovative new cars that use alternative energy sources. However, last year's sales figures of 7,700 units of the Chevy volt Electric fell well short of the sales target of 10,000. This forced the company to halt production of the car for five weeks. However, the current financial year seems to be very promising for the company as it has already sold more than 2,300 units since its commencement. These sales figures suggest an increase in sales of nearly 50% compared to the same figures for the previous year.
In terms of market capital, General Motors is among the most formidable stocks with a total capitalization of nearly $44 billion- greater than any other business operating in the industry. The stock has an average trading volume of almost $10.5 million which is also impressive when judged by industry standards. Trading price of the stock is currently poised at around $24 and is showing an upward trend after plummeting in the previous year amidst sluggish market activity and investor skepticism.
Currently, the stock is showing healthy signs of positive upward movement which suggests that there is a lot of potential for growth. Investor sentiment is as favorable as ever, largely owing to the fact that the company has maintained an impressive dividend history over the years. Price to earnings ratio is good at 5.02 and earnings per share of $4.74 are quite attractive when judged by industry standards. The wide competitive moat that the company enjoys indicates its higher resilience to market changing negative factors.
Over the years, General Motors has also expanded its automotive manufacturing operations in India. The company has reported an increase of almost 13% in sales compared to figures for the previous financial year. Such an impressive performance of the stock has been bolstered by aggressive trading of the stock in recent days. Therefore, I believe that given its current financial performance, the stock is comfortably poised to reap higher benefits from a recovering U.S. automotive market. Additionally, General Motors has earned a reputation in the global market for owning the most comprehensive and diverse range of fuel-efficient cars. Owing to an increasing demand for fuel-efficient cars in emerging markets, I believe that the stock will certainly soar higher.
With a rivalry that dates back to the 1920s, Ford (F) is the traditional rival of General Motors. This stock has a massive market capitalization of more than $45 billion. A range of diverse products has allowed Ford to maintain its hold on a significant portion of the global market. However, the current year has not been as eventful for the stock with trading price spiraling down to as low as $9. Currently, the stock is poised precariously at almost $12, but betrays unmistakable signs of a downward trend. However, the company has recently announced plans to team up with Dow Chemical (DOW) to introduce low-cost high-volume carbon fiber composites for a range of state-of-the-art next-generation vehicles. This new development is expected to help the company recover from its recent fall. Still, General Motors has staged a more impressive performance so far in the current financial year and I believe it is a safer and more viable option compared to Ford.
Toyota (TM) is among the world's leading Japanese car manufacturers with a staggering market capitalization of $141 billion. The stock's impressive performance in the previous three fiscal quarters has led some analysts to believe that the stock is undervalued at around $81. The stock is recently seen following an upward trend after the company reported an increase of nearly 15% in sales of U.S. markets. This has largely been due to an overwhelming rise in U.S. demand for low-cost fuel-efficient cars. However, when we compare Toyota's recent performance with that of General Motors, it is pretty evident that the latter holds higher investment promise and greater appeal for returns, with a higher dividend rate and greater earnings per share. General Motors also enjoys a wider competitive moat than Ford, a fact that simply cannot be overlooked by investors given the market uncertainty prevalent in the current economic outlook. Therefore, it is a safer and more viable option for investors.
More recently, rumors abound that a shutdown of the global automotive industry is imminent after a "severe" shortage in supplies of a resin used in fuel and brake components. Many believe this is likely to cause an interruption in automotive production. If these rumors are well-placed, this is obviously the primary challenge that General Motors faces as the leading manufacturer of the global automotive industry. However, the stock's amazing performance in the current fiscal quarter has managed to prevent it from the negative repercussions of this development. Shares continues to maintain a steady upward growth amid favorable investor sentiment and predominantly healthy market activity. Looking at these trends, I believe that General Motors will continue to enjoy sizable revenues this year and this will certainly reflect on its dividend payout ratio. Hence, the stock is a viable investment option in the current year.
Disclosure: I have no positions in any stocks mentioned, and no plans to initiate any positions within the next 72 hours.