In part three of this series on initial production rates and estimated ultimate recoveries in the Eagle Ford, I will cover counties as far west as Atascosa and McMullen and other areas to the northeast. In the article, "Eagle Ford Shale Play In Gonzales County," I determined this county had the best results in this play. EOG Resources (EOG) has led the way with 4000 foot laterals reaching IP rates of more than 3000 Bo/d plus natural gas liquids and dry gas. This becomes quite intriguing at a $5.5 million well cost.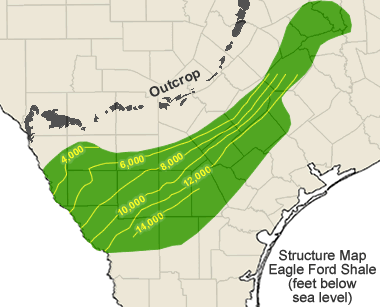 The map above shows the depth of the Eagle Ford shale. Notice the western most aspect and its depth of less than four thousand feet in the oil window. This depth increases slowly in the Maverick Basin. To the northeast, this initial depth increases to 6000 feet, but more importantly the increase in depth is less gradual. The map below shows Eagle Ford shale thickness and its increase to the west of the Eagle Ford. Also look at the increased shale thickness in southeastern Gonzales and northwestern Karnes counties. This area has done exceptionally well.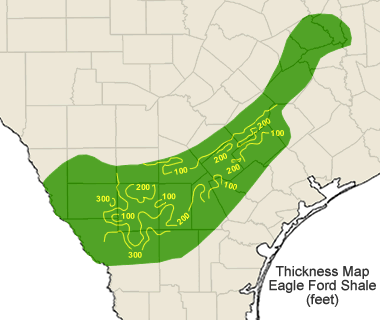 Comstock (CRK) has acreage in Frio, La Salle, Atascosa, and McMullen counties. It has shown significant improvement in initial production, which should increase EURs. Look for continued improvement as its McMullen acreage is good. Currently it has 100 acre well spacing and EURs of 400 MBoe. Its best wells (IP rates) have been in central McMullen County:
RTH #1H: 496 Boe/d
RTH A #1H: 565 Boe/d
Hill #2H: 801 Boe/d
Hill #3H: 985 Boe/d
Hill #4H: 890 Boe/d
Hill A #1H: 1120 Boe/d
Hill A #2H: 1048 Boe/d
Hill #1H: 1095 Boe/d
Forest Wheeler #1H: 597 Boe/d
Swenson #1H: 1264 Boe/d
Northwest and north McMullen wells have IP rates of:
Cutter Creek #1H: 608 Boe/d
Cutter Creek #2H: 541 Boe/d
Donnell A #1H: 686 Boe/d
Carlson #1H: 585 Boe/d
Atascosa County wells have had IP rates of:
Jupe #1H: 293 Boe/d
NWR #1H: 419 Boe/d
Four of Cabot's (COG) west Atascosa County results are:
IP rate of 1102 Boe/d with a lateral length of 4874 feet
IP rate of 401 Boe/d with a lateral length of 4144 feet
IP rate of 457 Boe/d with a lateral length of 3481 feet
IP rate of 977 Boe/d with a lateral length of 6566 feet
Cabot states its wells in southwest Frio and west Atascosa counties have EURs of 400 MBoe, using an average lateral length of just under 5000 feet. It has 27 producing wells in this area. Longer laterals and increased stages have already begun to increase IP rates. Given its most recent results, I believe EURs could be increased to at least 450 MBoe.
Three of Cabot's east Atascosa County results are:
IP rate of 1186 Boe/d with a lateral length of 5530 feet
IP rate of 1007 Boe/d with a lateral length of 5136 feet
IP rate of 920 Boe/d with a lateral length of 5842 feet
Cabot's wells in east Atascosa have an EUR range of 300 to 500 MBoe. Its average lateral length is 5148 feet and IP rate of 774 Boe/d. It is not surprising eastern Atascosa wells have outperformed the western area of the county. The eastern border is shared with Wilson and Karnes counties which have had some of the best results in the play.
Swift (SFY) has acreage in McMullen county. It is using 6000 foot laterals and expects EURs of 380 to 1125 MBoe. This acreage is not as good as its La Salle acreage, but still economic. Listed by window, these are the IP rates:
McMullen County Condensate Window: 1400 Boe/d (51% Liquids)
McMullen County Oil Window: 1600 Boe/d (86% Liquids)
McMullen County EURs and well costs are:
McMullen County Oil Window: 381 MBoe ($8.55MM)
McMullen County Condensate Window: 892 MBoe ($9.25MM)
Swift's results show the large differences in EURs from one window to the next. It seems the oil window estimates are quite low, but the condensate window is close to other players in the area. We are beginning to see a large number of oil companies in the condensate window have very really big numbers with respect to estimated ultimate recoveries. Marathon's (MRO) average of 965 MBoe through its entire condensate position helps to back Swift's numbers.
Magnum (MHR) also has acreage in Atascosa County, but the two producing wells were quite poor with IP rates ranging from 258 to 339 Boe/d.
Magnum's Lavaca County wells are:
Furrh #1H: 882 Boe/d (6007 foot lateral)
GeoHunter #1H: 854 Boe/d (4546 foot lateral)
Sable Hunter #1H: 1017 Boe/d (5067 foot lateral)
Oryx Hunter #1H: 2044 Boe/d (6687 foot lateral)
Furrh #2H: 1275 Boe/d (5945 foot lateral)
Kudu Hunter #1H: 1590 Boe/d (5696 foot lateral)
Snipe Hunter #1H: 2033 Boe/d (6094 foot lateral)
Leopard Hunter #1H: 1333 Boe/d (6708 foot lateral)
Forest Oil (FST) has acreage in southeast Wilson County. Its five well average IP rate is 869 Bo/d +654 Mcf/d.
Abraxas' (AXAS) states its EURs in DeWitt County are 1100 MBoe. Its T-Bird 1H has a 5700 foot lateral with 15 stages. Abraxas is looking to divest this acreage.
ZaZa Energy (ZAZA) has acreage in north Lavaca County. It has one well result here with a 30-day IP rate of 551 Boe/d. ZaZa has stated it is restricting its rates to keep pressure high inside of the wells, and do to this its results may be lower than some of the other results in the Eagle Ford.
Sanchez's (SN) acreage in southwest Fayette and northeast Lavaca counties have EURs between 350 MBoe and 550 MBoe. Well costs run between $6.5 and $8.5 million with average IP rates ranging from 800 to 1200 Boe/d. EURs are better here than in its Zavala and Frio acreage.
GeoResources has three well results in Fayette County.
Peebles 1H: 30-day IP rate of 436 Boe/d
Black Jack Springs 1H: 30-day IP rate of 369 Boe/d
Arnim 1H and 2H: 10-day average rate of 636 Boe/d
Clayton Williams (CWEI) has acreage in Giddings. Although the Austin Chalk is generally the primary target, it is also prospective for the Eagle Ford. It has drilled wells in Lee, Burleson and Wilson counties. EURs of 300 to 400 MBoe are expected in this area.
Gastar (GST) has acreage in Leon and Robertson counties. This area is currently being de-risked by bigger players in the area. Encana (ECA) completed a well in Leon County with an IP rate of 230 Bo/d. Petromax had completions with IP rates from 150 to 500 Bo/d. In northeast Brazos County, Crimson has had IP rates from 300 to 400 Bo/d. In southwest Madison County, Petromax has had the best results of 400 to 1200 Bo/d.
In summary, the results from Gonzales, Wilson, Karnes, and Lavaca seem to be the best to date in the Eagle Ford. The best numbers are in the condensate and high GOR (gas to oil ratio) windows. We continue to see good numbers in the Maverick Basin, and good economics throughout this play. This includes as far north as Giddings Field. One thing to watch are the big differences in IP rates and how those are modeled to produce EURs. I am seeing a significant difference from one producer to another.
Disclosure: I am long SN. This is not a buy recommendation.