Vringo (VRNG) represents an opportunity for investors to shake down companies like Google (GOOG) in dubious patent litigation. Mark Cuban recently disclosed a long position, which I interpreted:
[Mr. Cuban,] I don't want to sit on the other side of any table with you, ever. And I don't know whose side you're on in the Vringo trade.
Mr. Cuban's portfolio is on the other side of Vringo. The man himself:
This is a hedge against the unlimited patent exposure all the companies I have investments in face. Patent risk is impossible to quantify. It's unrealistic for most small to medium businesses to have any clue which patents they are at risk over. Vringo's IP from the merger is the flip side of that risk and offers an imperfect hedge . So I made the investment.
Mark has been betting on small to medium businesses who are improving the state of information technology. Naturally, these businesses are exposed to unquantifiable risk from antagonistic patent trolls enabled by our incoherent patent system. To hedge his bet a little, Mark Cuban ate a piece of a troll. But ostensibly, Cuban is net-short patent abuse, and by extension, net-short Vringo. He's long Vringo, but only to be a little less short Vringo.
Or so he hints. One man's hedge against the price of corn is another man's speculation. A smart investor looks for all angles available, which can mean playing both sides at once.
In his own words, Cuban's on the "flip side" of himself. Vringo is insurance that Cuban can let expire worthless. And to Cuban, it is insurance that is attractively priced. The upside is easy to visualize: a settlement with Google in the healthy hundreds of millions. But as I have said before, this is not a trade to move into without realizing that you're swimming with sharks.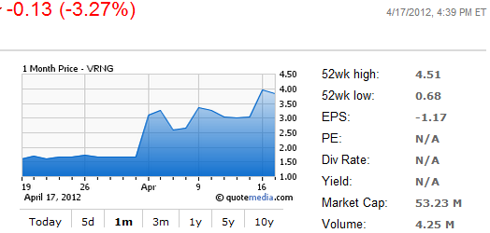 Click to enlarge
(Click to enlarge)
Disclosure: I have no positions in any stocks mentioned, and no plans to initiate any positions within the next 72 hours.