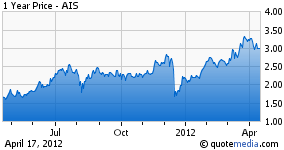 This article focuses on risk.
Antares Pharma (AIS) has been a great pick to those who rode it from the low 2's to the lower 3's, but the party is over. It's time to think about a re-entry point much lower than where the share price is today. In my opinion, it's coming. I may be wrong, but I am expressing my opinion. That's all any article is, an opinion. I think anyone who decides to hold above $3/share better be a long-term trader because I think the bottom is about to drop out. Yep, that's my opinion.
Q1 2012's report is impending and in my opinion, I neither expect Antares to show a profit, break-even, or even publicize the on-going legal outcome surrounding Vibex Epinephrine. Here's what I think: expectations for Q4 2011 far exceeded expectations and the market will be negative to what is coming. I think this situation will have a devastating effect on the company's share price. I see, in my opinion, a greater than 25% share price loss after the Q1 2012 report.
What am I saying? I expect Antares after Q1 news to retrace below $2.50/share at the frustration of long-investors who only see gold. Some time ago, I nearly got called every name in the book because I had the gall to warn investors that the share price of a company was vulnerable to falling. I see that same situation with Antares after the Q1 report. This company is about to take a big hit -- let me be clear: that is my opinion. If others disagree, let them present their opinions in the "Comment" section of this article. My opinion is that Antares is going to fall until the company moves to net positive.
I have been a great fan of Antares, but I expect Q1 and Q2 to under-achieve the high-energy expectations of common investors. Why? Because objective, blunt honesty drove me to this conclusion. Antares is growing, but it is not firing on all cylinders. The daily pumpers will try to convince you otherwise, but I advise: close your ears. If you bought above $3.20/share, then you're about to be a bag-holder.
For one, the Vibex Epinephrine situation between Teva (TEVA) and King/Pfizer (PFE) is not a slam-dunk. It took a lot of honesty on my part to come to the conclusion that the outcome of the trial will not favor Antares investors. Why I say that is because in my opinion Antares will be looking at a 2013 launch at the earliest. If the situation is better, maybe late 2012, but Vibex Epinephrine is not going to be depositing gold in the Antares' coffers for a long-time to come.
Likewise, I'm not sure how Antares will register net-positive in Q1 or Q2 2012. I think this could happen in 2H 2012, but not yet. As a result, I see the market doing what the market does -- dropping the share price well below $2.50/share. I openly state, that's when I may re-enter. To be frank, I think the market synergy around Antares is running out of steam.
A lot of these Vibex projects seem years-off except for Vibex Methotrexate. I'm excited for the firm about this project, but I also know that the Ewing location exemplifies how this up and coming company has been operating on a shoe-string. What do I mean? The Ewing location is an older office matrix left unoccupied like a town that is dying. No wonder Antares is entertaining moving. If they don't move, then I'd be more worried. Regarding the Teva vs. Pfizer, I think the two firms are looking for an amicable settlement and I expect Antares will get the short-end by a protracted market release date.
Antares, despite what some investors have envisioned, is a "Mom & Pop" organization with big dreams and a great vision. I like its management. If it delivers, then there will be a significant pay-off. But right now the firm is trying to amass a following.
My opinion is that the stock price is going to retrace to a much deeper level after the Q1 2012 report (or sooner). Investors should use common sense when anticipating the Q1 report.
I want to emphasize, unless Antares releases positive news that counters my pessimism, I will remain pessimistic towards the share price going into Q2 2012. I think emotional energy took Antares above $3/share and recent trading demonstrates that it is unsustainable.
I've been too long in biotech stocks to think stories like NestraGel are worth holding long. Antares, to become a major player, must show the goods in either its Pfizer or Teva partnerships. Otherwise, the drone of the stock boards will continue: empty promises, long-term showmanship.
Disclosure: I have no positions in any stocks mentioned, and no plans to initiate any positions within the next 72 hours.
Disclaimer: Investors buy and/or sell at their risk. As a private investor, I reserve my right to buy and/or sell at any time. I submit articles to SA as a freelance writer.