Beijing Med-Pharm Corporation (BJGP) maintained the regular drumbeat pace of its deal-making by announcing a five-year agreement to distribute another drug in China. The newest addition to BJCP's portfolio is Ferriprox, a treatment for iron overload in the bloodstream. It is produced by Apotex, the largest Canadian-owned pharmaceutical company. The drug has already received approval from the FDA in China.
Ferriprox is the only oral formulation of the iron chelator class that is available in China. A cost-effective drug, it treats iron overload that is associated with thalassemia, which can lead to organ damage and heart failure. Thalassemia is prevalent in humid environments, such as Southern China, where some 7-8% of the population needs treatment for the disease. As part of the contract, Beijing Med-Pharm agreed to collaborate with ApoPharma, a subsidiary of Apotex, to discover and develop other medications to treat disorders of iron metabolism and also certain skin diseases.
Beijing Med-Pharm Corporation is building a distribution network to supply Western drugs in China. The company also offers analysis services to biopharmas wishing to investigate the market in China, and, if necessary, the company will shepherd Western drugs through the approval process in China. Just as a review, since the beginning of 2007, Beijing Med-Pharm has announced the following deals: Building its distribution network:
1. Bought a majority interest in Shanghai Rongheng Pharmaceutical Co., Ltd., a state owned enterprise that was sold in a public bidding process. The company distributes drugs in the Shanghai area.
2. Participated with UK-based drug store chain Alliance Boots to buy a 50% share in Guangzhou Pharmaceuticals Corporation, the third largest pharmaceutical wholesaler in China.
Acquiring drug companies:
1. Bought Sunstone Pharmaceutical Company, a privately held maker of OTC drugs.
Signing agreements to distribute drugs:
1. Agreed to distribute the analgesic Galake (dihydrocodeine 10mg/paracetamol 500 mg) from Lotus Healthcare Inc. Galake is approved to treat pain associated with trauma, surgery, cancer, lower back pain, arthritis, and headache.
2. Agreed to distribute Clindesse (clindamycin phosphate) Vaginal Cream, a one-time treatment for bacterial vaginosis. The contract includes conducting late-stage trials for approval of the drug in China.
3. Agreed to distribute ondansetron Flashtab for Shanghai Ethypharm Phamaceutical Company, once it is approved for distribution. Ondansetron is a generic version of Zofran[R], an antiemetic used to counteract the side-effects of chemotherapy. Ethypharm will be responsible for the approval process.
4. Agreed to distribute Ferriprox for Apotex.
Over the past 12 months, Beijing Med-Pharm has traded in a range between $4.40 and $13.40. In mid-session, Beijing Med-Pharm was 23 cents lower at $11.92. The company has a market capitalization of $320 million.
BJGP 1-yr chart: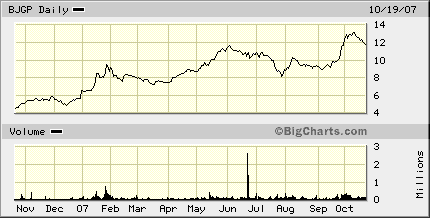 Disclosure: none.