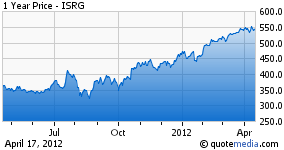 I generally prefer to invest in companies with lower P/E ratios but there are always exceptions. Intuitive Surgical (ISRG) is definitely an exception to this rule with its P/E ratio of 43, as the company continues to see strong growth and possess solid finances. The company produces technological solutions, such as robots, that can be used for surgeries. The company's tools make surgeon's lives a lot easier and this helps patients going through surgeries as well, as they report shorter recovery times as well as better recovery experiences.
Intuitive Surgical announced earnings last night (April 17th 2012) and the results were impressive as usual. The company achieved an earnings growth of 38% in the last quarter and once again beat the analyst expectations. Compared to last year's 120 machines, the company was able to sell 140 machines this year. The company's profit rose to $143.5 million from $104.1 million a year ago. The company's EPS of $3.50 beat analyst estimates of $3.14 by a large margin. This is the 12th quarter in a row Intuitive Surgical has beat analyst estimates. The company also increased its guidance for the rest of the year and it expects to see a revenue growth of 20% as opposed to analyst expectations of 18%.
As of Tuesday after hours, the company's shares trade at all-time high and the share price has been up 25% since the beginning of the year, but I still believe it's a strong buy as this is a solid growth company. In 2011, the company was able to achieve all its 4 goals: (1) double-digit revenue growth in gynecology in the U.S. and in urology globally, (2) increase its market share and revenues in Asia and Europe significantly, (3) introduce new products in the market that surgeons can use to make their jobs easier, (4) make significant progress in fields of general, thoracic and transoral robotic surgery.
The company's surgical robot -- Da Vinci -- is very popular and it continues to see very strong demand. In the U.S., use of Da Vinci in hysterectomy operations increased by 33% and worldwide, use of Da Vinci for prostatectomy operations increased by 15%. Most of the worldwide growth came from Europe. There is also strong growth for Intuitive Surgical products in Japan and Korea. These two countries will continue to fuel growth for the company as healthcare demands increase there as a result of aging population. Also, these two countries are very accepting of the idea of using robots in surgeries. In Korea, the company's acquired its product distributor BioRobotics. This process should increase profit margins of the company as it will not have to pay commission for its products to be distributed in Korea anymore.
Moving forward, the company has 4 more goals for 2012. The first goal is the same as last year's first goal: see double digit growth in gynecology and urology globally. This is something the company has been accomplishing for the last several years and I don't think it will have trouble accomplishing it once again. The company's second goal is to improve experiences of customers. The company will do this by focusing on products that will make surgery recovery less painful. For example single-site and vessel sealing are two exciting opportunities in this area. When incisions are smaller or and fewer in number, patients tend to recover much easier and much quicker. If this is attained by using Intuitive Surgical products, more people will grow comfortable with the idea of using robotics in surgeries. The company's third goal for 2012 is to provide more support for general surgery, thoracic and transoral surgeries. The company's final goal is to increase its footprint in Europe, Japan and South Korea significantly.
On a negative note, the company is currently facing a lawsuit due to a patient dying 2 weeks after having hysterectomy with one of its products. The complaint -father of the patient that lost her life- argued that the use of electrical current without using insulated surgical arms can result in electrical current to hurt internal organs and tissues. There have been multiple independent studies demonstrating that the product is generally safe to use; however, many surgeons aren't properly trained to use the product. This lawsuit may or may not have merit; however, it's important to add that it's far more common for hospitals to be found guilty in botched surgeries than companies that produce the tools used in these surgeries. Another point of worry is the uncertainties in the U.S. healthcare system in the near term in addition to government-level cost cutting measures all over the world, particularly in Europe. However, I believe that both of these worries are short term worries as the long term trend presents strong demand in the healthcare industry.
In the last 5 years, the company saw revenue growth of 193% (up from $600 million to $1.76 billion) and earnings growth of 243% (up from $144.5 million to $495.1 million). The company's EPS more than tripled from $3.82 to $12.63 in the same period. Furthermore, the company's total assets also tripled in the last 5 years. This is an impressive growth story and it is likely to continue for a long time.
Disclosure: I am long ISRG.