By: Brendan Gilmartin
Bank of America (BAC) is scheduled to report 1Q 2012 earnings before the bell on Thursday, April 19. The results are typically released at 7:00 a.m. EST with a conference call scheduled to follow at 8:30 a.m. Bank of America is a Dow component with broad market influence and therefore could have a heavy impact on the index futures and other key market gauges. Note that Bank of America is the last of the major banking institutions to report earnings for the recent quarter.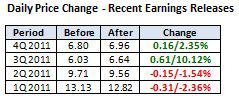 Outliers & Strategy
Bank of America is expected to post EPS of $0.12 in the 1Q 2012 period (range is $0.06 - $0.20). Revenues are seen dropping 16.2% to $22.51 bln (Source: Yahoo! Finance).
At a recent $8.92, Bank of America shares are trading at a steep discount to Tangible Book Value of $12.95 (as of 12/31/2011). Despite coming off the $10 per share level reached in mid-April, Bank of America shares are up 60.7% YTD and sitting on a key technical support level ahead of the 1Q 2012 earnings release.
Bank of America's results follow stronger than expected earnings over the past week from JP Morgan Chase (JPM), Wells Fargo (WFC), Citigroup (C), and US Bancorp (USB).
Recent News
· 04/11: Bank of America declared a regular quarterly cash dividend of $0.01 per share.
· 03/27: Robert Baird downgraded Bank of America from Buy to Neutral, following the recent run-up in the shares, according to a report in Barron's. The firm noted that while the capital position has improved, the focus will not shift toward core earnings growth. With interest rates so low, earnings upside appears limited.
· 03/19: Morgan Stanley raised FY2012 & FY2013 EPS estimates on Bank of America and several other banking names, according to a post in Barron's. The firm cited less concerns over regulatory constraints and greater risk-taking, due in part to improving consumer credit and market backdrop.
Technical Review
Bank of America recently hit an 8-month high, briefly overtaking the $10-level on March 26 - more than double the late December low. The shares have since slipped back toward the 50-day SMA just above $8.50 - a key level to watch ahead of Thursday's earnings release. Should earnings disappoint and the shares break the 50-Day SMA, there is downside risk to the February highs near $8.00, followed by the 200-Day SMA near $7.50. Resistance is at $9.50, followed by the March high near $10.00. (Chart courtesy of StockCharts.com)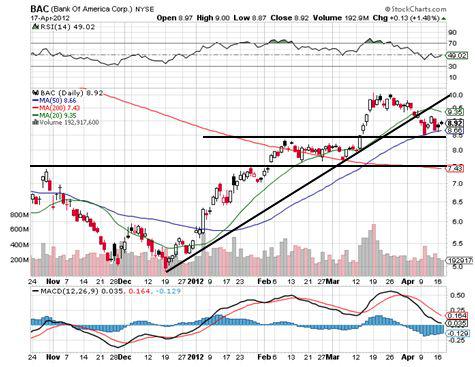 Summary
Bank of America shares are up more than 60% YTD after recently touching an 8-month high near $10, thanks to an improving macro backdrop in North America, more clarity on the regulatory front, and upbeat earnings from several of its counterparts. A $5 bln investment from Warren Buffett last August also helps put a near-term floor in the shares.
Furthermore, the stock has tested and held the 50-Day Moving Average several times in the past week - a sign of strength headed into the Thursday's release. Against this backdrop, underlying expectations call for Bank of America to top Street estimates. Anything less would be seen as a disappointment given the magnitude of the recent run-up.

Disclosure: I have no positions in any stocks mentioned, and no plans to initiate any positions within the next 72 hours.