Sometimes the best investment ideas are downright boring. Warren Buffett is well known for his partiality to insurance companies because of the simplicity of their business model. While there is definitely risk involved in the business, that risk is usually fairly well documented and contained. Furthermore, many insurance companies are able to employ the services of reinsurance firms to lay off a significant portion of their loss risk while concentrating on the underwriting process.
Such is the case with Amtrust Financial (NASDAQ:AFSI) which is a small property and casualty insurance provider. While the company operates as a multi-national firm, it prides itself on the ability to write niche policies that are often overlooked or not pursued by larger competitors. Focusing on the specialty insurance market allows the company to experience strong margins since they don't have to compete on price with more efficient conglomerates.
In the second quarter, Amtrust reported net income 121% above the same quarter last year on revenue that was 75% above the previous year. While the company is producing impressive organic growth, it also sees significant increases through its acquisition strategy. The company is active in purchasing smaller competitors both to broaden its product offering as well as to give it a wider geographical footprint. Synergies abound when the company is able to acquire new customers and then cross sell existing products. While there have been quite a few acquisitions in the recent past, management operates with a disciplined approach keeping the debt to capitalization rate down to 24.6%.
As with most insurance companies, the firm holds a sizable investment portfolio to fund potential future losses. There has been some concern that portfolios across the industry may have exposure to sub-prime mortgage backed securities [MBS]. While ASFI does carry some MBS assets on its balance sheet, the company was quick to point out that they had no exposure to sub-prime mortgages, and that all their MBS securities were government or agency insured. This helps assure investors that the book value (which is an impressive $6.32 per share) is fairly valued and not likely to experience write downs.
While losses pose another area of risk, the company has continued to be successful as their losses hovered around the 65% level allowing the company to operate in a relatively efficient manner. Amtrust has an agreement with a Bermuda based reinsurance company which lowers the risk profile, but at the same time constricts margins a bit. This fits well with the company's conservative approach and should add to the stability of the stock.
Currently the stock is trading at just 11 times 2008 expected earnings. While insurance companies typically have lower multiples than many other sectors, the company is experiencing growth that out-paces its counterparts. This is due to the niche business the company is pursuing as well as their expertise in establishing international relationships. It appears investors are waiting to see what the third quarter report looks like before pushing the stock further. That report is due out in the second week in November. At this point, it appears there is an attractive opportunity to own the stock and I will be carefully considering whether to take a position.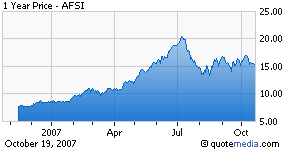 Disclosure: Author does not have a position in AFSI