Thursday, East West Bancorp (EWBC) reported earnings as summarized below:
Financial Summary
Third quarter net income was a strong $41.3 million, up 16% from $35.6 million reported in the prior year period. Diluted earnings per share for the third quarter rose to $0.67, up 16% from $0.58 in the prior year period. Return on average equity for the quarter totaled 15.19% an increase from 14.94% in the prior year period, while return on average assets for the quarter totaled 1.48%, an increase from 1.38% in the prior year period. Pretax income for the third quarter totaled $67.7 million, a 17% or $9.6 million increase over the same period a year ago.
Management Guidance
Based on the year-to-date performance and management's expectations for the fourth quarter of 2007, the Company has increased its earnings per share guidance. Management now estimates that fully diluted earnings per share for the full year of 2007 will be approximately $2.65, an increase of $0.30 or 13% from $2.35 in 2006. Additionally, this is an increase from the previously announced estimate of $2.61 to $2.63 for the full year 2007.
Simply put, these numbers are impressive.
Considering the fact that banking has been bashed up and down the street, EWBC is actually remaining profitable during these dismal times. I think this is a great indicator and also very promising. Their markets are focused in California and their niche clients are weeded out to ensure one thing: PROFIT. Another feature unique item is that EWBC can bring "eastern money" to invest in the west.
With a weakening dollar and booming Chinese economy many people in the Eastern world have become wealth and would look favorable to cutting into the CA economy – which, if it were an independent nation, would be the tenth largest in the WORLD.
On a day where BofA (BAC) reports a 32 percent drop in third-quarter earnings reveals and gets slammed by investors, EWBC reports gains and gets treated similarly. This downturn is a great opportunity for a long term play. I would treat this as a favorable entry point though I wouldn't play it without a firm exit strategy.
The reason for this isn't because of the fact that EWBC isn't a good investment; it's more to protect yourself from any downturn that might result due to market sentiment. A strategy I'd consider is buying the underlying security and then looks at some protective puts. Of course there is a premium to investing in buying some insurance, but it might save your portfolio if you are taking a very large position.
In summary, Jano sentiment for EWBC is BULLISH.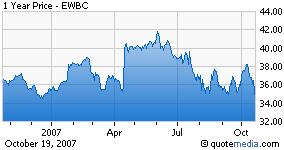 Disclosure: none