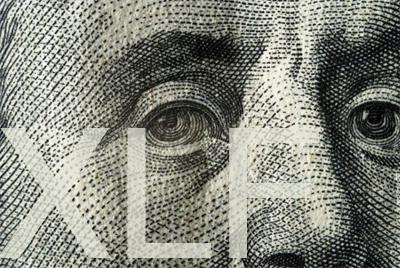 Goldman Sachs (GS) reported earnings this morning which beat expectations. Revenues were higher at $9.95B vs $9.41B expected and earnings were $3.92 vs $3.55 expected. GS is nearly a 4% weighting in the SPDR Financial Sector ETF (XLF). Its weighting in XLF exceeds that of both the Bank Sector ETF (KBE) and the Capital Markets ETF (KCE), which is a mild surprise.
The primary importance of XLF is there has never been a bull market in history where financials were not in the mix. While XLF and financials in general have rallied late in the first quarter of 2012 it still seems quite mired in a trading range which has lasted for the past three years. To be sure there has been plenty of movement within the trading range but all in all not much real progress.
This week many constituents comprising XLF will be reporting earnings including Bank of America (BAC) and Morgan Stanley (MS). Citigroup (C), JP Morgan (JPM) and Wells Fargo (WFC) for example have already reported without making much of a dent in the performance of XLF. It remains to be seen if XLF can break out of this extended trading range or not. This is important given our previous noting of financials' importance to any bull market.