Three months have gone by, so it's time to report on our LatAm buy recommendations. As in our previous update, each stock's title line typically features the ticker code, the price on July 22nd (date of our previous progress report), price as of Friday's close, percentage change in price and finally the new recommendation. Any new positions are dated from the day of recommendation, and closures are noted accordingly. Prices are in US Dollars ($), Canadian Dollars (C$) or Brazilian Reales (R$), according to the stock. General comments, comparisons to our benchmark and conclusions are found at the end. All charts are courtesy of the nice people at bigcharts.com.
Aurelian Resources (OTC:AUREF)
July 22nd C$8.00. Now C$8.75.
Change+9.4%.
Recommend: STRONG BUY
On October 4th Aurelian released its much-anticipated resource estimate for its Fruta del Norte [FDN] prospect, main focal point of its "El Condor" property in Ecuador. Just in case you missed it we happy to say it lived up to all the hype, as the resource counts on an already humungous 13.7Moz contained gold and 22.4Moz contained silver at gold grades of 7.23 g/t using a cut off of 2.3g/t. It confirmed our guesstimate of 14Moz and the market lapped the news up, sending the stock from the nervous $7s to over $9 before consolidating recently.
The good news didn't stop at the headline numbers, either. Aurelian reported estimated recovery grades of 85% to 95% using industry standard techniques were achievable. Plans for the underground mine with low environmental impact are now taking shape and the company is taking a "fast track" approach to the development of the site. There is plenty more good news, but space limits comment here.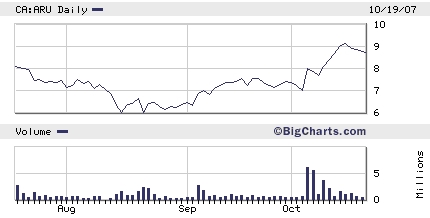 The potential downside to Aurelian is the wider political scene in Ecuador, but we are confident that the risk is much less than perceived by many analysts. In our recent macro strategy note "Ecuador: The Case for Buying Its Bonds" (available at our website), we go into further detail about this matter.
The FDN resource will almost certainly grow as the site drilling program continues and we have heard sane people talk about 20Moz being reported by this time next year. And once again, we are eager to remind the reader that FDN is only one of over 30 gold and copper targets inside "El Condor" identified for further investigation by Aurelian. At the moment, the promising "Papaya" prospect (close to FDN and assumed to be on the same strike) is being diamond drilled as well as the concurrent infill drilling at FDN.
Aurelian has "buyout candidate" written all over it. Once the political situation has been better defined we expect a major mining company to buy either FDN or Aurelian outright, and they will certainly have to pay a very large premium to the current share price. We are rating ARU a Strong Buy and rate it as our top pick for LatAm mining companies in 2007/2008.
Inca Pacific Resources (OTC:IPRFF)
July 22nd C$1.60. Now C$1.95.
Change +21.9%.
Recommend: BUY
As the reader looks at the charts contained in this report, the drop suffered by LatAm exposed companies caused by August's subprime scare will be a recurring feature. None more so than in the case of Inca Pacific, which was really hammered through no fault of its own. In just two months IPR journeyed from $1.60 to $0.95 and back again, but it eventually managed to shrug off its woes and ended advancing by over 20%.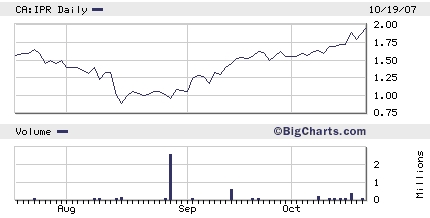 On the news front everything is in order. The company is reportedly on track to publish the bankable feasibility study on its Magistral copper/moly development by year's end and should announce financing very soon afterwards. We are happy with progress and have no hesitation in reiterating IPR as a buy even after this strong run. There is plenty more in the tank from here.
Gold Reserve (GRZ)
July 22nd $5.78. Now $4.80.
Change -16.9%.
Recommend: HOLD
Gold Reserve has had a wretched three months and is obviously suffering from nervous expectations that the new mining law in Venezuela will force all foreign companies to operate as minority partners in Joint Ventures with the state. Although the contents of the law are still unconfirmed, most are now assuming that the JV scenario will come to pass and recent weeks have seen a flight from the sector. However in the case of GRZ, we feel the bad news is already baked into the share price as the company has advanced on the permitting track and also has financing agreements in place. As the GRZ plan also includes copper production at "Las Brisas" that will reduce cash costs to zero at current prices, the economics still makes GRZ attractive even if it were to lose 50% of production to the state.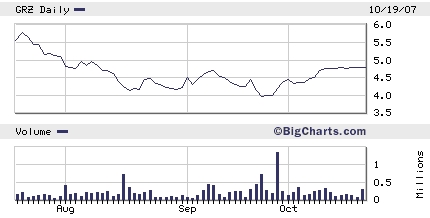 There are issues that need to be defined in the wider macro world of Venezuela, but risk/reward says we stick with GRZ for the moment. On an 'ounces in the ground' basis GRZ's Las Brisas is still one of the cheapest large gold projects in the world. We hold, but we are keeping a close eye on developments.
Telemar Norte Leste [TMAR5.SA]
July 22nd R$58.40.
Closed Sept 13th R$62.60.
Change+7.2%.
Vivo (NYSE:VIV)
Opened Sept 13th $4.61. Now $5.55.
Change +20.4%.
Recommend: BUY
As published on September 13th in our report "Phoenix Rising" (available at our website), we moved our Brazil telco slot from Oi [TMAR5.SA] to Vivo (VIV) and are happy with progress so far. The Brazilian cellular phone sector is very hot right now and Telefonica de España's Vivo brand is competing well against Carlos Slim's America Movil. We reiterate our "buy" and look forward to plenty more upside.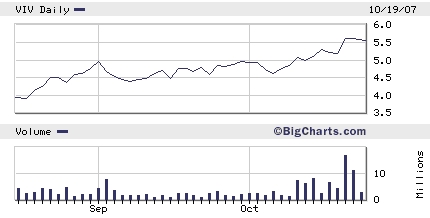 Embraer (NYSE:ERJ)
July 22nd R$22.39. Now R$21.85
Change -2.4%.
Recommend: HOLD
Embraer continues to frustrate. After being hit with the rest of them in August is has managed to crawl back, but still shows no signs of favouritism amongst institutional investors. It is still treading water on us as a stock.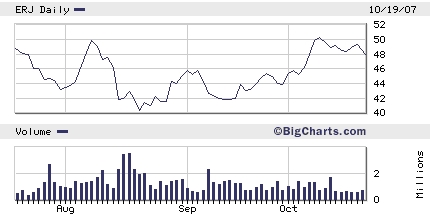 There is still much to like about Embraer, as the company delivered 47 planes in 3q07 (which compares to 61 in the whole of the first 6 months of this year), and celebrated a little milestone when they delivered the 1000th example of its flagship ERJ145 aircraft in September. As for future orders, Embraer reports having a cool U$17,4BN backlog on its books. We therefore hold, and console ourselves with Keats: "Time, that aged nurse, rock'd me to patience."
Gold Hawk (OTC:CGHRF)
July 22nd C$0.63. Now C$0.63
Change 0%.
Recommend: STRONG BUY
Time for a little more table-banging, as your stubborn author once again reiterates his strong buy on the unchanged Gold Hawk (CGK.V, CGHRF.PK). Perhaps the stock has not caught the attention of the investment public and start-up at Coricancha has been slower than both we and the company had hoped for, but all is by no means lost. On 1st October CGK said that that it had processed 42,000T of ore and had produced over 1000 tonnes of zinc, 1000 tonnes of lead, 4923oz of silver and 729oz of gold.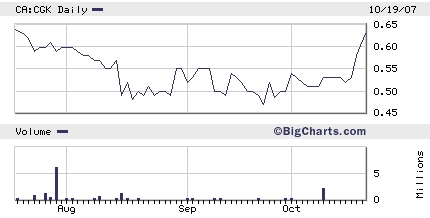 These figures are significantly lower than our previous estimates and are largely due to the longer lead times than expected for mining equipment. However it seems that things are now running more smoothly as CGK points to production now running at 86% capacity and expects 100% capacity of its 600tpd processing plant before year's end.
In fact, although 2007 has been slow we are ok about writing it off because our sights were always set on 2008 as the moment when CGK would show itself as profitable; that view has not changed. There is plenty of ore to prove up to reserve status and we think there is at least 20 years worth of mining at Coricancha. We have a forward PE ratio at 4X pencilled in which makes this stock an easy double, if not triple, in 2008. Gold Hawk's time will come. Strong buy.
Next Question?
Braskem (NYSE:BAK)
July 22nd $19.42. Now $18.15
Change -6.5%.
Recommend: SELL
We are closing our position in Braskem. Having bought cheaply earlier this year it has made us good coin, but with oil prices rocketing over U$90/bbl there is no point in holding on to a petrochemicals play that will see costs rise significantly going forward. We therefore bow out gracefully and wish the company good fortune.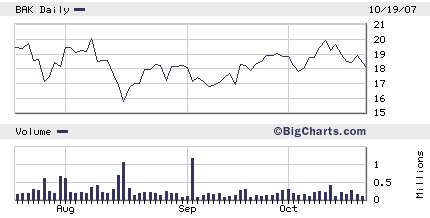 Apex Silver Mines (NYSEARCA:SIL)
July 19th $19.99. Now $19.94.
Change -0.2%.
Recommend: BUY
When your timing goes all wrong, you instinctively know it. We issued a Buy recommendation on SIL on July 19th (hence the different date in the top line), and then watched the stock sink with no trace. Under normal circumstances we would have scrambled to close the position before too much damage was done and then waited for the bottom to appear before re-opening, but as this is the model portfolio we will take the full force of the bad call for fear of being accused of cherry-picking exit and entry points.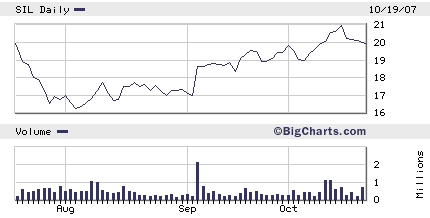 In the end the stock managed to climb back after the now obvious August subprime whammy, and we still love the story going forward. After cash costs they are currently grossing around U$10 for every ounce of silver they get from its 65% San Cristobal mine, now at full production. We have forward PE at 8X, a figure which leaves plenty of room for upside. If you like silver, you like SIL. Buy.
Petrofalcon (OTC:PFCXF)
July 22nd C$1.10. Now C$0.87
Change -20.9%.
Recommend: HOLD
Sadly, Petrofalcon (PFC.TO, PFCXF.PK) stock did not manage to hold on to the big gains and volumes traded on news of the Lundin Petroleum link-up back in July, but has recently started to climb back from yet another bout of the doldrums. The company has had good newsflow this last 3 months, as Venezuelan state oil company PdVSA has started to pay its backlog of invoices dues to PFC via the JV it runs with the state. It has recently confirmed the deal with Lundin and has also started picking up on production rhythm at its Falcon oil fields. All is certainly not lost, and when it finally starts to click with people that Hugo Chávez does not eat babies for breakfast and is willing to work with foreign oil, Petrofalcon will have its day in the sun. We hold.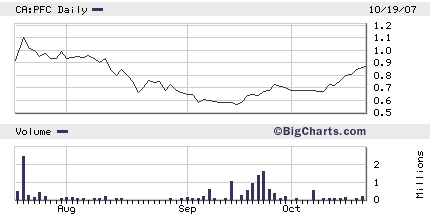 Northern Peru Copper (OTC:NPUCF)
Opened August 23rd C$8.35. Now C$10.55.
Change +26.3%.
Recommend: BUY
Akin to the SIL comments, when your timing is right you instinctively know it. When Northern Peru Copper (NOC.TO, NPUCF.PK) got hit under C$7 by the subprime slime in August it was difficult to keep a straight face when thinking about the money people were offering us. So once the dust had settled we published our note "Big rewards on offer at Northern Peru Copper" (available at our website), sat back and watched the stock rebound.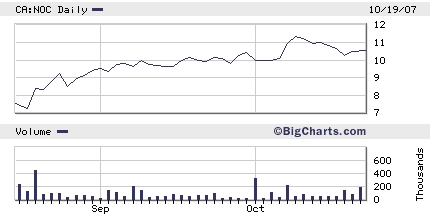 NOC has everything; big deposit, low costs, safe politics, top class management….the list goes on. Just keep buying it until we tell you to stop or the Chinese take it over.
GOL Linhas Aereas Inteligentes (NYSE:GOL)
Opened September 20th $23.79. Now $25.18
Change +5.8%.
Recommend: BUY
In our last review that fell just after the Sao Paolo TAM air crash that killed 199 people, we wrote that we would leave the stock until its house of pain was over to return at a later date. We chose mid-September to re-enter, witnessed by our note "GOL: The Flight Back To Quality".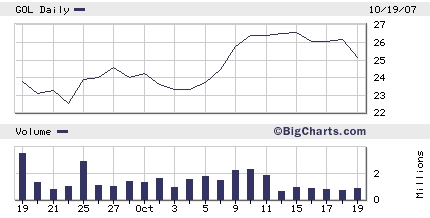 Since then the stock has rebounded very well, and despite selling off somewhat in the last two days has put us once again firmly on the good side of the equation in a short space of time. For more details on why we like the stock, we refer you to the abovementioned note. Suffice to say here that we believe GOL will appreciate significantly from here. Buy reiterated and U$40 targeted in the medium-term.
Baja Mining (OTC:BAJFF)
Opened October 17th C$2.02. Now C$2.16.
Change +6.9%.
Recommend: BUY
We recommended Baja Mining (BAJ.TO, BAJFF.PK) as a buy just two days ago in our report "Baja Mining: Tin Foil Hats Have Their Uses" (available at our website), and already it has made us a tidy difference. We refer the reader to that report for further details. Buy.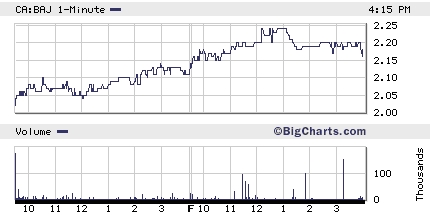 Conclusion
An even investment in each stock in the period would have returned 4.2%. Our benchmark index, the iShares S&P Latin America 40 Index (NYSEARCA:ILF) returned 7.9% in same period. This means that year-to-date our picks have increased 37.7%, which still compares favourably to the like-for-like ILF increase of 31.0%.
Please note that, as usual, we have not taken into account foreign currency appreciation. This would have earned an extra 2.7% on Brazilian stocks and a whopping 7.7% on Canadian stocks in US dollar terms.
Star of the show has been Northern Peru Copper, and even though we love the stock for the long-term and consider it a no-brainer buy at today's levels, it serves as an object lesson as to why the canny investor should keep cash on hand to take advantage of shorter-term opportunities as they arise. Another opportunity came up less than a week ago, and the story behind Baja Mining's recent share price action just goes to prove P.T. Barnum's old saying about there being one born every minute.
A recurring theme in our selections is the thumping hit they took from the subprime crisis in August. There was not much logic about selling off a junior miner in Peru because some bank in the USA had sold a patchwork quilt of toxic debt paper to a European financial house that had been created out of people being less than honest about creditworthiness in Southern California, but as in the best of panics, nobody was looking at anywhere else but the door. The result can be seen in the charts above.
Since then, due to the hot money flow large caps plays in Latin America have rebounded more quickly than the smaller caps we have highlighted in our reports this year. Many of our picks were hit hard and then rebounded much more slowly due to risk perception, lack of liquidity and suchlike. So it is therefore unsurprising (for us at least) to see the ILF move ahead of us in this quarter. Frankly the results would have looked a lot worse just a couple of weeks ago, as stocks such as Gold Hawk and Petrofalcon have only just started their recoveries (and thus incidentally offer excellent short term trading value to those so inclined). But we do not have the right to make too many excuses; the ILF beat us by 3.7% in the period and is eating into our lead. We shall see in January if we can redress the balance and majestically pull away in what's left of the year.
Disclosure: The author has buy recommendations for clients on several on the above stocks