Most investors know the power of compounding but very few actually put the numbers on paper to see how truly magnificent it is. No wonder even the great Albert Einstein supposedly said compounding is the most powerful force in the universe.
Back in 2011, SA contributor Tim McAleenan wrote three articles about Altria (MO), Pepsi (PEP), and Chevron (CVX) explaining how a simple buy and DRIP strategy would lead to big dividend checks from them. Our idea for a similar article on Philip Morris (PM) was framed independently and while searching around for similar articles on this topic, we came across Tim's articles. Not intending to be rude, we have sent a note to Tim about publishing this piece.
Since the spin off from Altria in 2008, Philip Morris has increased its annual dividend by an average of about 14%. Let us be conservative and use a 10% annual dividend increase instead. PM's payout ratio is slightly above 60%, a very low number compared to the other tobacco companies. And operating in more than 150 countries, it has tons of growth ahead and that should take care of the earnings per share. Let's see what are we looking at in 10 years.
Assume you purchase 1000 shares at the recent price level of $87 for a total initial investment of $87,000
The current yield works out to 3.54% as shown in the table below
Notice how the dividend payments and the yield on original cost almost triple in 10 years, leading to $8000 in annual dividends
We have left out the DRIP part from this piece as some investors choose to reinvest the dividends and some do not. Some DRIP during bad times to accumulate more shares and opt out of DRIP when the price per share seems to be at a fair value.
Capital gains will almost certainly contribute to the overall returns as well. However, in case the price dips, turning on the DRIP will be helpful in maximizing the returns when things turn around.
Inflation has been ignored in this calculation as stocks are the best hedges against inflation when compared to other assets.
One might think why not purchase a current 10% yielder instead of waiting for PM to grow into a 10% yielder in the future. Fair question. Unless a depression sets in, PM is highly unlikely to reduce its dividend. The same cannot be said for junk high yielders.
10 years is a reasonable time period for this exercise as the market typically moves through many cyclical highs and lows in a decade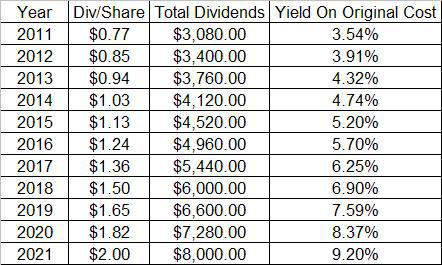 Conclusion: This article is intended mainly for young investors who easily get distracted by all the noise around growth and momentum stocks. Yes, there are companies like Apple (AAPL) that blow away the returns shown here but you are talking about a few exceptional winners and survivors. However for investors with a longer time horizon, looking at future yield on original cost for dividend growth companies is an useful tool when evaluating purchases.