As promised in my article last week regarding extremely oversold consumer stocks, Men's Wearhouse (MW) (39.05, $2 billion market cap) is one that merits a closer look. For those who looked at those 13 stocks, you may have noticed that MW, despite being extremely oversold, was the only one of the list that was still up in 2007. As an aside, the day after my article appeared, one of the stocks, Steve Madden Ltd (NASDAQ:SHOO) surged over 10% on news of the formation of a "Strategic Review Committee" amidst acquisition interests having been expressed. As I expressed, there are probably some babies in the bathwater in the group.
MW is one of the few retailers that I really get, as I think that I am their target market: Men who don't especially like to shop and don't consider fashion a high priority in their lives. Despite the company's origins in my hometown, I had never stepped foot into one of their stores until 2000, when the stock caught my attention. I checked it out and became a satisfied customer. I recently bought my son his first really nice suit there as well. I added the stock to my watchlist earlier this year when it hit my favorite screen.
While the company's origins in the 70s were exclusively suits, it has evolved to become a complete menswear store. Since my initial visit, I have noticed significant changes, including the addition of a loyalty card, expanded categories (including an exclusively wrinkle-free dress shirt collection), the integration of its dry cleaning business (in Houston), and the increased presence of its formalwear business. What haven't changed are its value pricing, consistently high quality, convenient locations, and, most importantly, its extremely talented salesforce.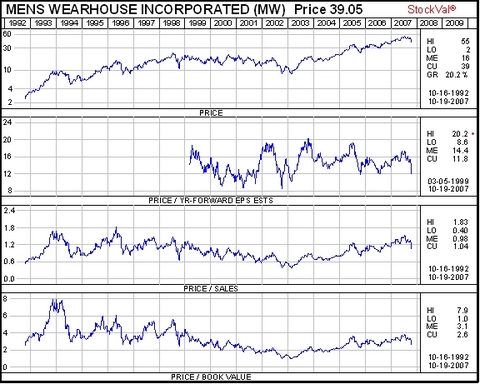 As you can see in the chart above which encompasses the company's entire history as a public company, the stock has done well over the past 15 years but not over the past 15 days! In fact, since its July all-time high of 56.64, the stock has pulled back a sharp 31%. The catalyst was an early-October pre-announcement citing weakness at their low-end line of stores (K&G) as well as integration issues with their recent purchase of the largest chain of formal wear stores (After Hours). Not surprisingly, the momentum guys have bailed. It had been one of the few retailers working well this year, with a lot of the excitement driven by the April acquisition of After Hours (announced last November) as well as positive same-store trends. The analysts marginally reduced estimates for next year, and they are still higher than they were 2 months ago. Quite an extreme reaction! Valuation has pulled from above average to well below average at just 12X forward estimates. On a Price to sales basis, the stock has retreated to a more average level as well. By the way, I believe that the long period of weakness in the late 1990s was due to 2 factors: The lack of interest in retail due to the internet as well as the trend towards fewer suits.
I think that the stock could bounce from the 38 area, which has served as a historical resistance as well as an area of high volume over the past couple of years. If it does, it is probably worth pursuing. This company operates extremely well in its niche, and it should do a much better job with AH than Federated did. I am not sure that the dry cleaning business will become a huge driver, but I do see some synergy that wasn't initially apparent to me. That industry is highly fragmented and offers MW potential growth as a consolidator if it decides that it makes sense to pursue further. The balance sheet is very clean. Inventory growth has been below that of sales growth, which is important in a slowing economy. Unlike so many retail companies that are growing solely through new store openings, MW generates significant free cash flow. If there is one thing that really concerns me potentially, it is the geographic exposure. The company's exposure to California is about 16%, while Florida accounts for 7%. I am extremely negative on retailers in general, so I don't think that I will be jumping into this one unless if clearly holds 38 for the next couple of weeks.
Disclosure: None