My flight to New York was delayed, and at least it gave me an opportunity to catch up on some reading, and blog a few paragraphs. I post a global stock market performance round-up on a monthly basis – see "Are global markets on steroids?" as an example. The dilemma with focusing only on historical returns, however, is that at best, they represent a rear-view mirror assessment of future investment potential.
A far superior approach is to combine the performance ranking tables (and price charts) with a measure of valuation. And this is where I find Fullermoney's global price/earnings ratio [PER], and dividend yield [DY] tables particularly useful. These are still historical figures, but nevertheless serve as a very useful guide to where over- and under-valued situations are most apparent. (Yes, I realize that it is much better to use prospective PERs and DYs, but I unfortunately do not have access to that data for dozens of countries around the globe.)
In order to view the PERs and DYs they stood on both September 5 and October 8, please click on the thumbnails below.
Ranking of global price-earnings ratios
click to enlarge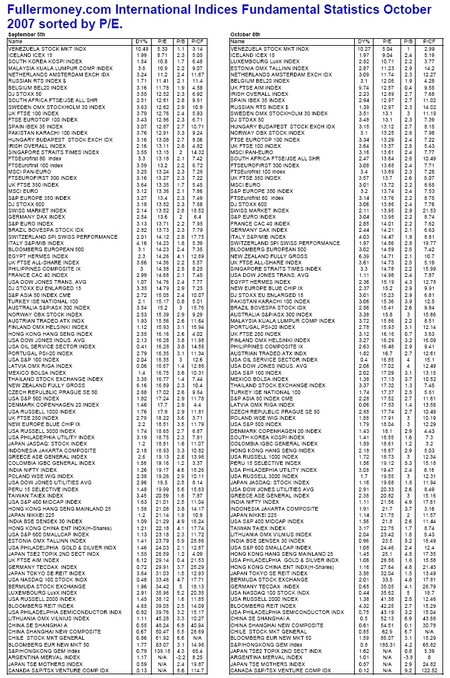 Ranking of global dividend yields
click to enlarge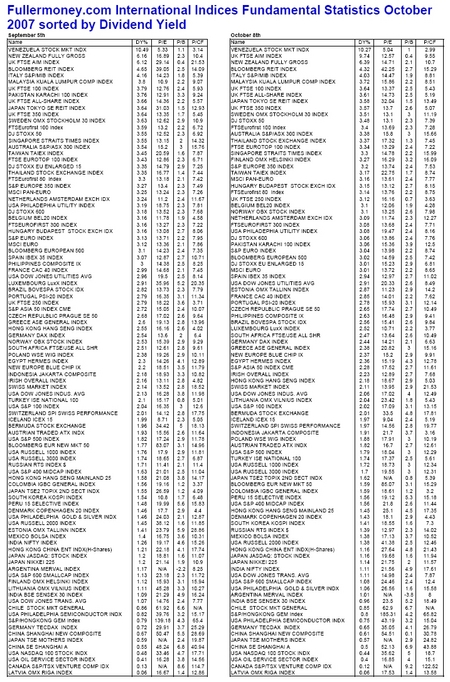 In future I will incorporate Fullermoney's PER and DY rankings in my monthly review of global stock market returns to better serve our needs to seek out the next global hot spot.