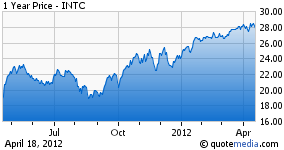 Intel (INTC) reported quarterly earnings on April 17th and the numbers were pretty impressive to say the least, even though the street reacted a bit negatively. During the after-hours trading session shares of INTC were down more than 2% and revenue of $12.9 billion came in down 7% from the previous quarter. Intel's operational income was $3.8 billion and net income hit $2.7 billion which equated to earnings of $0.53/share. Analysts were calling for EPS of $0.50/share on revenue of $12.84 billion, and given what INTC reported, that was a 6% surprise on EPS.
One of the biggest things I look for in a company is management's guidance and their assurance the company is on track for continued success. INTC delivered on both of those of those fronts, as CEO Paul Otellini described the first quarter as a, "solid start to what's expected to be another growth year for Intel".
Intel gave great guidance and a very good outlook for the remaining portion of its fiscal year. During the second quarter INTC expects a lot to happen, beginning with the $4.6 billion it has in place for such things as mergers and acquisitions, and the expectation revenue will grow to at least $13.6 billion.
From a consumer standpoint, Intel has made a very bold move. They plan on entering the smartphone marketplace by introducing devices that will run on Intel-based chip technology, with their first powered device due in the marketplace by the end of this week. This announcement should create quite a stir with both Advanced Micro Devices (AMD) and Apple (AAPL). AMD, who currently dominates the tablet segment of the mobile market, looks to gain a larger presence as Windows 8 devices will run AMD's 'Hondo' chip set. Apple, on the other hand, is also very big in the mobile device marketplace implementing their ARM technology in a large number of smartphones and devices.
So how does Intel compete against Apple and Advanced Micro Devices? The answer isn't as complicated as it seems. INTC already has plans in place with Motorola (NYSE:MMI), ZTE (OTCPK:ZTCOF) and Lenovo (LVNGF.PK) to use its mobile chip technology. The plan is to use a low-powered Atom based chip, currently dubbed "Medfield," in handheld devices to directly compete with Apple and AMD products.
Investors need to understand two things when it comes to the immediate market reaction. First, the INTC consecutive streak of positive earnings growth was stopped, and second, the earnings announcement wasn't enough to spark a short term pop in the stock. For the long term investor these things aren't anything he or she needs to worry about. Once the numbers are digested and new products are released investor sentiment will once again create positive movement in the stock, and the short term downside should create a buying opportunity for potential investors.
Disclosure: I am long INTC.