Here is a water utility company that's dependable if you are looking for an income stock. It's not glamorous, but it will be consistently there for you - paying out dividends, as it continues to grow with projected EPS of 10%-plus every year.
American Water Works Company (AWK) provides water and waste-water services to residential, commercial, industrial, public, and other customers in the United States and Canada. The company's Regulated Businesses segment offers water and waste-water services to approximately 1,100 communities in 16 states.
The stock is known for its dividends, averaging about 2.8% with a 51% payout. The stock is steady and slow moving. From November through the beginning of February this year the stock rose 10% and is presently trading at $33.37. Since its high in early February, it has pushed against the $34.5 resistance level no less than five times, before it finally surrendered to the bears and dipped the beginning of April.
Click to enlarge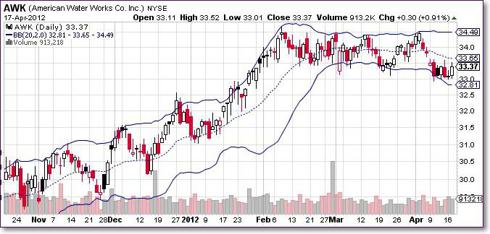 Analysts have been losing interest in the stock, and most have given it a hold rating because it is within less than 10% of its 52-week-high growth projections. As a growth stock, interest in waning, but the stock is still a solid buy for those interested in a dependable dividend stock.
It is a good value stock in the sense that price/book value and price/sales ratios are both lower than the industry average. Its debt/equity ratio also comes in better than the industry. So it is a financially sound stock that still shows some value. Earnings are projected to grow by 11.16% for all of 2012, and another 10.04% in 2013.
Bottomline: While American Water Works Company may not be a great growth stock at this time, it is dependable. It you are looking for a good value play that is financially stable and offers consistent dividends, this is a good company to take a closer look at.