There have been lots of articles on Seeking Alpha on the dividend growth investing strategy. As an avid believer in this strategy, I wanted to add my two cents buy writing about my investment philosophy.
My personal portfolio has had a five-year annualized return of just over 26% -- a rate that I personally consider a success. As such, I am sharing my philosophy with the hope it will benefit other investors, particularly people new to the world of dividend growth investing.
I realize that a few of the points I made will be controversial and some investors will disagree -- perhaps strongly. That is fine, and I would welcome a thoughtful discussion that includes criticisms in the comment sections. With that being said, here are my tips for dividend growth investors....
Embrace the Philosophy
There are many valid investing strategies that can work very well for you. I chose dividend growth investing because of the underlying philosophy and the discipline it teaches. Let me explain.
Studies have repeatedly shown that individuals buy high and sell low. It is human nature to be greedy when all seems well and panic when fear rears its ugly head. This phenomenon is not limited to retail investors either; consider that most fund managers show the same pattern, that companies tend to authorize their biggest share buy backs when stock prices are elevated and even gold companies began hedging their exposure to gold prices when the metal was trading at a generational low. Again, it is just human nature. Buy low and sell high fails miserably for the vast majority of people.
So ignore the market gyrations and instead focus on your rising dividend stream. After all, if you are not retiring for 10, 20 or even 30 years, what happens to the markets today, or even this year, seems almost absurdly irrelevant. The world has gone through world wars, a great depression, a hyper-inflationary scare and threats of nuclear war, sovereign defaults and banking crises...and guess what: in the long run stocks have always risen through it all. So ignore websites and televisions that obsessively display every point the Dow rises or falls, as if these minute-to-minute changes mean anything at all to a long-term investor.
I am a true believer in ignoring market price and tend to not even blink an eye when the market corrects...but even I had to admit the stock market meltdown of 2007-2008 was a very uncomfortable experience. Even with an elevated cash position, my portfolio was devastated: my individual stocks lost between 20% and 60% of their value. With every pundit screaming about another 50% decline in the stock market in 2009, I honestly believe that if it weren't for my dividend growth philosophy that I would have panicked and sold my stocks, locking in horrific losses. Instead I took great comfort from the fact that my dividend stream was intact and, in fact, most of my stocks continued increasing their dividend right through the crisis.
With a philosophy that focuses on yield, I also noticed that the market was offering me great companies at yields higher than I ever thought I would see. Despite being more than a little freaked out, I didn't sell into the 2009 bottom but rather bought into it heavily. As such, the massive market decline was actually a big benefit to my portfolio. I don't credit this to any sort of particular genius or talent on my part but rather credit the discipline taught by a dividend growth investment strategy.
Have Cash at the Ready
Some dividend investors diversify a little into other assets like high-yielding bonds, and while I chose not to, that is a perfectly valid strategy. However, there is one asset class that I believe dividend investors must have: cash.
When stocks seem to me like they are trading at a fair price, I collect my dividends and whatever cash I can spare from my income and regularly re-invest into my stocks. As such, I'm dollar-cost averaging into positions over a long time-frame and ignoring the minute, random gyrations of the market. As such, I never have to worry about the often fools' game that is market timing.
When stock valuations are so rich that I see little value in the stocks that I own, an environment we are currently in, I stock pile my cash waiting for a better opportunity. When the next market pullback comes, as they always do, I make sure I have dry powder at the ready.
You know that old expression "you can't do the scene without the green." It's true: and you can't buy stocks without having the cash on hand.
Know Why You Own a Stock
Investors should have a compelling investing hypothesis for every stock they own. The fact that a company has raised its dividend for 10, 20 or even 50 years is a wonderful trait to have but is not, in itself, a good reason to own the stock - after all, investing is about the future, not the past. For example, I believe that the biggest story in emerging markets is the rise of a new, wealthier consumer. I think as incomes rise, this nascent middle class will want to enjoy the same hedonistic luxuries as North Americans do. As such, I own emerging consumer "sin stocks" like Ambev (ABV) and Philip Morris (PM).
This also means understanding how the stock you own supports your investing hypothesis. As an example, a friend of mine told me he was worried about inflation. He also knew that timberlands are a good inflation hedge and reasoned that owning a stock with profits tied to timber should provide his portfolio with some inflation protection. Based on that reasoning, my buddy invested in Rayonier Inc (RYN): a perfectly valid investing hypothesis but the wrong stock to play that theme. Rayonier has a specialty fiber business that generates most of its profits; in fact, less than 15% of its revenue comes from the sale of timbre. A better choice would have been Plum Creek (PCL), which generates about half its revenue from timber, or the small cap Pope Resources (POPE), which generates virtually all its income from timbre. Deciding you want exposure to timbre and then googling "timber reit" is far too shallow of an analysis.
Finally, this also means understanding the specific risks of the stock you own. A Seeking Alpha user sent me a private message commending my bullish stance on Brookfield Infrastructure Partnership (BIP). After the user disclosed that he owned a substantial amount of the company's stock, he finished with a snide comment about how silly people were to hold bonds in what will soon become a rising rate environment when you could get an "easy" 5% yield with this utility. While I still own BIP, I had to point out that obvious fact that the stock trades at a valuation well above its NAV; a premium this rich, no doubt, is due in part to the very low-rate environment the user alluded to. If bond rates rise, the premium to BIP's NAV the market is willing to pay will certainly go down; in essence, stockholders of this (or any) utility are taking on similar interest rate risk as bond holders are.
Before owning a stock, you should know why you believe it will be a strong company in the decade(s) to come. You should learn about the business, the sector and their competitors; study the financials, analyze the risks and only then, if the risk/reward still seems favorable, buy the stock.
Buy and Monitor
In my world, the goal of any stock investment should be to hold your ownership in the company forever and share in its growing cash flow. Reality, however, is rarely that simple. You should monitor every stock you own: everything from earnings, to competitors, to demographic and regulatory trends that may affect your investment.
As soon as your investment hypothesis for a stock no longer holds true, it is time to sell. This could mean a deterioration in earnings growth, a dividend that seems in danger of a freeze/cut, a loss of faith in the company's management or simply outside trends that have made you question the stock's future earning potential.
As an example, my investment thesis in 2000 was that the world would always fight wars and developed nations would continue to accumulate the newest and best weapons systems and be willing to pay almost any price for them. As such, I bought Lockheed Martin (LMT). When I was looking to raise cash levels early in 2007 I decided to sell my by-then substantial stake in LMT because I believed that a recession and very high deficits in the budgets of developed nations would force countries to cut their defense spending. Lockheed continues to have good management, great research and development and keeps raising their dividend but the loss of one key piece of my investment thesis (military spending growth in developed nations) caused me to sell my shares.
Accept Single Stock Risk
If all that research and monitoring sounds like a lot of work -- it is! As such, I tend to own only 10-14 stocks. This is partly because of the time commitment it requires: I love investing and all but I have a doctoral thesis to write, a job, a part-time business not to mention that I enjoy relaxing, spending time with my friends and family and being involved with my church. The other reason is simply that I have done considerable due diligence and I have faith in the stocks I own.
If this sounds lazy or risky, I strongly disagree. If you have done your homework on your investments as I described above, you should be confident enough to have a portfolio concentrated in a handful of your best ideas. I tend to agree with Warren Buffet who claims that broad diversification is only for those who don't know what they are doing.
Even the best companies can decline through macro-economic trends that are beyond their control but if you're diligent with the monitor part of your buy-and-monitor strategy then you should be able to catch potential problems early.
Diversify
This may sound odd for an investment plan that consists of buying only one asset class, especially with my advice to have a concentrated portfolio, but I believe firmly in the need to diversify. My portfolio has been roughly divided between stocks in Canada (my home), the rest of the developed world and emerging markets. By diversifying by country, at the risk of sounding pompous, my portfolio has not had a lost decade. Check out the chart of the performance of emerging markets (EEM) in orange, Canada (EWC) in purple, Australia (EWA) in blue and the U.S. (SPY) in red.
(Click charts to enlarge)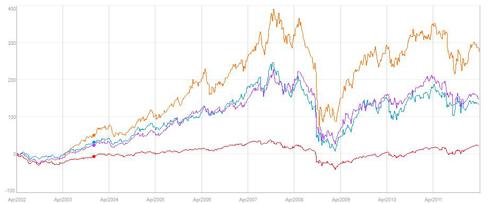 For U.S. investors something around a 60%-20%-20% split between U.S., International and Emerging Market stocks makes sense, although aggressive investors may want more emerging market, or even frontier market, exposure.
There are diverse opinions on what the future of the markets hold: at one extreme, people believe that as the markets eventually transition from secular bear to secular bull, hard assets will lose favor and the U.S. market will outperform; others say high debt and over capacity will lead to a generation-long depression for America. I have my opinion, which I won't bother sharing, but I will share this: none of these self-styled soothsayers actually know what is going to happen. Position your portfolio so it will do fine either way.
Diversification by region is very important but so is diversifying by industry and sector. Even if we limit ourselves to the beleaguered S&P 500 (NYSEARCA:SPY), not all sectors have fared poorly. Take a look at the following table, courtesy of MorningStar:

In fact, a portfolio of U.S. stocks, that was equally weighted by sector instead of market cap, would have actually done quite well over the last ten years.
Accept Market Risk
You can diversify away single-stock risk if you choose, sector risk and geographical risk but there is nothing you can do about market risk. Stocks have the highest expected returns of any asset class and over the long run a dividend growth investor should handily beat someone invested in a stock/bond portfolio but the price we pay for the potential returns is volatility.
I have heard many authors say that being invested in stable, dividend-paying stocks will help protect your portfolio from a downturn. This is absolutely false! It is misleading advice for new dividend investors that won't prepare them for what to expect from their investments. Dividend stocks are still stocks: if the market tanks, they will go along for the ride. If you doubt me, even after the tumultuous storm the market has been for these last few years, please examine this chart comparing the Vangaurd Dividend Appreciation ETF (VIG) in blue, a reasonable proxy for dividend growth stocks, and the Dow Jones Industrial Average in orange. As you can see, VIG fell even harder than the Dow did during the global financial crisis.