Bruker BioSciences Corp. (Nasdaq: BRKR) affiliate Bruker BioSpin hasve announced the official opening of their new Beijing applications, demonstration and customer training center. The company reports that the new demonstration and training facility includes sample preparation areas and laboratory space equipped with the very latest systems from each of the Bruker companies, and will showcase a wide selection of life science and materials research, as well as industrial analysis systems.
Bruker BioSciences Corp. designs, manufactures and markets analytical and life science systems and associated products. It operates through three segments: Bruker AXS, Bruker Optics, and Bruker Daltonics . Bruker BioSpin Group, a privately held affiliate, designs, manufactures and distributes enabling life science and analytical research instruments and solutions based on magnetic resonance core technology.
"Our new and expanded demonstration facility provides the opportunity for scientists to investigate a wide range of applications on our innovative systems, together with obtaining training, demonstrations and advice from Bruker's highly qualified and experienced Beijing team of application scientists," said Clive Seymour, Bruker Daltonics VP Asia-Pacific.
The Billerica, MA based Bruker Biosciences reported US$434 million in revenues for 2006 and US$18.5 million in net income. Solid growth in areas such as structural proteomics and advanced material research contributed to YoY revenues growth of 17%. The company's Bruker Optics division reported particularly strong growth, with revenues increasing 34.1% to US$105.5 million. China's quality control concerns are assisting Bruker's growth. In 2006, Bruker Optics reached an agreement with the People's Republic of China State Food and Drug Administration [SFDA] for a large order of mobile near-infrared [NIR] instruments to be used in determination of counterfeit and substandard drugs in the Chinese market. Bruker Optics is supplying over 300 instruments that are being integrated into a large fleet of mobile laboratory vehicles deployed across China for the rapid screening of pharmaceuticals.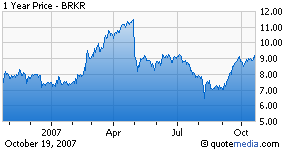 Disclosure: none