There has been much criticism of Apple (AAPL) because the carriers offer customers subsidies to purchase Apple's iPhone. It is suggested that Apple is dependent on these subsidies and that the only reason why people are buying iPhones is because iPhones are subsidized by the mobile phone operators. Here is our analysis on this debate.
The iPhone is Apple's revolutionary smartphone product and was created as the centerpiece of Apple's annual MacWorld convention in 2007. After 18 months of secret meetings between Steve Jobs and Stan Sigman at Cingular Wireless (AT&T's wireless division), Jobs negotiated a deal in which AT&T (T) would be the exclusive carrier of the iPhone for 5 years in exchange for spending millions of dollars and thousands of man-hours to create a new feature, so-called visual voicemail, and to reinvent the time-consuming in-store sign-up process. He'd also wrangled a unique revenue-sharing arrangement, garnering roughly $10 a month from every iPhone customer's AT&T bill. On top of all that, Apple retained complete control over the design, manufacturing, and marketing of the iPhone. Jobs had done the unthinkable: squeezed a good deal out of one of the largest players in the entrenched wireless industry.
For its part, AT&T also saw a tangible benefit as well. In 2007, the year the iPhone was introduced, the company increased its wireless customers by 9.1M. This represented a 14.9% increase in the number of wireless customers relative to 2006 levels, it represented a growth rate that exceeded the impressive, double-digit gains in 2005 and 2006 and represented 75% of the number of subscribers gained in 2005 and 206 combined. Data service ARPU grew 46.9% in 2007. Despite the financial crisis in 2008, AT&T almost increased its wireless customer base by 10%, settling for 9.9%. Moreover, it increased its highly profitable postpaid customer base by 4.6M, or 8.7% year-over-year in 2008. AT&T enjoyed 36.4% postpaid data services ARPU growth in 2008, 23.5% in 2009 and 19.3% in 2010. Though AT&T carried 18 different smartphone lines, the Apple iPhone was its most popular product.
Source: AT&T Annual Reports: 2007-2011
AT&T's gains paled in comparison to Apple, which sold nearly 1.4M iPhones in 2007, 11.6M in 2008, 20.7M in 2009 and 40M in 2010. In FY2011, aided by its new selling agreement with Verizon Wireless [a joint venture of Verizon (VZ) and Vodafone (NASDAQ:VOD)], Apple sold over 72M iPhones. The iPhone is Apple's biggest selling product, accounting for about 43.5% of its 2011 revenue.
Source: Apple's 2011 Annual Report
Verizon regained its lead in the number of wireless customers served in 2009 when it acquired Alltel. From 2008 to 2010 AT&T had gained more postpaid and total customers than Verizon, which was reversed when Verizon began selling the iPhone in 2011 and AT&T was busy trying to acquire T-Mobile from Deutsche Telekom (OTCQX:DTEGY). Verizon was also aided by its wireless sales partnership with CenturyLink (NYSE:CTL), the third largest telecom provider in the US.
Not to be outdone by the mobile phone giants, Sprint Nextel (S) entered into an agreement with Apple to purchase $15.5B of smartphones over a 4 year period. So far Sprint seems to be on track to satisfy this agreement on time, as it sold 1.8M iPhones in Q4 2011, 40% of which went to new customers. On top of that, Sprint is the only U.S. carrier to still offer unlimited data for any iPhone model. C Spire Wireless, the 8th largest wireless provider in the US also began selling the iPhone in late 2011.
Additionally, a group of regional carriers announced on April 4th plans to sell the iPhone at prices that undercut the major firms by $49, or nearly 25% off the retail price for the basic 4S model at AT&T, Verizon & Sprint. The companies that announced this include NTelos Wireless of Virginia; Appalachian Wireless of Kentucky; and Alaska Communications, Matanuska Telephone Association and GCI of Alaska. NTelos (NTLS), GCI (NASDAQ:GNCMA) and Alaska Communications (NASDAQ:ALSK) are publicly traded and have seen sharper declines versus the broader market since this news was announced.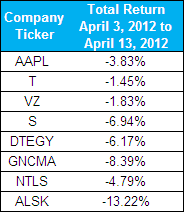 Source: Bloomberg
At 43.5% of revenue Apple certainly depends on its ability to continually expand its sales of iPhones, as failure to do so would result in headwinds to growth and stagnating or declining EPS. However it is faulty to solely attribute the growth of iPhones merely to Apple's subsidies. Customers who buy an Apple iPhone are not getting something for nothing. Nearly all customers who buy a smartphone, regardless which cell phone provider sells it, must buy the phone with a 2 year contract. All smartphone customers must purchase a qualifying data plan, which costs $10/month at Sprint, $20/month at T-Mobile and $30/month at Verizon and AT&T. AT&T, Sprint and T-Mobile all require 2 year contracts for new smartphone purchases. Only Verizon allows customers to buy a smartphone without a 2 year contract, however the cheapest phone without a 2 year is a Pre-Owned Motorola Citrus for $249.99.

Source: AT&T Wireless, Verizon Wireless, Sprint and T-Mobile Websites
Despite the fact that smartphones have a higher median retail cost than basic cellphones, this has not stopped the smartphones from displacing basic cellphones in the product lineup of the major cellphone carriers. Our analysis has shown that while a simple average retail cost of all smartphones is not demonstrably higher than basic cellphones, the average monthly bill for a smartphone is significantly higher for a smartphone than it is for a basic cellphone. The factor is primarily why the author of this article had resisted upgrading to an iPhone until last year. Basically, the mobile carriers are taking the razors and razor blade business model to new heights upfront with smartphones, but because of the contracts and early termination fees, make the money back in the second year.

Source: Most Recent Annual Reports by the Companies
We also disagree with singling out carrier subsidies for the iPhone. It is true that the iPhone has a high subsidy but it is not the only smartphone subsidized by the mobile phone companies. Using Verizon Wireless and AT&T for the Nokia Lumia 900 phone as an example, we have compared the 2 year Contract Subsidies available for the iPhone and other smartphones. While the Apple iPhone does have the highest subsidy of all new smartphones, it does not have the highest subsidy of the phones we compared. The highest subsidy that Verizon offered was $500 for a pre-owned HTC Rezound, which still cost $149.99 with a contract, or $50 less than a new iPhone 4. We were surprised that certain pre-owned phones had a higher subsidy for a 2 year contract and that Verizon charged full-price for the phone when you bought it without a contract, even when it was used. Research in Motion (RIMM) should be embarrassed that even though its wholesale cost for its BlackBerry smartphones are within 30% or less of Apple's retail cost for the iPhone 4S with 32GB, BlackBerry sales for Q4 2012 were about 30% of sales of the iPhone. Nokia (NOK) only sold less than 10% more smartphone devices than Apple in 2011, despite the "lower cost" associated with Nokia devices. That probably explains why Apple realized over 3 times the revenue from sales of the iPhone versus sales of Nokia's Smartphone devices. Motorola Mobility (MMI) sold 41.4 total handsets in 2011, including 18.7M smartphones. Hewlett Packard (HPQ) announced plans to wind down the Palm webOS device business and despite that, a new iPhone 4S 16GB only costs $50 more than a Palm device.
In conclusion we believe that the issue of iPhone subsidies is a straw man. We believe that Apple's iPhone smart phone is a unique product suite that has revolutionized the way the consumer thinks about mobile phones. It has certainly revolutionized the way mobile phone carriers think about mobile phones as well. It remains to be seen if it revolutionizes the way smart phone makers think about phones. Judging from the sales figures of Apple's competition, it does not appear so, as Apple has been continually taking away market share from the competition. We think the merger of Google (NASDAQ:GOOG) and Motorola Mobility may result in a company that could serve as a strong number two competitor to Apple and its iPhone but considering that Android may have been potentially plagiarized from Apple, we'll analyze the situation as it unfolds. The last point we want to make about the iPhone is that the carriers are not forced to pay "subsidies" to Apple by the direction of a bureaucratic edict, but rather by the demands of the customers that they seek to serve. It's the same reason why high quality fresh organic tenderloin steak from Niman Ranch at Whole Foods Market costs more than pink slime (ammonium hydroxide ground beef) from Beef Products International sold in a package at Wal-Mart and yields a lower gross margin for Whole Foods versus the pink slime at Wal-Mart.
Disclosure: I am long AAPL.
Disclaimer: Saibus Research has not received compensation directly or indirectly for expressing the recommendation in this report. Under no circumstances must this report be considered an offer to buy, sell, subscribe for or trade securities or other instruments.