Manitowoc (NYSE:MTW) is an industrial co. dealing with crane manufacturing, foodservice equipment, and marine servicing. MTW will announce earnings on 31 Oct 07. Just a few quick points:
MTW has beat earnings estimates on 10 of the last 11 quarters, and the only one it missed was the oldest of the set. The miss during Q4 of 2005 was only by .002, while MTW has beaten estimates by .01 - .15 since.
The price now is 4.5x what it was during Q4 2005.
MTW is the highest ranked firm in the Farm & Construction Machinery Industry.
Recent acquisitions: ExacTech, Inc. (NASDAQ:EXAC), McCann's Engineering & Mfg Co. and McCann's de Mexico, and Shirke Construction Equipments, Ltd.
Below industry average dividend yield. MTW reinvests their earnings into acquisitions and growth, while keeping debt low. Total Debt to Equity: 27.9 vs. 249.8 for industry.
There has been approximately a 10% correction over the last week and a half. Appears to be leveling off, regaining strength around mid $45.
Technical Indicators: Approaching moving average, began forming resistance around $45.50. 10-day and 20-day RSI indicate move in either direction.
MTW has posted
36.5% sales growth
for Q2 2007, while the industry averaged 11.0%.
EPS growth for Q2 2007 was 128.6%
vs. 5.2% for industry.
EPS growth for trailing 12 months was 149.9%
vs. 15.3% for industry.
Recommendations: Buy below $47 before 31 Oct. earnings report. If it closes above $46 early next week, begin averaging in.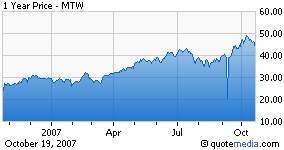 WATCH TEREX EARNINGS:
Terex Corp. (NYSE:TEX) and MTW are very closely correlated. Perhaps the most important indicator as to the direction of MTW will be the direction of TEX, following the 24 Oct. earnings report. TEX will be watched very closely to indicate overall direction of the industry.
Price target for MTW: $55 by 1 Jan 08.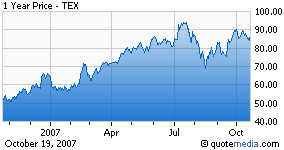 Full Disclosure: At time of writing I have no position in MTW or TEX.