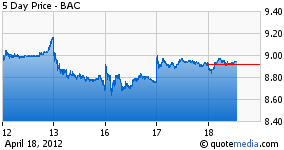 Bank of America (NYSE:BAC) is expected to report Q1 earnings on Thursday, April 19 with a conference call scheduled for 8:30 am ET.
Guidance
Analysts are looking for EPS of 12c on revenue of $22.51B. Bank of America earlier this week reported that its card delinquencies dropped to 3.60% from 3.75% in February. The lender's net charge-off rate inched down to 5.48% from 5.56%. Those statistics are in-line with data reported by other large U.S. banks, which have for the most part reported that credit trends improved in Q1. That trend should benefit Bank of America in a number of areas, including mortgages. On the other hand, the outlook for Bank of America's Merrill Lynch unit may not be as strong, as Goldman Sachs (NYSE:GS) reported that client activity remains low in certain areas, especially in parts of investment banking. Furthermore, JP Morgan (NYSE:JPM) said that the net income of its investment bank tumbled 29% year-over-year last quarter.
Analyst Views
Analysts' outlook on Bank of America has been mixed, as Wells Fargo on April 5 lowered its Q1 EPS estimate for the bank to (8c) from 12c. The firm indicated that it preferred Citigroup (NYSE:C) and JP Mrogan over Bank of America. Conversely, Guggenheim on April 11 upgraded Bank of America to Buy from Neutral, citing valuation.