Nice work if you can get it. Sell voting stock to people, then take away their voting rights.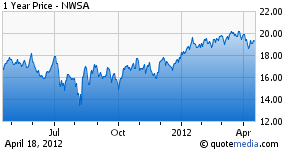 Yet that's just what News Corp. (NWSA) managed to do, and with the FCC calling them out on it - foreigners aren't allowed to own 25% of a U.S. broadcasting company - foreign shareholders are having their voting rights cut in half with immediate effect.
This comes at a very convenient time for the controlling Murdoch family. Prosecutors are considering criminal charges against former News. Corp. managers and this in turn might move regulators there to demand it sell its stake in BskyB, the satellite broadcaster it was trying to buy all of last year.
Unlike any possible action taken against its newspapers, or even against its cable channels, the loss of either the TV stations or BskyB would blow a huge hole in the company's business model.
That model is based on vertical integration - the ownership of both content and the means of disseminating it. When a Fox movie or TV show is shown on a Fox outlet, the money just moves between accounts. Profit margins can approach 100%.
What all this means, in practice, is that shareholders have no alternative but to support the Murdoch family. There is no leverage available with which shareholders can oust them.
But could the courts?
Here at Seeking Alpha Richard McDonald speculates that a run-up in the shares may be based on rumors it would sell its British newspaper assets. But as he notes correctly, any sale would not be material. Despite all you read about politics, newspapers and cable, News Corp. is nothing but a vertically-integrated entertainment company, and it's this integration that must be maintained at all costs.
Could that cost include the exit of Rupert Murdoch from top management? McDonald says, firmly, no. Civil suits are being filed on phone hacking charges in the U.S. but only criminal liability would force Murdoch to choose. Still, if the choice is to be made between assets and power, my guess is Murdoch would have to choose the assets.
Last year, the last time an estimate was made of News Corp.'s break-up value, Gabelli & Co. came up with a figure of $79 billion. The current market value of NWSA is about $48 billion.
As they say, stay tuned.
Disclosure: I have no positions in any stocks mentioned, and no plans to initiate any positions within the next 72 hours.