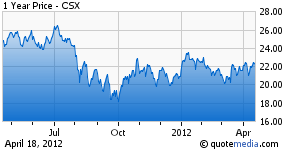 The first major freight railroad company, CSX Corp. (CSX), released its operational results for the first quarter of fiscal year 2012 yesterday. The results came in better than expected on both the top and bottom lines as slightly higher volumes combined with better than expected pricing pushed the revenue figure to $2.97 billion (above $2.91 billion forecast) and up from $2.81 billion last year. When analyzing the results for the major railroads, I look at two main metrics, volume and pricing. During the quarter, CSX saw volumes increase slightly, gaining 0.6% year over year. With respect to pricing, revenue per unit (RPU) increased 4.9% year over year.
The biggest weakness during the quarter that I saw (and management mentioned multiple times during its conference call) was utility coal. Shipments were down 14% compared to the first quarter as a mild winter and low natural gas costs combined to lessen the demand for electricity. Management indicated that it expects coal volumes to remain weak in the second quarter but for demand to pick up in the second half of the year. I am a little more skeptical as natural gas prices will continue to stay low, and new EPA standards about coal-fired power plants are likely to affect demand as well. The following table shows coal segment results for the quarter.
| | | | |
| --- | --- | --- | --- |
| Coal | 1Q12 | 1Q11 | % Change |
| Revenue | 832.0 | 879.0 | (5.3%) |
| Volume | 331.0 | 385.0 | (14.0%) |
| RPU | 2,513.6 | 2,283.1 | 10.1% |
The stock is down today as coal accounts for approximately 30% of revenues. However, aside from coal, only phosphates and fertilizers saw revenue declines compared to the first quarter of 2011. Intermodal continues to improve which is perhaps the best sign for the economy as a whole. Intermodal shipments are shipments that utilize two modes of transportation, for instance a trucking container that is put onto a railcar and shipped longer distances. I think that the rails are some of the best bellwethers for the economy as a result of so much being shipped via the rails; Everything from raw materials to finished goods.
One of the reasons that so much more is being shipped via the rails is the cost of fuel. Fuel costs were up 10% year-over-year to $3.15 per gallon. However, to ship something via the railway is much more fuel efficient than via the highway, so the more expensive fuel gets, the more cost efficient it is for shippers to take trucks off the highways and put them on the railways. Efficiency was relatively flat during the quarter, which caused fuel costs to increase 10.4% year over year. As a percentage of revenue, fuel costs increased to 15.0% from 14.3%.
Operating ratio is also a key metric that transportation companies use to demonstrate how efficient the company is operating. Operating ratio is calculated as total expenses as a percentage of revenue. During the quarter, operating ratio improved to 71.1% from 72.5% year-over-year, but it increased from 66.8% sequentially.
Management expects coal shipments to continue to be weak through the second quarter; however, I expect to see that weakness to last a little longer as a result of the new EPA standards. Additionally, natural gas prices are extremely low, and don't show any sign of really bouncing back anytime soon. However, with the improving economy, I do expect to see some strong volume growth from the other segments that the company operates, namely Intermodal. CEO Michael Ward has done a great job leading the company through a difficult operating environment and continues to see the pricing growth that is needed to really thrive in the industry.
CSX and Union Pacific Corporation (UNP) are my two favorites in the space, as excellent management teams run both companies and are seeing among the best pricing gains in the industry. They also have a unique geographical footprint (UNP on the West Coast and CSX on the East Coast) that should benefit both companies as the economy improves.
Disclosure: I am long CSX.