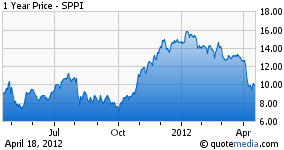 To survive, pharmaceutical and biotech companies must get drug treatments to the marketplace. Unfortunately, stumbling blocks including poor results from clinical trials, and the failure to receive approval from public safety agencies like the FDA and international safety agencies make reaching the marketplace difficult at times. Spectrum (SPPI) has seen its share of failure recently with disappointing results from two clinical trials involving its bladder cancer drug, aqaziquone. To make matters worse, there is little chance of approval from the FDA based on these results. The company hopes to convince the FDA that combined results from both trials paint a clearer picture of the possible side effects of aqaziquone than each trial on its own.
In the meantime, like most pharmaceutical companies, Spectrum continues to look to the future instead of dwelling on the past (however recent the past may be). With its recent acquisition of Allos Therapeutics (ALTH), the company pushes forward by promoting Folotyn, developed by Allos and used to treat blood cancers including lymphoma. Spectrum CEO, Raj Shrotriya, continually refers to Folotyn in conference calls and in press conferences. All this talk about Folotyn suggests the company sees the drug as a way to move forward.
The problem with this scenario is that in addition to only earning $50 million in 2011 in the US; the drug was rejected by European regulators at the beginning of 2012. Allos has since appealed this decision, but until the appeal undergoes a review, Spectrum can't market Folotyn in Europe. Normally, this would not be an issue if the company didn't need the drug to perform well in other markets. In addition to Folotyn, Spectrum manufactures Fusilev, a colon cancer drug, and Zevalin, a non-Hodgkin's lymphoma drug. Non-Hodgkin's lymphoma, a form of blood cancer, is closely related to Fotolyn.
Sales of Fusilev reached $153 million in 2011, but this was due mostly to a shortage of leucorvin, a cheaper generic alternative. Estimates for 2012 sales of Fusilev are less favorable for 2012 as the generic medication shortage ends. Fusilev, which earned $28 million in 2011(down from $29 million in 2010), may increase in sales as patients prescribed the drug no longer have to undergo a pre-treatment scan. But if patients have the option of choosing a less expensive, but as effective, medication, sales of Fusilev may continue to decline.
To help Zevalin remain relevant in the marketplace, the company launched a new marketing campaign in January 2012 that relies mostly on patient testimonials and stories. Part marketing strategy, part educational resource, this form of marketing may help boost sales and increase awareness of the drug. Blood cancer is difficult to treat, so having two drugs available to European patients may bode well for the company as long as both continue to be effective. Only time will tell, however, because if Folotyn does not receive EU approval, Spectrum, will only able to serve a small part of the blood cancer market in Europe.
With all these stumbling blocks, Spectrum is in for a very bumpy ride this year. The same goes for those invested in the company. Unfortunately, only time will tell if the company can boost sales and its flailing reputation to become a pharmaceutical powerhouse. What Spectrum does have going for it is a variety of anti-cancer drugs currently on the market. These drugs help those with very specific types of cancer, which means the company does have certain niche markets covered. As more and more companies focus on specific types of cancer and other difficult-to-treat diseases, Spectrum may have inadvertently positioned itself as a leader in the 'lesser known cancer' treatment market.
From an investment prospective, long-term earnings for Spectrum may never reach the level of other companies like Valeant (VRX), which continues to acquire profitable drug treatments through the purchase of other companies, or even Questcor (QCOR), which only manufacturers two drugs for difficult-to-treat conditions. Spectrum needs to maintain its focus on developing effective anti-cancer treatments. Maybe if the company continues to develop these drugs and purchase smaller companies that produce similar drugs, it will see a profitable turnaround in less time - this would be very good news for investors. Like it or not, clinical trials fail, a fact that companies need to embrace and move on from. But the data gathered, even from failed trials, may help in future development of better drug treatments.
Seeing a company move forward despite complications with clinical trials and adequate, but less-than-stellar sales, should mean something positive to investors, however. This is a company that refuses to give up, which may indicate good things on the horizon. The downside to all this positive thinking is when will things start to look better for the company? How long will investors wait before giving up and moving on?
Companies like Valeant that have an abundance of products from skin care to treatments for epilepsy and migraines will never hurt as badly when clinical trials fail. This is because the company has more than one product to fall back on. The company also continues to develop new products while acquiring companies with successful products already on the market. And even though it seems Spectrum may soon follow in Valeant's footsteps with the Acquisition of Allos, only time will tell. For now, investors may see companies like Valeant as a suitable alternative to Spectrum, which could the stock price to decrease.
Abbott Laboratories (ABT) is another company investors should consider over Spectrum. With good news concerning Phase 2 clinical trials for its new Hepatitis C drug, and approval from the Japanese Ministry of Health, Labor and Welfare for its latest XIENCE PRIME Everolimus Eluting Coronary Stent System (used to help patients with coronary disease), Abbott has a diverse portfolio, recent success in clinical trials, and approval to sell drug treatments in different countries.
Watching what Spectrum will do next is all investors can do at this point. Only then will investors be able to make the decision to sell or stay. But unless the company does something radical soon, investors may get restless.
Disclosure: I have no positions in any stocks mentioned, and no plans to initiate any positions within the next 72 hours.