Railroad traffic is one of the more reliable leading indicators of the economy. In 2008, railroad traffic started to decline in the second quarter, six months before the recession hit in December. Railroad traffic reflects both the manufacturing side and the consumer side. As domestic manufactures make products, they need to transport the goods to consumers around the world. When manufactures foresee less demand, they will make less and reduce railroad usage. At the same time, when consumer demands change, retailers will adjust their oversea orders, a process that also affects railroad traffic.
Railroad traffic declined moderately in January and February but the pace of the decline has picked up recently. Figure below is compiled from data given by Association of American Railroads.
Railroad Traffic Growth Trend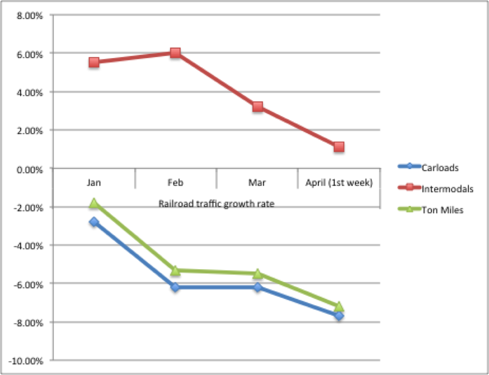 Click to enlarge
There are two types of railroad traffic, Carloads and Intermodal. Carloads primarily carry commodities and Intermodals carry finished products. Many see Intermodals as a better indicator of the economy, as finished goods are being moved around. A big flaw with this assumption is that how can you build goods without commodities? One main distinction from the 2008 traffic decline is that Intermodals were negative last time, while they are still registering positive growth this time around. A big part of the decline in carloads has been lower coals transportation, which could be explained by the exceptionally warmer weather this year, but it doesn't tell the whole story.
The decline in coal transport accounted for over 130% of the drop in January/February/March carloads (other categories grew), but only accounted for 92% of the drop in the 1st week of April. Farm products and other commodities have started to show significant decline, while the Intermodals growth rate is declining. In the latest April data, Intermodal units only grew by 1.1%, the slowest pace year to date, and carloads dropped by over 7% year-over-year. It is possible that companies are detecting consumer headwinds and are cutting back production. Given that inventory level is at the highest level in 3 years and manufacturing has been the backbone of this recovery, any consumer pullback will cause companies to reduce production sharply and push the economy to a standstill.
Disclosure: I have no positions in any stocks mentioned, and no plans to initiate any positions within the next 72 hours.