Overview
Drug distributors stand to benefit from increasing healthcare participation, pharmaceutical sales and digitization of the medical industry. McKesson has made substantial enterprise technology investments that should help drive efficiency and pricing power.
Industry
Drug distributors provide software and deliver medicine to pharmacies, physicians and hospitals. For example, McKesson may have installed inventory management software at your neighborhood drug store. This software is able to determine when the store or a customer needs more Lipitor, for instance. McKesson operates large automated distribution centers that process these orders. Each facility aggregates drugs from multiple pharmaceutical manufacturers, repackages them into smaller quantities, and ships them to customers. In short, your local drug store may rely on McKesson for enterprise software and most of its drugs. Over time, three industry players have come to dominate pharmaceutical logistics: AmerisourceBergen, Cardinal Health and McKesson.
Porters Five Forces (Industry Analysis of Competition)
At first glance, drug distribution appears to be a slow-growing industry with pricing pressures from all sides. Buyer and supplier power are both high, which typically reduces profitability. McKesson's 10 largest customers accounted for approximately 51% of revenues in 2011 with the top two, CVS (NYSE:CVS) and Rite Aid (NYSE:RAD), making up 25% of the total. Their 10 largest suppliers accounted for 47% of purchases. Barriers-to-entry initially appear to be low. Some pharmaceutical manufactures bypass drug distributors and ship products directly to customers. However, many customers, such as physicians, are moving toward automating and digitizing manual and paper-based functions such as billing, accounts receivable management, doctor-pharmacy communications, pharmaceutical inventory control, and reminders for patients to refill prescriptions. Drug distributors provide enterprise software and cloud services that fulfill all of these needs. If distributors are able to increase their share of the enterprise software market, switching between drug distributors may become less feasible and more costly for customers.
To view a Power Gauge Rating enter a symbol:
McKesson (MCK)
McKesson is best positioned to capture the opportunities associated with digitization of medical records within the drug distribution industry. Last week the Department of Veterans Affairs renewed its contract with McKesson to supply wholesale drugs to the agency. This contract, which McKesson won away from Amerisource Bergen in 2004, will provide $4 billion a year in revenue, with options that extend the contract over eight years.
While the contract pays lower prices than the previous one, it also indicates that the other two major competitors didn't compete as vigorously on price in an attempt to get the bid away from McKesson.
This contract helps counteract some of the negative exposure from various government lawsuits dating back to 2008. Mckesson has written off over $831 million in litigation charges over the past 3 ½ years with further claims in the $360 million range pending.
The stock reacted to the news of the VA contract by spiking up to new 10-year highs at 92.69. With the Chaikin Power Gauge Rating very bullish (see my rating methodology), and all four components bullish as well, McKesson is a buy on any pullbacks, with an expectation that the stock will significantly outperform the market over the next 6 -12 months. Strong support exists in the 85 - 86 area, which would likely bring in aggressive buyers in the event of a broader market pullback.
Among the many bullish factors in the Power Gauge Rating are a high return on equity and free cash flow yield. Positive earnings estimate revisions, high analyst opinions, and a low short interest ratio also contribute to the bullish rating.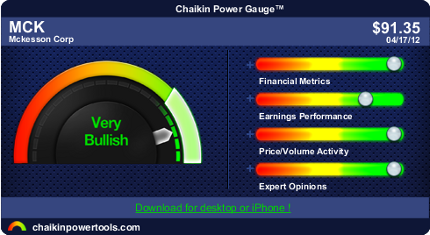 AmerisourceBergen (ABC)
ABC contracted IBM to help it build an enterprise resource planning system. This contrasts with McKesson, which has grown its technology infrastructure internally and through acquisition. It remains to be seen which approach works best. However, the scale of McKesson's investments dwarfs those of ABC. On a positive note, ABC also has not had the same litigation problems as McKesson.
The Chaikin Power Gauge Rating for ABC is neutral. Although a number of factors are bullish such as a high return on equity and cash flow yield, consistent earnings growth, a low short interest and high analyst opinions, the stock, after moving to new 10-year highs in July 2011, has been locked in a narrowing trading range.
Cardinal Health (CAH)
In 2010, Cardinal spent over $2 billion on acquisitions. Through its acquisition of Yong Yu, they now operate 10 distribution centers in China that cover 250 million people.
They also operate high margin nuclear pharmacies that manufacture radioactive chemical tracers for use in imaging. While at first glance they appear to have comparable revenues to McKesson, their sources of pharmaceutical distribution revenue differ.
Distributor revenues are divided into two categories: bulk and non-bulk. Bulk revenues consist of the distributor delivering large shipments of pharmaceuticals to customer warehouses without any repackaging. This type of distribution is very low margin. For example, Cardinal earned 6.8 times more per unit of revenue from non-bulk vs. bulk. 44.7% of Cardinal's pharmaceutical revenue comes from bulk sales; whereas, McKesson only distributes 19.4% in bulk.
Cardinal has not focused on technology to the same extent as McKesson. Therefore, we view McKesson as maintaining its position as leader of the industry.
The Power Gauge Rating on Cardinal Health is neutral and Cardinal is also in a trading range. But this trading range is broad and dates back 12 years. Both Chaikin Money Flow and relative strength to the market and its industry group are weak and the stock should be avoided.
Disclosure: I have no positions in any stocks mentioned, and no plans to initiate any positions within the next 72 hours.