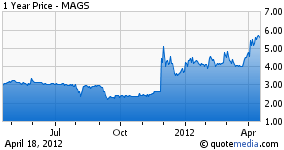 Magal Security Systems Ltd. (NASDAQ:MAGS) is an international provider of security and intelligence-gathering solutions. The company's stock has nearly doubled over the past 52 weeks amid sharply higher revenues and a swing to profitability. But despite this move, the firm trades with a price-earnings multiple of just 8x, suggesting it may be undervalued.
Strong Financial Performance in 2011
Magal Security wasn't always the best growth story. Between 2007 and 2010, the company's revenues fell from $62.7 million to $49.7 million, with consistent net losses. These losses were primarily due to the global economic slowdown and a reduction in government spending that began in late 2008, which led to delayed orders and tighter margins.
The story changed in June of 2010, when it adopted a strategic plan to focus its growth efforts on historical primary markets, including perimeter and turnkey project solutions. The company also decided to make an entry into the so-called BRIC economies to grow beyond its traditional markets in North America, Israel (its home country) and Latin America.
Last year, the company swung to a net profit of $0.78 per share on sales that jumped 78% from $49.7 million to $88.6 million. The move was largely driven by the 2012 Africa Cup of Nations project, a large-scale project from its Mexican subsidiary, and resumed smaller projects. But future growth could come from this BRIC penetration, including its recent India agreement.
Magal Security Appears Undervalued
Magal Security appears undervalued from both a growth and valuation standpoint. With shareholders' equity of $28 million, the company's trades with a market capitalization that's nearly 30% backed up by assets. And on a cash flow basis, the company was profitable in both 2009 and 2011, with only a marginal $3.9 million burn in 2010.
From a growth standpoint, the company trades with a price-earnings multiple of just 8x its trailing 12-month EPS. The rationale for this is likely that the boost in 2011 was a one-time event, but in reality, the recovering global economy and entry into BRIC markets could drive growth over the coming quarters.
In the end, it's important to remember that the company was trading consistently above $10 per share before the global economic crisis. Recovering spending from governments could return to pre-crisis levels over the next couple of years, while entry into the BRIC markets could build upon those figures and generate even more shareholder value.
Final Notes on Market Timing
Magal Security has moved significantly higher over the past few months, which makes it a riskier buy from a technical analysis standpoint. In particular, its rise from $4.50 to nearly $6.00 in April alone may culminate in a retracement amid some profit taking by traders. As a result, interested investors may want to wait for a pullback and average in over time.
Alternatively, investors can hedge their position against an overall secular decline using put options on an Israeli ETF like the iShares MSCI Israel Capped Index Fund (EIS). By purchasing puts, investors will realize a profit when Israeli stocks decline, which can help offset any decline in Magal Security stock over the same period.
Disclosure: I have no positions in any stocks mentioned, and no plans to initiate any positions within the next 72 hours.