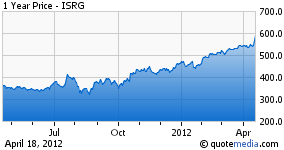 Intuitive Surgical (ISRG) declared Q1 2012 earnings above estimates and the shares jumped 8% in intraday trading. When investor sentiment has turned exuberant it is time for value based investors to give pause. As the analysis of Apple's (AAPL) two-day drop mentions, "a favorite stock's seeming invulnerability can change overnight." Rather than chasing momentum we present a fundamental analysis of Intuitive Surgical, based on past trends and management guidance. While the market has reacted to the increased guidance, Intuitive Surgical shows slowing year/year revenue and earnings growth and shares are above their fair value at current prices.
In the earnings call, management offered the following guidance:
"Revenue to grow between 19% and 21% above total 2011 revenue of $1.76 billion."
"Operating income to fall within a range of between 39% and 40% of net revenue. We will likely trend toward the lower end of this range."
"Other income, which is mainly comprised of interest income, to total between $15 million and $17 million for the year."
"Our Q1 reported tax rate of 27.2% fell below our guidance range of between 29% and 31% ... Going forward, we expect our tax rate in quarters 2 through 4 to come in at the higher end of our range at around 31% of pretax income. "
"Our share count for calculating EPS in Q2 2012 will be approximately 41.2 million shares."
We plug these numbers into our model, creating a low and high estimate of the range. For the tax rate, we plug a range of 29-30% based on Q1 actuals and Q2-Q4 guidance. We use the higher tax rate with our low estimates and vice versa to get a low and high range for net income based on management estimates.
Estimated 2012

Actuals

Low
High

Low

High

2011

2010

2009

Revenue:

Product

1,478.90

1,189.10

879.9

Service

278.4

223.9

172.3

Total revenue

$2,091.2

$2,126.3

1,757.30

1,413.00

1,052.20

Yr/Yr growth

19%

21%

24.4%

34.3%

Income from operations

$815.6

$850.5

39%

40%

694.8

555.2

377.4

Interest and other income, net

$15.0

$17.0

15

17

14.9

17.1

18.7

Income before income taxes

$830.6

$867.5

709.7

572.3

396.1

Income tax expense

$249.2

$251.6

30%

29%

214.6

190.5

163.5

Net income

$581.4

$615.9

495.1

381.8

232.6

Yr/yr growth

17.4%

24.4%

29.7%

64.1%

Net income per common share:

$14.1

$15.0

12.32

9.47

5.93

Yr/Yr growth

14.5%

21.3%

30.1%

59.7%

Shares used in computing (millions)

41.2

41.2

40.2

40.3

39.2
Source: Intuitive Surgical 10-K and earnings conference call. Dollars in millions except per share values.
There are a few items to note. Despite the excellent results and increased guidance, revenue growth has actually been slowing. 2010 revenues posted a 34.3% yr/yr increase over 2009, 2011 revenues were up 24.4% over 2010 and 2012 revenues are projected to be 19-21% over 2011. This is to be expected given the large base.
Continuing to plug in the estimates of operating margin and tax rate we get projected net income to be $581.4 to $615.9 million. Plugging in estimate for the share count provided by management we get an estimated EPS of $14.1-$15.0, with an EPS growth rate of 14.5%-21.3%. Note that EPS growth rate declined from 59.7% in 2010 to 30.1% in 2011 and the projected decline to 21.3% for this year is quite reasonable. Assigning a PEG of 1-1.5 we get a PE of 14.5-32, with an estimated price of $205-$478. ISRG);+Raising+Numbers,+But+Not+Looking+To+Chase+Shares/7354237.html" rel="nofollow">Cantor Fitzgerald released a price target of $475 today; that model may look similar to this one.
Even if were to take the high-end of this range and assume that ISRG were to beat earnings estimate by $1 for the year to $16 and applying a PE of 20-35, we would get price range of $320-$560, with the maximum still below today's price of around $590.
Now we are not suggesting that ISRG should trade at a PE of 14.5 anytime soon. But it is worth remembering that ISRG traded under $100 a share in January 2009 and a market correction will bring down companies with a lofty multiple faster than others. We would look to pick up additional shares when the price corrects below $475 but would look to protect or exit long positions at current levels. We recommend covered calls or put protection for longs.
Disclosure: I am long ISRG.
Additional disclosure: I have covered call protection on ISRG.