Current yield and dividend growth rate are two independent, but critically intertwined dimensions for dividend oriented stock investors.
A high or low dividend with negative growth is obviously bad all the way around, but how do you evaluate the ownership benefits of a dividend stock in terms of both current yield and growth?
The narrative answer is simple. Do the compound math and figure it out.
That's no fun, unless you happen to have a super-duper calculator. So we did the math for a series of hypothetical yield, growth and holding periods, and put the results in a static matrix. It's in this article. You can print it out for quick estimation in situations where you need to know.
For example, if you are looking a several stocks that otherwise meet your quality and total return requirements, but they have different current yield and different prospective dividend growth rates, this quick estimator may be useful in pointing to the one that may be more desirable to you.
We hope you find it helpful.
Some readers have strong feelings against a dividend focus -- even when the portfolio is suitable for retirees living from portfolio income.

In an attempt to toss that group a bone, let me be clear that dividends alone are necessary but not sufficient to justify an income stock investment -- other factors are important and are considered by rational equity income investors.

With that in mind, we provide four examples using our quick estimation tool with dividend stocks, and also provide their overall rating by Thompson Reuters StarMine and by Standard and Poor's. We hope to be clear that for dividend investors total return considerations and dividend orientation are not mutually exclusive.

The four stocks, which we own in managed portfolios, are: BHP Billiton (BHP), Pepsico (PEP), Chevron (CVX), and Abbott Labs (ABT).

Their StarMine (0.1-10) and Standard and Poor's (1-5) ratings are as follows:

BBL: 9.7 / 3
PEP: 8.1 / 4
CVX: 9.4 / 5
ABT: 9.3 / 4
Printable Version of the Quick Estimator:
(click to enlarge)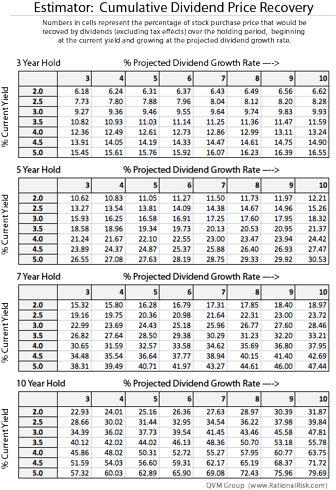 Yield & Growth Combinations That Recover 50+% In 10 Years:
We are not suggesting buy and hold as an overall strategy. At a minimum, we believe in substitution and rotation to constantly seek higher income within quality stocks with good total return prospects.
That said, this chart shows what percentage of original cost would be recovered through dividends if a stock were held for 10 years, and the growth rate was constant at the projected level. The real world isn't that simple, but basic math helps put stocks in different broad baskets.
The green shaded cells in the "10-Year Hold" matrix all show 50% or greater purchase cost recovery. The tan shaded cells show 33% or greater cost recovery.
We applied the same shading to the same cells for shorter holding periods to illustrate the character of compounding.
Even though 10 years can result in substantial price recovery, the early years recover proportionately less of the price than the later years. The nature of compound interest is highly time dependent. The math of compounding is very powerful, but it needs some time to gather steam.
(click to enlarge)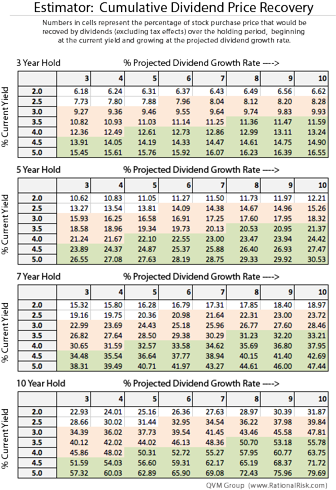 Example of the Quick Estimator In Use With Example Stocks:
We used the four dividend stocks identified above to show how the estimator works. The current yield (from Yahoo) and dividend growth rate projection (from ValueLine) for each stock is shown at the bottom of the image.
We color coded the stock symbols and then put those colors in the cells for each holding period that represents the estimated price recovery for each stock.
Note:
This is a quick reference tool, not an actual calculator. You need to choose the yield and growth rate nearest to the numbers for the stocks you are considering. It's just a rough estimator. You can do the long-hand math with the actual yield and growth figures later if you want more accuracy.
(click to enlarge)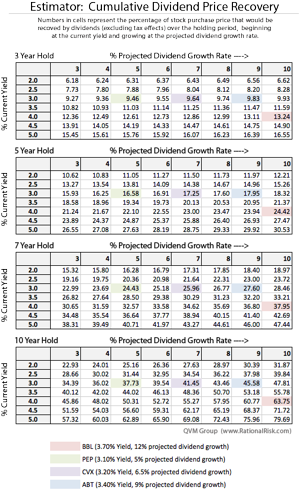 Well, that's it for the estimator, but while we are looking at the four stocks, here is some additional visual data about their dividends.
Pictorial View Of Example Company Dividends and Payout:
BBL:
(click to enlarge)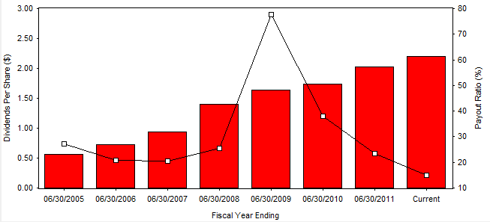 PEP:
(click to enlarge)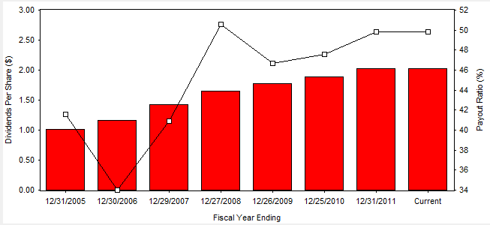 CVX:
(click to enlarge)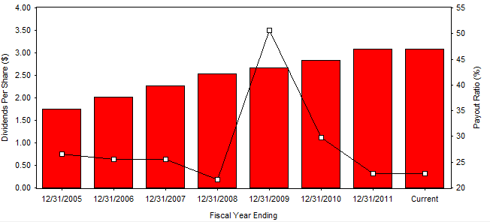 ABT:
(click to enlarge)
Price, Earnings and Dividend Charts for Example Stocks: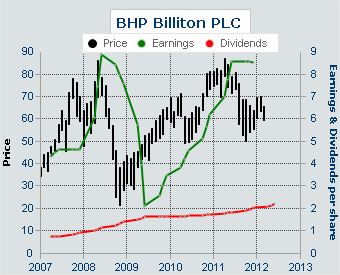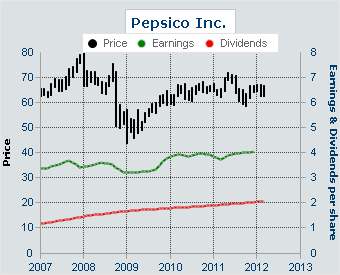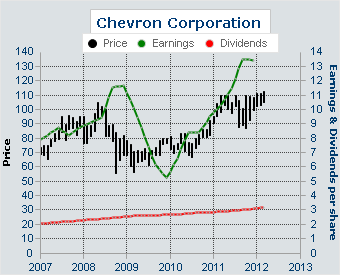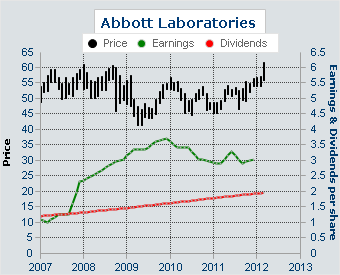 Disclosure: QVM has positions in BBL, PEP, CVX and AVT as of the creation date of this article (April 18, 2012).
General Disclaimer: This article provides opinions and information, but does not contain recommendations or personal investment advice to any specific person for any particular purpose. Do your own research or obtain suitable personal advice. You are responsible for your own investment decisions. This article is presented subject to our full disclaimer found on the QVM site available here.