As I discussed recently in my article "5 European Telecom Companies With Yields Higher Than 9%," Telefonica (TEF) has one of the highest levels of shareholder remuneration within the telecommunication sector. At current market prices, Telefonica's shares offer a 14% dividend yield, which is only surpassed by the 17% yield of Portugal Telecom (PT).
Over the last year Telefonica's share tumbled almost 30%, practically in line with the Spanish benchmark IBEX 35 index, which fell 27.5% over the same period. Given that Telefonica's weight on the Spanish index is 18%, the shares can continue to suffer in the short term from Spanish debt concerns.
(click to enlarge)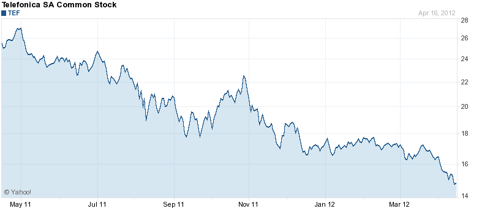 Source: YahooFinance
In this article, I analyze Telefonica's dividend sustainability, in a similar way to my previous analysis on "Portugal Telecom: Is the 16% Yield Sustainable?"
Company Overview
Telefonica is one of the world's leading integrated operators in the telecommunication sector, providing communication, information and entertainment solutions, with a presence in Europe and Latin America.
The company has an attractive geographical mix, with half of its revenue from Europe and the other half, Latin America.
Within Europe, a great part of its exposure is on countries facing austerity measures (mainly Spain and UK) except for Germany and Czech Republic. Latin America has historically been the growth engine for Telefonica. Brazil is Telefonica's biggest market in Latin America, representing 49% of revenue and 48% of OIBDA (operating income before depreciation and amortization) of Latam operations based on 2011 earnings.
Domestic Operations
Around 28% of Telefonica's revenue is from its domestic market, where it faces two main issues: a lagging economic environment and a fierce competition.
Regarding the macroeconomic environment, the Spanish economy has several well-known issues: its huge unemployment rate, which is currently almost at 23%; the real estate bubble of the last decade and the resulting ongoing deleveraging cycle, which lead to an increase of private-sector debt to around 250% of GDP; weak growth outlook, with more pressure coming from the recently announced additional austerity measures; etc.
Spanish consumers are starting to have more price-sensitivity and this is impacting Telefonica's profitability and market share. Over the recent quarters revenue and profitability have been under pressure, reflected by 10% year-on-year revenue drop and 5.1% fall on OIBDA in the fourth quarter of 2011. Telefonica's price repositioning efforts through the new tariffs recently launched should continue to hamper domestic profitability in the short term. The negative OIBDA performance in 3Q11 is explained by the provision for workforce restructuring in Spain (€2.67bn). Close to 2,400 employees have left the company and another 2,000 will leave this year.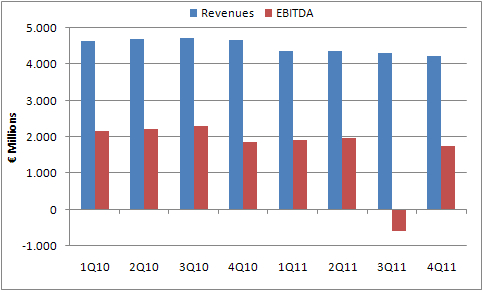 Source: Telefonica
Dividend Policy
Regarding dividends, the company has maintained a policy of gradually increasing the dividend, which has been complemented with various share buyback plans. Over the last six years (from 2006 to 2011), the dividend increased at an average annual growth rate of 22%.
Although the company has a strong commitment to shareholders, last December Telefonica announced a new reduced shareholder remuneration policy. The 2011 dividend of €1.60 remained unchanged but going forward the company committed to a €1.50 dividend, compared with 1.75€ previously. Part of this remuneration will also be done through payment in kind, which is paid with treasury shares.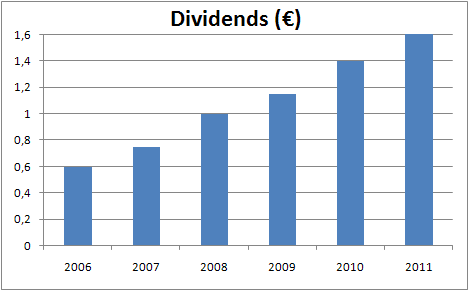 Source: Telefonica
Dividend Sustainability
The dividend payout ratio, based on a per share basis (DPS/EPS), was over 100% last year. This result is worse than on recent years because of extraordinary items. According to Telefonica, last year recurrent EPS was 1.66€, reducing the payout ratio to 96%. Without taking into account 2011, the previous five years' average payout is only 55%.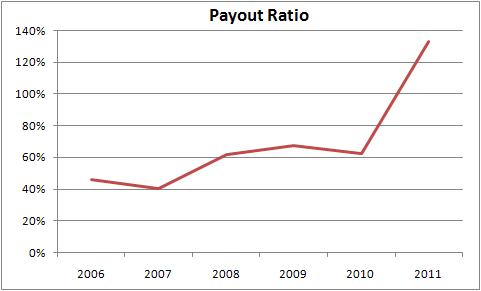 Source: Telefonica
The free cash flow generation comfortably exceeded outflows linked with dividends and share buy-backs over the last years. In 2011, FCF per share was €2.06 and the remuneration target for coming years is around €1.50, so there is very ample room for strong shareholder remuneration.
Source: Telefonica
The company wants to maintain, in the medium term, a leverage ratio of 2-2.5x net debt/OIBDA. At the end of 2011, net debt was almost €56bn ($72.8bn) resulting in a 2.79x leverage ratio. Recently, Telefonica announced a restructuring of its Colombian unit leading to a debt reduction of €1.3bn ($1.7bn), lowering the leverage ratio to 2.72x.
In the medium term, Telefonica aims to continue to sell non-core assets to optimize its balance sheet, supporting its shareholder remuneration policy. The average maturity of debt is around five years and, at its 2011 earnings conference call, management said that its 2012 maturities are substantially refinanced.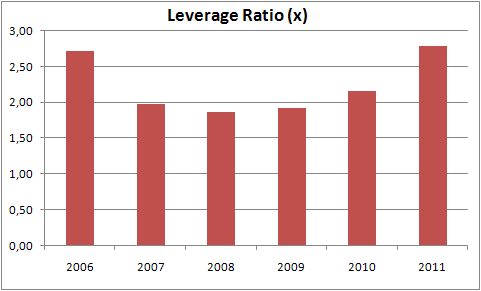 Source: Telefonica
Regarding investment needs (capex), Telefonica spent roughly €9bn in 2011 plus €1.3bn through spectrum acquisitions. Capex to sales stood at 14% of sales, slightly higher than in 2010 an in line with other European telecom companies. Although Telefonica has some room to lower investments, management probably will use this flexibility to improve its commercial offer (lower prices) than to sustain shareholder remuneration.
Conclusion
Although the domestic operations face strong headwinds, Telefonica's exposure to Latin America should offset to a large extent the domestic market weakness. The shareholder remuneration policy seems sustainable and the cut made last December (it saves more than €1bn) was a step in the right direction. Going forward, Telefonica has more financial flexibility and can align the leverage ratio with its target range, leading to a stronger sustainability of shareholder payouts.
The stock appears cheap given its undemanding multiples, since it is currently trading with a 7.7x forward P/E ratio. The yield is very attractive even after being revised downward, supporting the share price over the medium term. Even if the company wants to be more conservative and does an additional remuneration cut of 25%, Telefonica's yield would be 10%, which would remain very attractive.
Disclosure: I have no positions in any stocks mentioned, but may initiate a long position in TEF over the next 72 hours.