Wednesday morning, Chembio Diagnostics (NASDAQ:CEMI) announced completion of enrollment of the pivotal U.S. clinical trial for its Dual Path Platform (DPP) rapid HIV 1/2 test. The test, which has been developed for use with oral fluid (saliva), along with other sample types including whole blood (finger-stick and venous), serum and plasma, is expected to eventually be a big driver of the company's revenue following launch in the U.S.
The assay, which was recently approved and commercialized in Brazil through that country's public health system, was a major contributor to Chembio's record revenue in 2011 ($19.4MM, growth of 16%).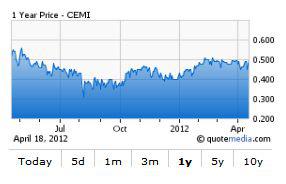 Wednesday's news that enrollment of the 3,000-patient trial has been completed and the third PMA module filing (containing the study data) is anticipated by mid-year is commensurate with management's most recent expectations (provided during the Q4 call in early March).
Management continues to believe that both the blood and oral fluid sample data will be robust enough to meet FDA requirements. Oral fluid sampling (which is more convenient and more patient-friendly than blood) is what sets the test apart from most rapid HIV tests on the market today. Sufficient performance on that sample matrix will be key to maximizing demand for the test.
We cover Chembio with an Outperform rating and a $1.20 price target.
Disclosure: I have no positions in any stocks mentioned, and no plans to initiate any positions within the next 72 hours.