Coca-Cola (KO) reported an 8% rise in net income as global sales once again contributed to the growth of one of the largest and most recognized beverage companies. Analysts were expecting Coca-Cola to earn $0.87 cents a share on $1.9 billion in revenue; however both expectations were surpassed when KO reported earnings of $0.89/share on $2.05 billion in revenue.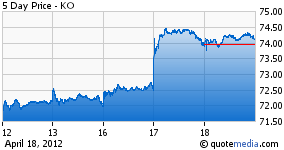 Emerging markets were a key element in Coca-Cola's 5% increase in global volume. Markets such as China, India, and Russia, played major roles as international growth and development are now major focal points for Coca-Cola moving forward. Cost cutting initiatives have begun and Coca-Cola sees itself saving as much as $650 million annually by 2015. If those numbers can be achieved that's roughly $1.5 gross savings in the next four years.
Read The Full KO Earnings Call Transcript
Volumes were another key segment contributing to Coca-Cola's global footprint. North American (U.S., Canada, and Mexico) volumes grew at a lackluster 2%, even though Powerade, Dasani, and Vitamin Water all posted respectable gains. International volumes grew at a 3:1 ratio compared with those of North America as volume reached the 6% plateau.
Coca-Cola is taking the health concerns of its consumers seriously, as I noted in a previous article, and beginning to look beyond soda. Energy Drinks and Bottled water sales volume grew significantly in the first quarter. Bottled water sales grew at a 15% pace and energy drink sales grew at a staggering 25%. Even though many doctors don't recommend the constant consumption of energy drinks, they are a very lucrative market, just ask the makers of Red Bull.
For the long-term investor who loves Coca-Cola, the investment strategy is a virtual no-brainer. Get yourself a DRIP (Dividend Re-Investment Plan), and let the dividends turn into more shares and watch your position grow at a steady quarterly pace.