As we indicated in an article a few weeks ago (here), we believed Apple (AAPL) had lost momentum after its enormous rise to begin the year. We turned about to be about three weeks too early (although the stock only advanced about 5% in that time span), but it appears as if the decline in Apple may be beginning, and given Apple's impending earnings announcement, an options trade to take advantage of the high implied volatility of the stock could be profitable.
Since hitting $644/share on April 10th, the stock took a quick nosedive, declining even on days where the stock market rallied broadly, hitting $571.91 yesterday. Of course, after the stock opened at this low level yesterday, it experienced an extraordinary intraday rally that took the stock all the way up to close at $610, rising nearly $40 between the open and close. Today, the stock is seeing more volatility, opening at $620, but then declining to $604 intraday only to trade around $615 at the time of this writing.
The continued volatility in Apple shares, combined with next week's earnings announcement, offers interesting option selling opportunities. The following chart shows the skew of Apple options today as compared to on April 10th when the stock hit an all-time high.
(Cick to enlarge)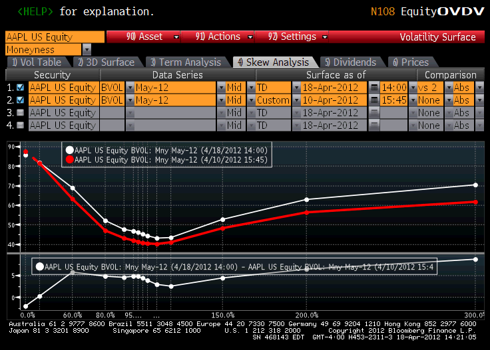 The red line shows the skew of options on Apple stock on April 10th and the white line shows the current skew. The skew is a measurement of how expensive options are. Moneyness over 100% (the x-axis measurement on the chart) indicates call options, and moneyness under 100% are put options.
As can be seen, the implied volatility on both puts and calls is actually higher than it was on April 10th. This is most likely due to the increased volatility in the market at large, combined with the earnings announcement coming up on Tuesday. We believe the bearish falloff in Apple's stock, combined with predictable support from "dip buyers," sets up nicely to be a seller of options on Apple stock.
Trade Recommendation
We recommend selling the May 520 put for $4.75 and simultaneously selling the May 675 call for $10. This trade is a play on Apple staying in a set range Such a trade would collect $14.75 to open the trade, and would be profitable upon the May 18th expiration if Apple stock traded anywhere between 505.25 and 689.75.
We would recommend closing this trade after next week's earnings announcement, as much of the implied volatility of the options will be sucked out by the event risk of the earnings announcement passing.
Disclosure: I have no positions in any stocks mentioned, and no plans to initiate any positions within the next 72 hours.
Additional disclosure: I am long put options on Apple.