We saw some green shoots out of Citigroup (C) as it released its Q1 earnings results. Here are a number of factors that we were looking to see improvements on in order to justify whether or not we should keep or add to our position:
We needed to see further declines in credit losses from the company, especially from the Citicorp "good bank core operations" business units. We were pleased that Citigroup's consolidated net credit losses declined by over $2.3B versus last year's quarter (37%). We were also pleased that Citi kept its provision for loan losses, benefits and claims over $3B (reduction of 5%), which shows that Citi is reducing reliance on releasing loss reserves. Citicorp saw credit losses decline by over $1B year-over-year (32%).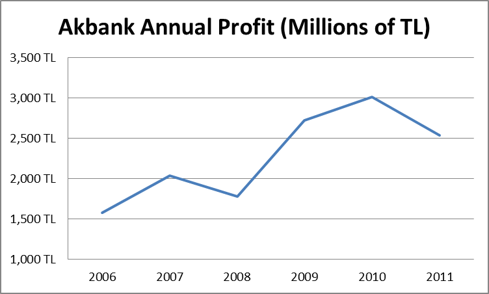 Click to enlarge
Source: Akbank's Investor Relations Website.
We needed to see less write-downs for goodwill and other assets and we were disappointed that Citigroup recognized $1.18B in impairments for its 2007 20% strategic investment in Akbank T.A.S., primarily due to the decline of the Turkish Lira relative to the U.S. dollar. Seeing as this was due to currency losses rather than poor operations at Akbank, we are mollified here. Citigroup is reducing its Akbank stake from 20% to 10%.

Click to enlargeSource: Google Finance.
We need to see less restructuring charges and it appears that Citigroup did not record any restructuring expenses this quarter. Citigroup and Citicorp kept total expenses stable and were able to redirect savings from compensation, premises and other operating expenses toward productive investments in technology, advertising and marketing. Citi Holdings saw a $200M decline in operating expenses, which was largely offset by an increase in corporate expenses.
We preferred to see permission to resume dividends and share repurchases. Citigroup stated it would have passed the stress test conducted by the Federal Reserve if its capital plans did not include additional dividends and share repurchases. We expected to see continued utilization of deferred tax assets. Citigroup disclosed the DTA status in the conference call. The DTAs increased by $400M this quarter, primarily due to $500M in DTA increases from temporary losses on credit and debt valuation adjustments and $200M in DTA increases related to foreign currency impacts. Other than those transactions, Citigroup would have consumed $300M in DTA. Other than $400M in APB 23 subsidiary net operating loss DTAs expiring this year, Citigroup does not have any DTAs expiring until 2016. Citigroup's DTA balances will be primarily driven by profitability from North American operations and its ability to wind down non-core holdings.
We preferred to see stronger growth in consolidated deposits from Citigroup. While it grew deposits by 5% year over year, this was smaller than the 11.1% deposit growth at Wells Fargo (WFC). We are pleased that Citigroup had 5% linked-quarter deposit growth, compared to 1.1% for WFC. JPMorgan Chase (JPM) also lapped Citigroup's annual deposit growth with 13%, but saw its linked-quarter deposit growth of .06% lag Citi's 5% linked quarter deposit growth.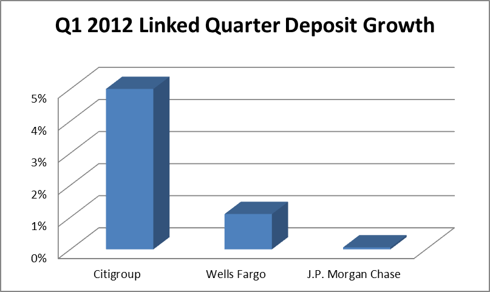 Click to enlargeSource: Citigroup, Wells Fargo, J.P. Morgan Chase Q1 EPS Press Releases.
From Citi Retail Banking, we wanted to see stronger account growth, deposits, investment AUMs and prudent management of branches, assets and expenses.
Citi saw year-over-year and linked quarter growth in accounts, deposits and investment AUMs and loans. This resulted in year-over-year and linked quarter growth in net revenue. We saw prudent branch network and expense management during the quarter, as revenue grew faster than expenses both on a year-over-year and linked quarter basis. The brightest spot for Citi's Retail Banking Segment was the 19% annual growth in fee revenue (7% linked quarter). Geographically, Citigroup saw 5-6% revenue growth in North America, Latin America and Asia, which more than offset the 10% revenue decline in the Europe, Middle East and Africa segment, which only accounts for ~4% of revenue in this segment.
From Citi-branded Cards, we wanted to see stable and steady loan growth and continued reductions in credit losses. I would like to see continued purchase volumes on credit and debit cards and active accounts.
We are displeased that loans, open accounting and revenues declined slightly but we are pleased that transaction volumes have increased by 6% year-over-year, as well as continued declines in credit losses and past due loans.
From Citi Securities and Banking, we expected to see stabilization and growth of revenues, prudent expense management, reduced credit losses and continued asset growth. Revenue declined by 12% year-over-year, primarily due to a $1.15B increase in the credit value adjustment on derivatives and debt value adjustment on Citigroup's debt fair value. Net operating expenses declined by nearly 2.5% versus 2011's levels and although the provision for credit losses increased from a reduction of (-$187M) to an increase of $58M, the company reduced net credit losses incurred from $203M in Q1 2011 to (-$60) of recoveries in Q1 2012. It can be noted that divisional revenue would have increased by 6% excluding the impact of the sharp increase in the DVA/CVA adjustment during the quarter. The two brightest spots during the quarter were debt underwriting, which saw 19% revenue growth and Citi Private Bank, which generated 11% revenue growth.
From Citi Transaction Services, we expected to see continued revenue growth, better expense management, continued client deposit and asset growth and more client assets under custody. Transaction services has been the steadiest performing division of Citigroup and this quarter it generated a nearly 5% linked quarter revenue growth (7% year-over-year). The Treasury and Trade Solutions segment saw the strongest growth with 11% revenue growth. Securities and Fund Services disappointed with a 4% revenue decline. We believe that this explains why Net Interest Income for the division grew faster than fee-based revenue (10% versus 3%). Operating expenses increased only 3% year-over-year and Transaction Services built up credit reserve losses by $23M. Other year-over-year growth highlights included 10% growth in division net income, 6% growth in average assets and 6% growth in average deposits. We would have preferred to see an increase in assets under custody, however despite market volatility; AUC was stable at least at $13T. In last year's first quarter, we noted that the 9% growth in Securities and Fund Services revenues outshined the 3% growth in Treasury and Trade Solutions.
From Citi Holdings we want to see less revenue declines, less credit losses, prudent expense management, and timely disposals of non-core assets.
We saw from Citi Holdings ("bad bank") continued run-off in assets and reduced operating expenses and credit losses was offset by reduced net interest income and fee-based revenues.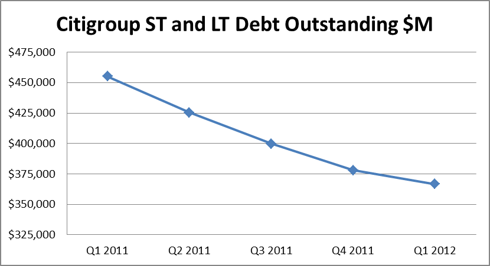 Click to enlargeSource: Citigroup Quarterly Earnings Press Releases.
We also were looking to see NIM improvements and reduced reliance on capital markets funding in favor of more deposits from Citigroup. Due to the increase in deposits and wholesale Fed funds purchased during the quarter, Citigroup was able to reduce the amount of bonded debt by nearly $11B during the linked quarter and $88B on a year-over-year basis. Net interest margin increased by 2bp versus Q1 2011 and stayed constant on a linked quarter basis.
Click to enlargeSource: Citigroup Quarterly Earnings Press Releases.
In conclusion, we are intending to hold on to our stake in Citigroup, as well as looking to selectively accumulate a larger position. The basis for our accumulate recommendation is based on the following performance factors of Citigroup's business lines:
Strong results from the Retail Consumer Banking business segment.
Strong results from the Transaction Services business segment.
Stable net interest margin while other banks are seeing net interest margins compress.
Continued run-off of bad assets from the "bad bank" Citi Holdings segment.
Lower credit costs across Citigroup's diverse business lines.
Increased credit/debit card purchase transaction volumes from Citi Cards.
Lower Operating Expenses from the Securities and Banking division.
11% revenue growth from Citi Private Banking.
Citigroup plans to resubmit to its revised Stress Test capital plan to the Federal Reserve in by June, when submitted, the Fed has 75 days to respond to Citigroup, according to Vikram Pandit on Citigroup's earnings conference call.
Disclosure: I am long C.
Additional disclosure: Saibus Research has not received compensation directly or indirectly for expressing the recommendation in this report. Under no circumstances must this report be considered an offer to buy, sell, subscribe for or trade securities or other instruments.