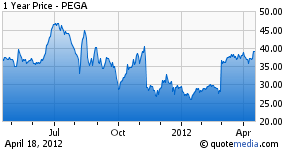 Across enterprises, IT executives are being asked to shift from building static user friendly databases with reporting to dynamic problem solving for C-level practices. The change isn't subtle or easily addressed given legacy information silos were often deployed without a focus on integration.
Those haphazardly deployed databases, and their linear nature, are creating disruptive changes in how IT departments approach spending - particularly as those departments increasingly report to CFOs. Going forward, forcing C-level practices into pre-defined databases just won't meet the needs of companies increasingly interested in flexible and creative practice management. As a result, the process is increasingly merging - if not reluctantly - with practice
This disruption is creating a lot of opportunity for software companies, such as Pegasystems (PEGA), which competes with Oracle (ORCL) and Adobe (ADBE) in process management and Salesforce (CRM), Microsoft (MSFT) and SAP (SAP) in customer relationship management.
Shifting IT trends are creating opportunities to win and expand accounts.
Pegasystem's model is built on winning business by offering case by case solutions and expanding those relationships over time. With more companies focused on unifying process with practice, the company is competing for more deals and inking more licenses than at any point in its history.
Those opportunities cut across business intelligence, automation, performance and decision making - specific areas expected to enjoy double digit spending growth this year. Case oriented solutions, which provide a gateway to larger, more lucrative relationships, are also in vogue.
Typically, Pegasystems customers have centered around financial services, healthcare and insurance companies, which have critical process environments. Call center conversations need to be managed and optimized, transactions need to be accurate and timely and rate quotes need to happen more quickly and easily. And, all of it needs to feed into better decisions and strategic planning.
Process and practice sales are increasingly global, supporting maintenance and service revenue.
These needs aren't limited by geography either, which has meant international demand for Pegasystem's software has grown. Overseas sales have climbed to 48% of overall revenue, up from 34% in 2009, thanks to both changing needs and a larger sales force.
Those license agreements are increasingly term contracts, which offer revenue clarity by smoothing quarterly fluctuations. Exiting last quarter, Pegasystem's term license payments due jumped to $161.4 million from $90.9 million. And the company will recognize $37.7 million of such contracts in 2012.
Of course, as more licenses are sold, maintenance and services revenue increases. In 2011, revenue from those two segments increased 40% and 21%, respectively.
Typical of its competitors, Pegasystems enjoys strong margins too. Higher sales and 60% margins have the street expecting a 34% jump in EPS to $1.19 in 2012. For comparison, the company earned $0.57 in 2010. The higher cash flow has helped keep the company debt free and allowed it to amass nearly $3 per share in cash and equivalents.
Given the ongoing trend for integrated - dare I say hybrid - process and practice solutions, the company is likely to outpace street estimates. If it does, sellers sitting on seven days worth of average volume short will be forced to cover, sending shares higher.
Disclosure: I have no positions in any stocks mentioned, but may initiate a long position in PEGA over the next 72 hours.