Genworth (GNW) cratered today on news that it is putting its Australian MI IPO on hold till 2013. How much was the fall today? Well, Genworth is, at time of writing, trading at $6.10 off about 20% from yesterday's close.
The fact that Genworth dived on the news is not surprising. Due to the fact that Genworth is in the mortgage insurance business (even though assets associated with MI are only 2% of total) this stock has been subject to huge swings in both directions since I started following it last summer. It seems that any whiff of good or bad news has the potential to send this stock soaring or diving depending on the mood of the market.
Let's look at a 1 year chart of Genworth :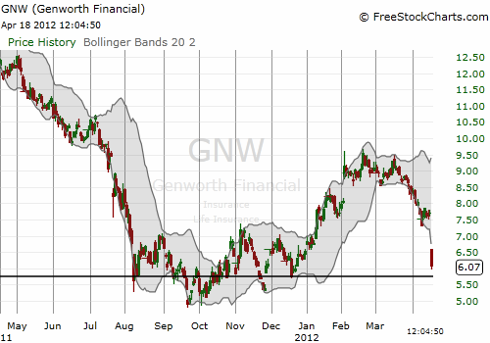 What exactly happened?
Genworth had been planning to offer an IPO in its Australian Mortgage Insurance subsidiary for 40% of the interest. This IPO was expected to bring on around $700 million in equity and provide a capital cushion against any unexpected losses to Genworth. Due to unexpected losses incurred in the Australian subsidiary in Q1, attributed to increased foreclosures and delinquencies on home loans, the value of the subsidiary is not as high as the previous year. Top management believes that it will have a higher valuation by Q2 2013.
According to Genworth, "the Australian MI capital ratio remains sound, and the company is continuing the IPO regulatory review process." Not only is the capital ratio of the subsidiary sound, but the parent company has $1.7 billion in cash and liquid securities to buffer against any losses. I expect the Australian MI segment to report a loss in the tens of millions. Not a big deal when compared with the capital buffer that Genworth has built up, and the $1.7 billion in cash and liquid securities on it's balance sheet.
The main reason for the sell-off is investor sentiment is still very skittish when it comes to any bad news pertaining to housing and mortgages. The recent drop in Genworth's stock is unwarranted and overdone, but the downward spiral could continue. As shown in the chart I am looking for support around $5.70, and if it breaks through that I would look for support around $5.30.
Genworth Has Strong Fundamentals
Here are some key metrics which show Genworth's strong financial position, and its huge earnings potential:
Book value/share $33.68
Genworth has almost $10/share in cash.
Forward P/E of 4.5 in an industry where the average is around 10
Price/Free Cash Flow: 1.21
These basic financial ratios show that fundamentally, Genworth is ridiculously undervalued. The company has a huge capital cushion against any future losses, and is a cash generating machine.
The only real negative that is on Genworth's balance sheet is the high amount of debt, and the fact that it is in the mortgage insurance business at all. This participation in the MI business has caused Genworth to be perceived as more risky than it actually is. I plan on writing a more in-depth on Genworth's financial position when their next 10-Q is released.
How To Play It
With earnings coming up on May 2 I would hold off on taking any position in Genworth until we are a bit closer to that date. If Genworth can hold $6 (or the $5.70 support line I drew above) in the next few days I would recommend initiating this options play:
(Keep in mind option prices are based off current prices, and this doesn't take into account margin and commissions fees.)
Sell May $5 puts for a credit of $.19
Buy June $6 calls and sell June $8 calls for a net debit of $.55
Total cost would be $.36/options contract. If Genworth tanks and hits its 52 week low of $4.80 then you get the stock "put" to you at $4.81 which is a great price to get this stock at. If the stock rebounds (as I think it will), your break-even point is $6.36 with Maximum profit is $1.64/options contract if Genworth hits $8 or above.
Obviously, the prices shown above are determined by today's price, date, and volatility. If you choose to initiate this play in a few days or a few weeks the prices and payoff will be slightly different, but the overall strategy is the same.
Conclusion
I think that today's sell-off is extremely overdone, and will reverse within the next few days. Genworth has a high capital ratio, tons of liquidity, and a strong balance sheet. They did not go bust in 2008, they will not go bust now.
Please do your own due diligence before investing, and be careful out there!
Disclosure: I have no positions in any stocks mentioned, but may initiate a long position in GNW over the next 72 hours. I will use the strategy discussed above. I reserve the right to change positions at any time.