Since history tends to repeat itself, it's a fair enough question: Are today's social media companies -- Facebook (FB), LinkedIn (LNKD), Groupon (GRPN) and even Google (GOOG) -- as overvalued as many of the dot-com companies that collapsed with the IT bubble of the late 1990s?
Most of these types of questions arise from generalizations based on media coverage of the coming Facebook IPO and valuation on, for example, the highly overvalued LinkedIn, which is already spending big sums on customer acquisition costs. These are the new social media names and do not represent the overall IT investment universe.
In the table below, different "IT" companies are listed. It shows some of the different sections of the technology market and the valuations applied to the more well-known companies.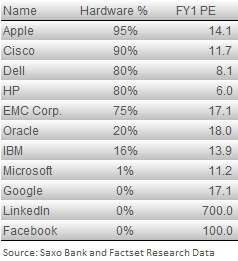 The incumbents are not valued at high multiples and are not prone to a large correction based on a changed valuation. The further you go down the table, the more software and social media is represented. Looking at LinkedIn, the consensus valuation is 700 times earnings for 2012. LinkedIn is way too expensive, in my opinion. For Facebook, the market is talking about a level of 100 times earnings. I have calculated my own level to be 55 at best.
The new companies are bubbly.
I think the social media valuation has a 2000 bubble flavor. The overall tendency is to incorporate all the opportunities and extrapolate growth and finally assume market leadership. This will generally result in super-high expectations. The big question is: Are investors compensated for the risk they are taking? Some will reference Google as a benchmark of what to expect, as the price has risen well over the years and rewarded investors. But this is one case, and many others have crumbled.
It is probable that we will see the Facebook IPO in May 2012. This will garner a lot of attention and there will be arguments for high and low valuation. My best guess is that the "dream" will win, at least in the short term. Valuation will be lifted to high levels as any little opportunity is converted to earnings and market value.
The true test will come later, probably after a few quarters, near the end of 2012 or early 2013. Are there any hiccups, and is Facebook rewarding new investors or were the opportunities just a dream after all? How big can Facebook really become?
Users don't like feeling "targeted."
What can change the perception, other than hard facts on earnings and revenue? Social media and business is actually a difficult construct. There are unwritten rules of how to engage and act, and this changes user to user and social site to user.
Regarding the latter, it costs money to develop and host a site, so a revenue stream is necessary and users are aware of this. But users don't like feeling too 'targeted' as prey for revenue. The more the site extracts revenue and at the same time annoys users, the higher the risk of users migrating to other opportunities. When do you step over this invisible line?
In the case of Facebook, it would be devastating if other sites would suddenly become flavor-of-the-moment and millions of users changed sites. This can, over time, create a "tsunami" and crumble the existing business model. Users are fickle and investors should have this in mind when investing.