One really has to laugh at these headlines by now. Of course yesterday's t-bill auction in Spain was 'better than expected'. They almost always are (of course the yield has roughly doubled from a mere month ago). Portugal's, Greece's and Ireland's bond auctions were 'better than expected' up until the very day their governments had to admit to their insolvency and applied for an EFSF bailout. It is always the same game that is being played: the banks show up as bidders and that same afternoon pass on the bonds to the ECB. As Bill Gross remarked yesterday, 'you can't trust Spain's bond auctions' (emphasis added):
"Pimco co-founder Bill Gross told CNBC Tuesday he's steering clear of Spain's auction of two- and ten-year bonds Thursday because its" an artificially controlled market" that he doesn't trust. "It's basically a function of the Spanish banks," he told Squawk on the Street. "It doesn't mean private investors such as Pimco wouldn't buy Spanish bonds, but the bills to be offered by Spanish banks are a function of the economy."

That's why "you can't really trust an auction in Spain" or anywhere else in Europe where the auction is "a function of what the banks are doing rather than what we are doing from the outside," according to Gross."
Meanwhile, Germany continues to play the 'tough taskmaster' charade. First the BuBa's Andreas Dombret advised European countries that they should relegate 'economic growth' to secondary status and instead focus on paying down their debt (the headline at Bloomberg makes it sound as though the two were mutually exclusive, which is a Keynesian fallacy. However, Dombret actually does make sense):
"Germany's Bundesbank urged troubled euro-area governments such as Spain to set aside short-term growth concerns and press ahead with budget cuts to win back investor confidence.

"Putting too much weight on short-term, demand-side risks misjudges the root cause of the current crisis, namely a profound loss of confidence in markets," Bundesbank board member Andreas Dombret said in a statement today. "Taking consolidation plans too lightly might give some relief in the short term, but it also undermines the credibility of medium- term budget goals."

Spanish unemployment is approaching 24 percent as the economy, the fourth-largest in the 17-nation euro area, contracts under the weight of the government's austerity measures. At the same time, Spain's 10-year borrowing costs have jumped more than 1 percentage point since March 2, when Prime Minister Mariano Rajoy said the country will miss a 2012 deficit goal set by the European Union.

"In the Bundesbank's view, the latest rise in risk premia for some euro countries shows the ongoing fragility of the situation," Dombret said. "This increase should therefore be an incentive to dispel latent doubts in the markets and create confidence through decisive implementation of economic obligations." Dombret cautioned against "calls for a further loosening of monetary and fiscal policies," saying a "balanced approach" to the situation is required."



Spoken like a true Bundesbanker, but will his words actually carry any weight? The Germans remain outvoted at the ECB after all.
Meanwhile, the IMF has been urging the ECB to loosen monetary policy even further, while noting that both Spain and Italy are highly unlikely to meet their deficit targets in both 2012 and 2013. Tell us something we don't know! The IMF's current tactic could be best described as 'let's keep everybody terrified so they give us more money and power'. One note by its chief economist Oliver Blanchard is worth repeating though:
"The potential consequences of a disorderly default and exit by a euro area member are unpredictable and thus not possible to map into a specific scenario," the IMF said. "If such an event occurs, it is possible that other euro area economies perceived to have similar risk characteristics would come under severe pressure as well, with a full-blown panic in financial markets and depositor flight from several banking systems."
This depositor flight, while not yet 'full-blown', is well underway already. The following chart was posted at Business Insider, showing the deposit flight in Spain and the concomitant rise in borrowings of Spain's banks from the ECB which we talked about in some detail yesterday: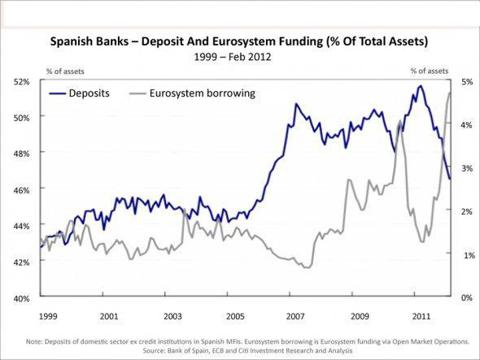 Depositors are fleeing Spain's banks in droves, while their borrowings from the ECB continue to rise into the blue yonder (chart via Business Insider) – click chart for better resolution.
Mrs. Merkel meanwhile also made a bit of a show of her Teutonic righteousness in the context of Spain's crisis as she started on the campaign trail ('Merkel Offers Spain No Respite'!):
"Chancellor Angela Merkel opened her campaign to win back Germany's most populous state in May 13 elections by appealing to voters to endorse her message of austerity as the prime means to tackle Europe's debt crisis.

"It's partly about still being able to shape our own future," Merkel said late yesterday at a rally in the city of Muenster in North Rhine-Westphalia. Countries in Europe that have run up debt "are so tightly in the hands of the financial markets that they can't make independent decisions anymore. We have to watch out that high interest rates on our debt don't lead to the point where we can't decide and shape anything anymore" in Germany."
She has correctly identified the danger to Germany. As it were, hedge fund investor John Paulson is shorting the euro area by shorting German bunds, as he expects Germany to eventually be dragged down by the crisis as well. Now that is actually a trade worthy of a contrarian at this point in time.
"John Paulson, the billionaire hedge fund manager who foresaw the collapse of the US housing market, is shorting German government bonds in a wager that the eurozone debt crisis will significantly deepen in the coming months.

Mr Paulson told investors in a call on Monday that he was betting against the creditworthiness of Germany, regarded in markets as among the safest sovereign borrowers, because he saw the problems affecting the eurozone deteriorating severely, said a person familiar with Mr Paulson's strategy.

The 56-year old hedge fund manager, who oversees $24bn at his New York-based firm Paulson & Co, believes that problems for the Spanish government will spill over to threaten the stability of the eurozone as a whole.

While Spanish bond yields this week rose to multi-month highs above 6 per cent, German 10-year Bunds yields have recently traded as low as 1.66 per cent, within a whisker of record lows.

Mr Paulson's position, which includes holdings of credit default swaps written on German debt, has been in place for several months."
To this it should be noted that the danger emanating from Spain is at present thoroughly underestimated by the German political elite.
"The expectation is that Spain can make it – while the widening bond spreads we've seen should be taken as a warning shot from markets," Norbert Barthle, the parliamentary budget spokesman for Merkel's Christian Democratic Union, said by phone today. "There's no Spanish bailout talk in Berlin."
There will be, dear Norbert, there will be. Perhaps sooner than anyone currently thinks possible.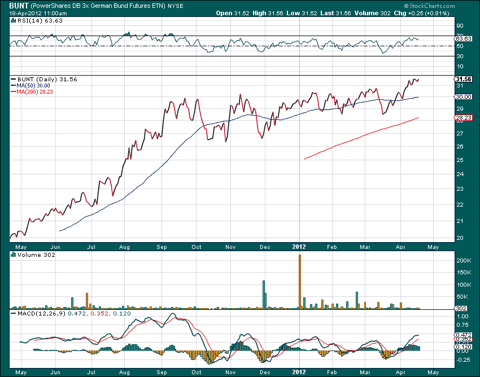 The German Bund ETF – shorting this market is not a widows and orphans trade at the moment (click chart for better resolution).