Third quarter financial results for Downey Financial Corp. ("DSL" or the "Company") were recently released, and the economic reality of those results is now starting to make its way through the various institutions and Wall Street analysts who had - until now - maintained their investments in DSL or written favorably on DSL's "conservative" balance sheet and attractive valuation.
While filings for the larger SEC-registered investment advisors are not yet available, DSL trading volume would indicate considerable selling by larger institutions. What's more, it appears that third quarter results and more importantly the warning that precluded it, may have resulted in an inflection point regarding DSL.
Click to enlarge:

Table I presents DSL's Delinquent Loans and Non-Performing Assets based on the Company's latest 8-K (10-Q has not been filed yet). Aside from the incredible growth rate in delinquencies on a year over year basis, the absolute dollar levels are becoming significant and the % of total loans that they represent is becoming very serious. Of further interest is the growth rate in the 30-59 day delinquency class, indicating that the pipeline for delinquent loans could just be starting.
This trend was apparent in previous filings but it's only now that the Street appears to be catching on. I say that primarily because DSL's sellside coverage had been very positive over the past year despite indications of a very weak California residential real estate market. Nonetheless, analysts stuck with the typical and static bank analysis ratios and management discussions to frame their analysis rather than take a step forward and realize the dynamic/fluid nature of the credit and real estate markets. Reading the Los Angeles Times on occasion would have done far more in bringing the Street up to speed on the California real estate and credit markets as opposed to any of the traditional and often times circular research conducted by the sellside. This morning (October 22), Lehman Brothers analyst Bruce Harting finally threw in the towel on the entire finance sector, conducting a scorched earth campaign across his entire coverage universe. Harting is the same analyst that was maintaining $6.00 2007 EPS estimate and $7.00 2008 EPS estimate as of July 2007 for DSL. Some additional excerpts from recent research is as follows:
"The size of the reserve build was surprising given Downey's relatively low original LTVs. However, the company is experiencing significantly higher loss severities on foreclosed properties and tighter underwriting standards are negatively impacting borrowers' ability to refinance or modify existing delinquent loans." - Credit Suisse (October 2007)
"We believe that DSL did not expect trends to erode so quickly in the California housing market and thus did not reserve for it in prior quarters." - FBR (October 2007)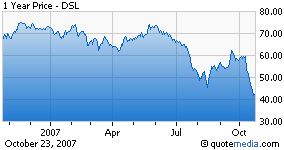 Any "we believe" in regards to financial sector sellside research should simply be called "we're making a guess, and an uneducated one at that" before jumping into the analysis. And this coy statement is what ties to this "Game of Chicken" that DSL investors now face. Street sentiment has turned a full 180 degrees but it's based on tangible, real information at this point. This is not a misunderstanding of credit conditions where there are a lot of opportunities that present value - these are businesses that could soon be facing serious distress and are significantly overvalued. Over the past few months, the trends were evident, but no real thought was placed into significantly approaching valuation/EPS estimates.
Now, in DSL's case, EPS estimates for 2007/2008 are in the $2.36/$4.65 range. Before, institutional longs could make the case that their investment in DSL was based on valuation. Previous estimates for 2007 were in the $4-6 EPS range, making it look like a fairly priced thrift. With current estimates, DSL now is valued at 17-20.0x 2007 EPS. Institutions such as Tontine, Goldman Sachs ("GS"), and Highfields Capital all command large and thus illiquid stakes in DSL (it may be smaller once filings are released) and are starting to realize not only are conditions likely to erode across the sector, but also that DSL may be one of the most expensive stocks in the sector despite being one of the riskiest entities. For these large investors, it really becomes a game of who blinks first.
Fair value for most thrifts on a P/E basis is 8-12x, meaning fair value for DSL would be $18-$30. That is fair value, not a bargain price that offers any margin of safety whatsoever. If one takes a step back and just looked at DSL's capital structure and its operations/strategy without knowing it was a thrift, it is eerily similar to many levered credit based hedge funds. Those funds borrow cheap, lever at 10 to 1, and participate in higher yielding assets. With DSL, the bank is levered over 10 to 1, borrows cheaply and then funds high risk assets with a high concentration in option ARM residential mortgages in Southern California. What this financial sector crisis is ultimately indicating is that there really is a small sliver that separates sound banking strategies from gunslinging hedge fund strategies. Both banks and hedge funds (credit ones) are all about making a small spread over a highly levered equity base. If the assets generating that spread are bad and were not added to the balance sheet with disciplined credit analysis, there's little difference between these thrifts and hedge funds, except in who loses (depositors vs accredited investors).

DISCLOSURE: AUTHOR MANAGES A HEDGE FUND THAT OWNS DSL PUTS