Is Annaly Capital Management (NLY) a good investment at this point and time? That would depend upon one's interpretation of what will be happening to the company in the next 6 to 9 months, as well as to interest rates.
(click to enlarge)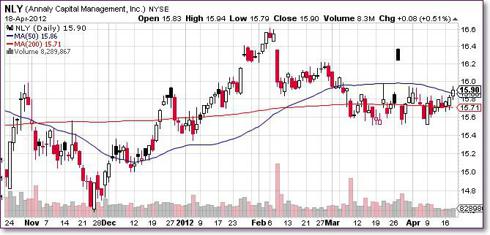 Shelf Offering hindering Price?
The company filed for a shelf offering on March 19 of this year, looking to release 125,000,000 common shares of stock at a price of $16.16 each. The dilution on ownership will be around 10%-- and this, in turn, is going to hinder the price of the stock short term.
Annaly Capital was recently downgraded by a number of analysts (within the last three weeks) as the stock appears to have built a base through early March into April. The stock has not moved much and the offering will only contribute to decreasing the stock price.
How much will it affect the price of the stock? While currently paying a high dividend, it will affect the EPS which the investment community uses to measure profitability. If you owned the stock now, with the added shares, not only is ownership diluted, but now more of the profit has to go out to more shareholders. So we also end up with a lower EPS. Short term, not a favorable move for the stock. But what about longer term?
Secret Lies in How Annaly Capital makes Its Money
Mel Daris from Seeking Alpha wrote great article to explain this. The mREIT derives its profit from the spread between the short and long term interest rates and earns more on holds paid out in short term interest rates. The company is in a good position as Mr. Daris goes on to explain that the Feds are interested in keeping the short term rates as close to zero as possible through 2014.
Since these low rates may remain stable, if interest rates are expected to go up, income for Annaly may also rise. In the second half of this year, long term interest rates are expected to rise for mortgages. The Fed's "quantitative easing" meant to slow down the long term interest rates is coming to an end. This will allow rates to go up.
Between the shelf offering and the high probability of interest rates increasing is the investor. What to do? Look for a slight move down short term as the year progresses, but then as interest rates climb and Annaly's revenue increases, look for the stock to rise in value and consider investing.
Disclosure: I have no positions in any stocks mentioned, and no plans to initiate any positions within the next 72 hours.