The market can be fickle, and when it gets particularly fickle, it forgets.
On February 2nd, Zynga (ZNGA) soared 17% on the coattails of the hype over Facebook's (FB) IPO. The stock hit all-time highs on the surprisingly good news that Zynga accounts for about 12% of Facebook's revenue. That was then. Now, a little over two months later, all good is forgotten and selling in the stock is accelerating. Zynga has now wiped out all of its post-Facebook gains and is retesting its $10 IPO price. If Facebook is a $90B company, then Zynga's 12% share of revenue should make it roughly an $11B company. This represents 50% upside from current levels, conveniently placing ZNGA right under its all-time intra-day high. This relative valuation is of course not gospel, but it serves as a good starting point for measuring Zynga's upside potential from current levels.
The chart below points out many of the interesting features of Zynga's chart since its IPO - a lot has happened in 5 short months!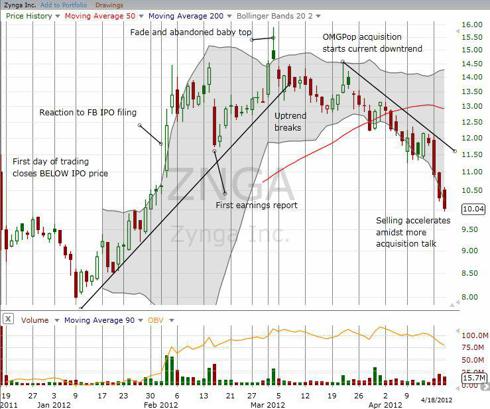 Click to enlarge
ZNGA returns to its IPO price after an event-filled roundtrip
Source: FreeStockCharts.com
The chart shows an event-filled roundtrip from the first day of trading to the current return to the IPO price. ZNGA made an amazing comeback from a 22% one-day loss following its last earnings report. I can only assume that the Facebook afterglow kicked in again, perhaps in combination with anticipation of the Yelp.com (YELP) IPO. YELP came to market on March 2nd, and ZNGA responded by breaking out with gains as much as 10% to fresh all-time highs just above my "fair value" estimate of $15. Sellers immediately took the stock back down, creating a classic topping pattern that represents a crescendo of frenzied buying. At the time, I guessed that the lows from earnings would hold as support if the uptrend broke. That support only held for a few days before the current downtrend resumed its gravitation pull.
This downtrend began with ZNGA's announcement of an $180 acquisition of mobile gaming company OMGPop. The market responded at first with a surge of buying interest that faded into the close. The stock has been mostly downhill since then. A Bloomberg segment on April 17th talked about ZNGA's desire to do similarly large acquisitions over the next few years. This news seemed to accelerate the selling. Now, the stock has extended its distance from the downtrend line and rests at its IPO price.
It looks to me like the selling is finally reaching a buyable crescendo. Accordingly, I started back into shares (added to a few existing call options). Although I maintain a lofty price target, I recognize that downside risks remain.
The most immediate risk is that the market continues to react negatively to the prospect of Zynga spending significant portions of its $1.8B hoard in cash and investments to acquire growth. According to Bloomberg, ZNGA acquired 22 companies from 2010 to 2011 for a TOTAL of $147.2M. Acquisitions the size of OMGPop represent a significant ramp in spending. Investors have good reason to worry that ZNGA is making such major moves because it anticipates a decline in organic growth - NOT a good situation for a young company barely out the gate from its IPO.
Looking ahead over the next five weeks, earnings and expiring lockups deliver more company-specific risks before and immediately after the Facebook IPO:
Earnings after market April 26th - the market could react extremely negatively again.
Non-executive employees can sell shares starting May 1st.
The main lockup period ends on May 28th.
(Techcrunch explains the mechanics of the coming lockups in "Zynga Files For $400M Secondary Offering As It Tries To Manage Employee Share Sales" on March 14th.)
If these risk factors cause further weakness, I am targeting a retest of the lows around $8.00 as another buying point. Unless ZNGA's earnings demonstrate a surprisingly material weakness, I anticipate maintaining the $15 upside target.
Be careful out there!
Disclosure: I am long ZNGA.