Genworth Financial, Inc. (GNW) shares plunged this week after the company announced it would postpone a long-awaited initial public offering for its mortgage insurance unit in Australia. It appears to be a wise decision to delay the IPO since Australia has been hit with major floods and higher levels of foreclosures recently, but investors hit the sell button and Genworth shares dropped almost 24% in a single day.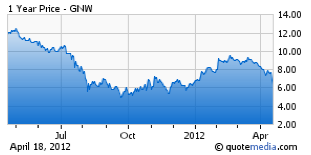 The sell-off appears to be an overreaction and longer-term investors might want to consider using this as a buying opportunity. Genworth has been challenged by mortgage losses but it also has other lines of business and offers long-term care insurance and other financial service products. These businesses are doing well and remain profitable.
Losses in the mortgage insurance division appear to be manageable and at least in the United States, the worst of the foreclosure crisis seems to be over. Recent data suggest stability in the housing market and February pending home sales rose to a two year high. Furthermore, rents have been rising in many parts of the United States and that makes the rent versus buy argument even more in favor of buying. Interest rates for mortgages remain near record lows and rising consumer confidence combined with growth in the job market should continue to push the housing recovery in 2012, and beyond.
After the big sell-off, Genworth shares are in the bargain bin. The stock now trades for about 5 times earnings, and way below book value of $33.69 per share. The overall trend has been showing positive improvements on Genworth's financial results and the losses from mortgage insurance have dropped from $352 million to $94 million. With all the positives going forward the delay of the unit in Australia appears to be a short-term disappointment in what is otherwise a potentially solid turnaround story.
Key Data Points For Genworth From Yahoo Finance:
Current price: $5.87
52-Week Range: $4.80 to $12.55
Dividend: none
2012 Earnings Estimate: $1.15 per share
2013 Earnings Estimate: $1.71 per share
P/E Ratio: about 5 times earnings
MGIC Investment Corporation (MTG) also offers mortgage insurance and has been challenged with losses that appear likely to continue. Holders of this stock might want to use this opportunity to trade out of MTG and buy Genworth since it is a larger company with a diversified revenue stream. Plus, Genworth is expected to be profitable over the next couple of years, while losses could continue for MGIC Investment.
Key Data Points For From Yahoo Finance:
Current price: $4
52-Week Range: $1.51 to $9.08
Dividend: none
2012 Earnings Estimate: a loss of $1.37 per share
2013 Earnings Estimate: a loss of 21 cents per share
P/E Ratio: n/a due to ongoing losses
Data is sourced from Yahoo Finance.
Disclosure: I am long GNW.