Marriott International (MAR) is a $12.63 billion large-cap hotel and resort operator with 18 major brands. Some of its common brands are: The Ritz Carlton, Marriott Hotels, Residence Inn, Courtyard, and Renaissance Hotels. Its brands fall under the categories of luxury, lifestyle collections, signature, modern essentials, extended stay, and vacation clubs.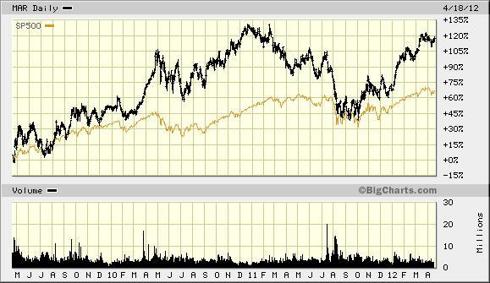 The company just reported results for Q1 2012:
· Diluted earnings per share (EPS) increased to $0.30, a 30% increase over prior year adjusted results.
· Over 3,200 rooms opened during the quarter among 24 new properties, which included 1,200 rooms in international markets.
· For Marriott Hotels and Resorts North America properties, revenue from corporate business increased over 9%.
· Revenue per available room increased 6.8%.
· Group room revenue at comparable hotels increased 6%.
· Overall revenue fell 8% due to the spin-off of its time share business.
· Net income totaled $104 million, an 18% increase over Q1 2011.
Strength in group business was evident in the first quarter with increasing occupancy, room rates, and higher spending on food, beverages, and other services. Marriott's largest customers said that they expect to travel more in 2012.
Industry supply growth also looks positive in the U.S. and abroad. The worldwide development pipeline increased to 115,000 rooms among 700 properties in the first quarter as the company continues to increase global market share.
Marriott looks fairly valued with a forward P/E ratio of 19.6 and a PEG of 0.98. I also looked at the stock price compared to the earnings per share for the last ten years on ycharts.com. This provides a better valuation picture over time. We can see that the EPS actually has outpaced the stock price over that time period. So, in this context the stock actually looks a little undervalued.
Marriott is expected to grow earnings 20.3% this year and 20.6% next year. The company's five year expected annual earnings growth is 24.16%. The company also pays a dividend of 1.1%. If the company is able to meet or exceed these expectations, the current stock price of $37 should grow to approximately $109 in five years. This will more than double the performance of the S&P 500 over the same time.
Overall, I like the company as a long-term investment consideration. However, be aware that the stock can be volatile during periods of economic uncertainty. Large price swings of more than $10 in both directions happened in the past nine months. Despite the volatility, the company and the stock should do well over the long-term.
Disclosure: I have no positions in any stocks mentioned, and no plans to initiate any positions within the next 72 hours.