We'll keep it short and simple: buying stock in Barnes and Noble (NYSE:BKS) may not be as bad as an idea as it seems.
A recent article in the "Deal Journal" section of the Wall Street Journal described the recent insider buying spree of Barnes and Noble's Chairman and CEO as a reason to sell shares of the stock, since his decision to open up his wallet means that Barnes and Noble will most likely not enter an M&A event in the near future. The article's authors state that unless Chairman Riggio is looking to get investigated by the SEC, the buying probably entails that Barnes and Noble won't be up for sale anytime soon, as some have thought.
Well, that might be a valid point, but the author's jumped to conclusions to quickly and forgot to mention two important things:
Insiders who buy stock ahead of "major events" are likely breaking some sort of law, but they do it anyways. We are not lawyers, but we imagine it is hard to prove how much someone knows at any given point in time. Take the case of insiders at Opsware (NASDAQ:OPSW), which was trading under $7 a share when insider Michael S. Ovitz loaded the boat with more than half a million dollars worth of common. Just a few months later, HPQ submitted OPSW a cash tender offer for $14.25 per share, or an enterprise value of approximately $1.6B on a fully diluted basis. Mr. Ovitz netted a quick 116% return. Do you think as a director, Ovitz knew anything about what was going to happen later that quarter?
We looked at Riggio's buying history over the last 12 quarters and it revealed a couple of interesting data points. Riggio hasn't bought stock in over 2 years. Unless he is window-dressing the company to give the Street confidence in shares, there is something to be said about a CEO who starts buying again after such a long pause. Second – and more importantly – we modeled out Riggio's return history and saw that the last time Riggio bought stock, he picked up, on average, 17.4% over the ensuing six months. This is something the Journal writers clearly forgot to capture in their blog post.
click to enlarge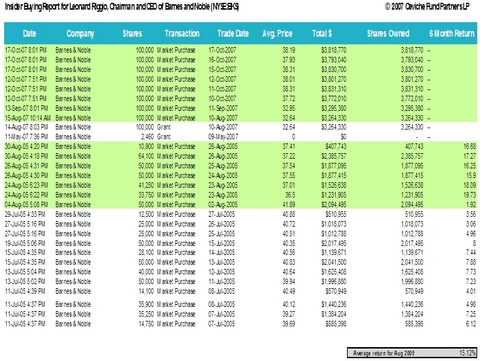 We should add that the $23M worth of stock Riggio bought in the open market is 12x his 2006 annual salary of approximately $2M USD. We have found that insiders that spend more on stock than their annual salary would allow tend to be more successful in their six month return histories. In the case of Riggio, we have someone who has 1) not bought stock in over 2 years but us all of sudden interested in eating his own cooking; 2) bought dollar amounts in excess of his annual pay; and 3) proven himself as an insider who can generate above-average returns for himself using BKS stock as a vehicle.
In contrast to the quick dismissal the Journal articles gave Riggio, we think investors should take a closer look at Barnes & Noble. The book business is a low margin, hyper competitive space, but Riggio is showing us with his own dough that his company in particular may be looking at sunnier skies in the quarters ahead. Shares rallied 6% on Monday and we feel Riggio is going to have himself a very nice holiday season.
Disclosure: Author was not long BKS at hte time of publication, although that could change at any time.