Thank goodness for Google. By simply googling "EPA and stormwater agreement", it has become quite easy to stay abreast of recent developments within the stormwater space. After spending some quiet moments on Google and reading Alex Prud'Homme's The Ripple Effect: The Fate of Fresh Water in the Twenty-First Century, one thing has become very clear to us: the inflection point for the stormwater sector has arrived.
Long criticized for inaction on water pollution, over the past 24-36 months the EPA has secured significant wins and multi-decade commitments from municipalities and cities for mandated stormwater spending. During this time, $23 billion in what is known within industry parlance as "consent decrees" have been secured by the EPA. In our recent article published about the investment opportunities within the stormwater space we stated that:
We view the March 26th agreement between the EPA and L.A. County as significant for a number of reasons. First, it provides a model for other counties, cities, and states to follow. Long considered to be at the forefront on environmental issues, we expect the rest of California to now follow L.A. County's lead and implement similar pollution reduction plans for their stormwater discharges. More importantly, the EPA's agreement with L.A. County should serve as a template for the impending set of regulations that should be put into place for the rest of the country later this year.
Well, it did not take long. Just late last week, Philadelphia agreed to commit $2 billion in funding toward its stormwater infrastructure needs. The $100 million in annual spending will be geared to "significantly reduce combined-sewer overflows through green infrastructure." By creating new parks and by using new "green technologies on top of Philadelphia's gray infrastructure to capture rainwater before it enters the city's 3,000-mile sewer network," Philadelphia is clearly trying to re-cast itself as a "green city."
To see such quick movement and simultaneous multi-billion dollar commitments on both coasts speaks of a sector crossing into a major inflection point. Like most secular trends entering inflection points, this one has taken a few decades to develop. Hoping to understand why it took so long to develop and just how overwhelming of an issue stormwater has become, we expanded our research further.
In his groundbreaking book, Prud'Homme examines the complex set of issues facing the state of freshwater in the twenty-first century. Engaging and thought-provoking, The Ripple Effect is a must read for all of us. While stormwater is not the primary focus of the book, Prud'Homme nonetheless provides in-depth research on the subject. Here are a number of eye-opening statistics that really caught our attention:
In 1970, the EPA estimated that 85% of water pollution came from factories or wastewater treatment plants, with only 15% coming from poultry farms, suburban lawns, or city streets. Over 40 years later, these percentages have reversed, with these non-point sources such as city streets and suburban lawns now accounting for over 85% of water pollution.
The EPA has not adapted quickly enough to this shift, making the current set of regulations outdated and ineffective in dealing with this growing problem.
Most of the country's sewer systems were constructed in the 19th and 20th centuries. Because stormwater infrastructure spending has been ignored for decades, the EPA and the Government Accountability Office estimate it will cost up to $400 billion to upgrade the nation's sewer systems by 2020.
Given the daunting expense and logistical difficulties related to updating the nation's sewer infrastructure, hundreds of sewer systems do not yet comply with amendments made to the Clean Water Act in 2000.
In cities, because much of the surface area is paved, precipitation is not absorbed well. Additionally, cities' outdated sewer piping is often leaky and quickly overwhelmed during periods of prolonged rain. This makes stormwater run-off a more difficult challenge for cities to handle than other rural communities.
Our goal is to identify secular trends at important inflection points. Using this as our template, we then attempt to identify the companies with the most differentiated and proprietary technology poised to grab significant market share. When we were writing our newsletter, we were very successful in identifying a number of these inflection point secular trends and companies for our subscribers. Among our biggest winners, Interclick (recently bought by Yahoo (NASDAQ:YHOO)), Acacia Research (ACTG), STEC (STEC), and ZAGG, each benefited from having a differentiated product in a vertical just taking off. After spending the past three months researching the stormwater sector, all signs now point to a monumental inflection point for this unknown space. This presents longer-term oriented investors, with an aggressive bent, an exciting opportunity.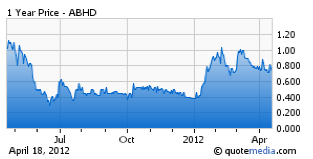 That opportunity is in Abtech (OTCQB:ABHD), an environmental company dedicated to providing innovative solutions to clean water. As the developer of Smart Sponge and Smart Sponge Plus technology, the company provides an effective and low cost solution that solidifies, separates, and removes contaminants (including hydrocarbons, sediment, and other foreign elements) found in stormwater, produced water, and industrial waste water.
Having already secured 17 patents, Abtech's SmartSponge technology is the first antimicrobial product registered with the EPA for outdoor use to reduce coliform bacteria. The EPA lists Abtech's Ultra-Urban Filter series with SmartSponge technology as a Best Management Practice (BMP) under federal guidelines that local governments must follow.
In 2011, Abtech entered into a five-year distribution agreement with Waste Management (NYSE:WM) to serve as its exclusive distributor of SmartSponge. In the very near-term, some investors have undoubtedly been disappointed by the lack of tangible progress by this joint venture. In our view, these fears are unwarranted. In addition to Waste Management's financial strength and extensive client base, Abtech's technology stands head and shoulders above its competitors. Its benefits include:
Smart Sponge Plus products are very cost effective and can be quickly and simply installed.
Alternative methods that exist today are more expensive and complex to install and deploy.
Smart Sponge Plus is a sustainable solution - its filtration media technology has added benefits after absorbing contaminants. As the media becomes saturated with contaminants, it eventually needs to be replaced. The spent material can often be recycled and burned to create an energy source with a very high BTU value.
Considering the myriad of competitive advantages, Abtech's Smart Sponge product will eventually become a great fit to WM's existing client base of cities and municipalities about to initiate stormwater projects. The SmartSponge will save them money, will not require extensive construction work, and can be easily retrofitted onto existing infrastructure.
During its recent earnings conference call, Abtech stated they had submitted over ten proposals to municipalities within California, Eastern Canada, and parts of the southeast US. While one can never predict where the company will initially gain traction, if we had to guess it would be from California. Considering the recent landmark agreement with L.A. County and the EPA, perhaps this is why Waste Management chose to target this part of the country first?
Regardless of where the initial contracts originate, these first contract wins will be significant for Abtech. In addition to validating their technology, some of these contracts could be worth over $10 million in annual revenues for the company. Perhaps this is why management is sticking with its very bullish guidance for 2012 calling for $17-$20 million in revenues? This top-line growth would equate to 2,500% year-over-year growth.
In summary, we expect 2012 to eventually be looked upon as the year when stormwater spending embarked on a long secular trend and an unknown company called Abtech realized its own inflection point in its business model.
One final consideration - investing in micro-caps carries a high degree of risk, so consider your own risk-tolerance before you purchase shares of Abtech or any other micro-cap stock.
Disclosure: I am long OTCQB:ABHD.