While most college students have to wait for their 21st birthday to (legally) drink and gamble, students at the University of Michigan have had it a lot better. That's because Ann Arbor is less than a hour's drive from Windsor, Canada's version of Las Vegas- where an ID stating you are 19 is a passport to a college student's Eden. Windsor features a large casino and a lifetime's worth of bars and strip clubs, stock full of Molson and Labatt. But the best part was that everything in this fantasyland was 25% off - we could trade in our dollars for a king's ransom in Canadian loonies and twoneys.
Unfortunately, today's Wolverines no longer have it so good. For the first time in my lifetime, Americans crossing the border actually have to pay a premium - each dollar now gets you only 96 Canadian cents. But don't cancel that Saturday night trip to Windsor quite yet - you can more than make up that 4% premium by buying the stocks that stand to benefit from the current currency situation.
The last few years have brought success for American companies with large export operations, especially to Europe. One of my favorite companies, Hurco (HURC), which I wrote about in August, has seen its stock increase more than four-fold - in part due to favorable exchange rates for European sales.
But over the past quarter, it has been the Canadian dollar which has been on a tear. The graph below compares the strength of the Euro and Looney relative to a dollar over the last three months.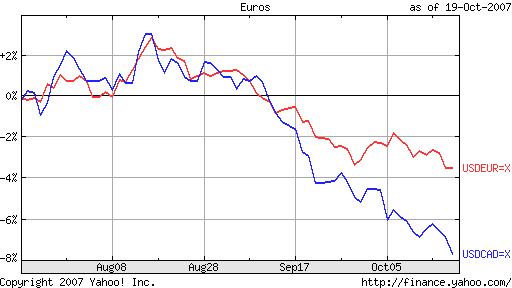 This presents an enormous opportunity with the arrival of earnings season. Companies that derive a large percentage of their revenue in Canada and report earnings in US dollars should see an earnings spike. Case in point: retailer Lululemon (LULU), who has a majority of its stores in Canada, has seen its stock skyrocket after pre-announcing strong quarterly sales, owing in part to currency translation.
I've been racking my brain trying to find the next LULU. So far, the best I've been able to come up with are specialty foods producer Sunopta (STKL) and trucking company Vitran (VTNC). Both are Canadian companies who report sales and earnings in US dollars. However, revenue from Canada make up less than 1/3 of both companies' sales. I'm going to keep looking, and I ask our readers to weigh in with their ideas. Let's make sure Michigan students can continue to celebrate their 19th birthdays alongside their Canadian friends.
Disclosure: SmartGuyAB is long HURC.