All the solar stocks have been hit extremely hard over the past year. None more so than First Solar (FSLR). This was not unexpected. In fact, in my previous articles on solar stocks, I had recommended using put options with First Solar when it was trading at around $55.00/share.
The truth of the matter is that the United States government has not really supported solar energy in any capacity. This makes it extremely hard for a U.S.- based solar company to thrive. I personally do not see this changing any time soon.
On the contrary, the Chinese government has supported solar energy for quite a while. Whether it be tax benefits, government loans, and such, there are a few solar companies that definitely deserve a closer look at these prices. The bottom line is that before consolidation eventually takes place, there will be a few Chinese solar companies that will survive and do well. At the top of my list is Yingli Green Energy (YGE).
I have been following this stock for about eight years. I know it, and most importantly, understand how it "moves". This is an aspect that is often lost on new option traders, the ability to follow a select number of stocks and spot the highs and lows. Yingli Green Energy is at a low right now.
Yingli Green Energy engages in the design, development, manufacture, marketing, sale, and installation of photovoltaic (PV) products in the People's Republic of China and internationally. The company offers PV cells, PV modules, and integrated PV systems, as well as polysilicon ingots, blocks, and wafers. It sells its PV modules to distributors, wholesalers, power plant developers and operators, and PV system integrators in Germany, the United States, Italy, China, Spain, the Netherlands, Greece, the Czech Republic, the United Kingdom, South Korea, and Japan under the Yingli and Yingli Solar brand names. The company also offers its integrated PV systems directly to end-users or to contractors for use in the electricity projects, as well as to mobile communications companies in the People's Republic of China.
Currently, Yingli Green Energy is trading at $3.53/share. The 52-week range is $2.75 - $12.69.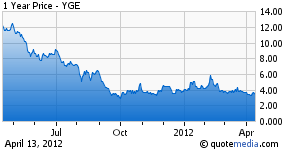 52wk high: 12.69
52wk low: 2.75
EPS: -3.25
PE: N/A
Div Rate: N/A
Yield: N/A
Market Cap: 537.35 M
Volume: 883.5 k
One of the main reasons I like Yingli Green Energy over most other solar companies is that it produces photovoltaic (PV) products. Basically, this means that it can produce at a much faster rate and at a cheaper cost. If solar energy is going to thrive, it will be through PV modules. Time will tell, but this is how I see it.
Also, the 52-week high of $12.69/share allows plenty of room for Yingli Green Energy to run-up should solar stocks rebound.
LDK Solar (LDK) is tempting to buy at its current price, as well, but I prefer Yingli Green Energy. LDK Solar has some serious debt issues, as this article details. Here is a closer look at LDK Solar's debt problems:
Balance Sheet
Total Cash (mrq):
262.55M
Total Cash Per Share (mrq):
2.00
Total Debt (mrq):
3.62B
Total Debt/Equity (mrq):
257.05
Current Ratio (mrq):
0.69
Book Value Per Share (mrq):
9.13
I currently own September 2012 $6.00 call options on Yingli Green Energy. This trade can be placed for a minimal investment and the upside far outweighs the downside risk. I really feel that this stock is at a low point and will only increase in share price, so now is the time to initiate a position.
Disclosure: I am long YGE.
Additional disclosure: I own September $6.00 strike call options.